Deck Inspections Earn Accolades in Three Metro Areas
Together, we're building safer, stronger homes™. That's Simpson Strong-Tie™'s trademark, and during the first week of this summer, the togetherness referred to Simpson and ASHI home inspectors in Washington state, Georgia and Illinois.



Photo: Scott Berylyoung reviews the Simpson Strong-Tie literature with a deck owner in Aplharetta, Ga.


ASHI members brought their inspection skills to a Simpson-conceived public service campaign to educate homeowners about the importance of deck safety and the value of home inspections.

The company wanted to do something that would grab homeowners' attention and suggested offering free inspection services as a great way to do that. Seattle, Atlanta and Chicago were chosen for the program based on past deck collapses and media interest. ASHI members were asked to commit to at least two free deck inspections. As a thank you, volunteers were invited to attend a local Deck Framing Connector seminar, approved for both ASHI and state continuing education credits.

To receive a free inspection, homeowners signed up through a special Facebook page, answered a series of questions to qualify and agreed to sign a waiver. A limited number of free inspections were available on a first-come, first-served basis between June 21 and June 28. Homeowners who signed up received a free Deck Safety Guide and a chance to win one of several deck-related prizes in a daily drawing.

The long-term goal was to educate homeowners that they should be looking at their decks once a year and that bringing in a professional often is helpful or necessary.

The program kicked off with a press release written and distributed by Liv Faris, Colehour+Cohen Public Relations, with input from Shelby Lentz, Simpson Strong-Tie and ASHI. It included the following:
More than half of all decks in the U.S. are not built to code and in need of repair or replacement; millions are built incorrectly, have not been properly maintained or are beyond their lifespan of approximately 10-15 years. Since 2003, there have been thousands of reported injuries and more than 20 deaths as the result of deck collapses.

"Your deck may be beautiful, but if it's not built properly, it can be a real safety hazard," said Ricardo Arevalo, VP of engineering with Simpson Strong-Tie. "Our goal this week is to help educate people about the importance of deck safety. We want to make sure families enjoy their decks safely this summer.
The appreciation expressed by Simpson and homeowners was well-deserved. Members took on extra assignments and drove long distances to inspect decks. And, nothing was spared in the quality of the inspection. Deck owners received reports equal to the fee-paid inspections offered as stand alone or additional services by some ASHI members.

In the short term, now there are a lot of educated, grateful homeowners, some outstanding publicity and more than a few interesting stories.

Seattle

Water, water everywhere proved to be one of the challenges in matching volunteers to requesters in this metro area, but when the program wrapped up, 17 members handled 47 requests from Seattle and 10 surrounding towns.

Because he lives in Northern Washington state and the program covered the Seattle metro-area, Western Washington Chapter President Dan Croker asked Darrell Hay to coordinate the program. Hay agreed, sandwiching coordinating responsibilities, radio and television media requests, and deck inspections around a planned mid-program trip to Puerto Rico.
He received help with the media from Brad Albin talking about deck safety and demonstrating deck inspection techniques for Q13-TV in Seattle.

All the volunteers committed to doing two inspections. Albin, Robert Wittenberg, Reid Guthrie and Gary Moseley did three or more.

Mosley was picking up extra deck inspections and working them into a schedule that included supervising a salvage dive for a valuable piece of a Tall Ship he skippers for a volunteer organization.

On his first deck inspection, he discovered that the owner might have fudged a bit on the requirement that, for a free inspection, the underside of the deck had to be readily accessible. He had to belly crawl in on the one side that didn't have a lattice skirt, only to find that the neighborhood cats had been using the area under the deck as a community litter box. In his report, he recommended "an appropriate grab be installed for the three handrail systems. Noting, 2x 4 lumber hasn't been recognized as a proper grip for many decades. There are many fall injuries suffered by people because they weren't able to grip a handrail to arrest their fall. And, to extend the lattice skirt around the end of the deck to keep out critters."

Mark Underwood and Deb Wenneman were two of the many Seattle-area inspectors who reported that the deck owners were interested and very appreciative.


Above: The space beneath this deck was being used as a litter box.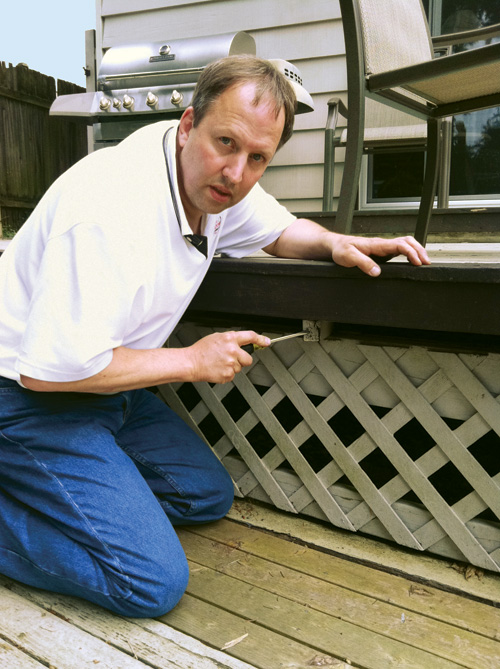 Above: Darrell Hay probes for rot during one of his free deck inspections during Deck Safety Week. He also coordinated the Simpson-conceived public service campaign to educate Seattle-area homeowners about the importance of deck safety and the value of home inspections.


Above: In Seattle, John Blough found rotted wood beams supporting a deck.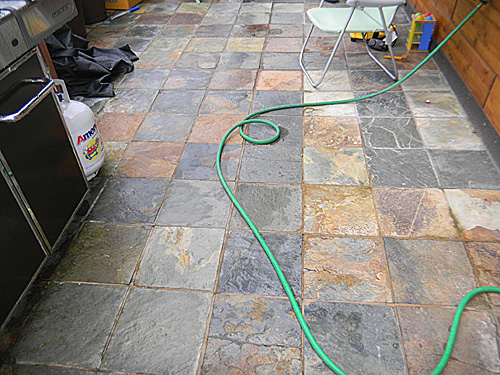 Above: Brad Albin inspected a deck in Seattle that had been tiled.

Above: While the tile was in good condition, it caused moisture buildup below on the supporting frame of the deck.


Atlanta

Talk about working around a vacation, ASHI Georgia Chapter President Michael Collins-Smythe participated in planning the training session and coordinating the program while he was on a family vacation. And, he picked up several extra inspections to wrap up the program. Overall, 18 volunteers handled 35 requests, many in cities and towns a considerable driving distance from Atlanta or from the volunteers' regular work areas.

Stan Garnet was one of several inspectors who discovered serious safety issues. The cover letter to one of his reports read:
Thank you for the opportunity to perform an ASHI- and Simpson Strong-Tie-sponsored deck safety inspection for you. Unfortunately, your deck inspection has resulted in negative findings, which will result in my recommendation that no one use this deck until it has been brought into a safe condition. This deck is currently in failure and we do not wish to see anyone injured.

As promised, please find your deck inspection report attached as a PDF file format. Feel free to call me with any questions you may have.
He also was able to accommodate a last-minute request from CBS-Atlanta to videotape an inspection, which put ASHI's name before the public in the best possible light. In addition to the broadcast, the story appeared online, with the following lead:
Inspectors check homeowners' decks in Atlanta
Inspectors from the American Society of Home Inspectors were out and about in Atlanta on Monday, inspecting homeowners' decks for potential problems. Inspector Stan Garnet said he found several dangerous decks in the area.

The inspections are part of a public service campaign to help educate homeowners about the risks of deck collapse.
Tyrus Parrish came to the rescue of one of the first deck owners to post photos of an unsafe deck on facebook.com/decksafety. This was one of three inspections he did during the week.
Above: Michael Harrison of Atlanta inspected a deck improperly built with nails instead of screws.


Chicago

Only 15 requests were received in the Chicago area, but there were challenges here, too. Several of the requests came from towns so far from the city that they couldn't even be considered suburbs. Nevertheless, 9 volunteers accommodated them all. John Kavanaugh journeyed to three of the outlaying inspections and Eric Barker did the same for two distant requests. Kavanaugh described the program as "rewarding" and Barker said he appreciated the opportunity to participate.

As the approved Illinois education provider, Charles Bellefontaine made it possible for Illinois volunteers to earn state credits for the training, which was coordinated by Jack McGraw. NIC-ASHI Chapter President Jori Lanes also participated in the planning. McGraw conducted a deck inspection, along with the others on the accompanying list.
News about the program was spread by Jack McGraw's appearance on WGN Radio.

Efforts Recognized

Simpson thanked ASHI inspectors on facebook.com/decksafety.

Deck Safety
Thank you to the American Society Of Home Inspectors and all the volunteer inspectors for their participation in Deck Inspection Week!! And thanks to homeowners for thinking about how to stay safe this summer. If you weren't able to sign up for a free deck inspection, ASHI inspectors are available to do deck inspections year-round; just use the Find an Inspector tool to find one near you!

The Western Washington Chapter posted a link on Facebook to a promo on local television station KOMO of an ASHI member performing deck inspections in Seattle.
Home inspectors ask: Is your outdoor deck a death trap?
With summer finally heating up, many people are heading out to their decks to soak up the nice weather. But some of those decks might not be ready to carry the load — and that could end in tragedy.
See the Facebook page for more about the week.

About the partnership

For more than 50 years, Simpson Strong-Tie has focused on creating structural products that help people build safer and stronger homes and buildings. The company manufactures metal connectors, such as joist hangers, and other hardware used to secure the structural frame of homes and decks.
The company provided all the training and handouts, created tracking forms and the Facebook page. Shelby Lentz, Simpson, and Liv Faris, Colehour+Cohen Public Relations, were the driving forces behind this promotion, with support from Simpson's Education and Training teams in Seattle, Atlanta and Chicago.

Working in partnership with Simpson and other companies and organizations is possible because ASHI members have established a reputation for being reliable, having an interest in public service and educating the public, and promoting themselves and the products and services of companies they respect.

For more information, visit the Simpson Strong-Tie website at www.strongtie.com or their consumer site at www.safestronghome.com.


Congratulations to the Inspectors Who Made It Happen

Special recognition to Michael Collins-Smythe, Atlanta, and Darrell Hay, Seattle, for their work planning the program and responding to the remaining requests as the program wrapped up.
Seattle (47 requests)
Pierre Arcos
Brad Albin
Rodger Althage
John Blough
Michael A. Brisbin
Ray Foster
Bob Green
Reid Guthrie
Darrell Hay
Raj Hayden
Hugh M. Kelso
William J. Long
Paul Luczyk
Gary Moseley
Kim Nutting
Deb Wenneman
Robert Wittenberg

Atlanta (35 requests)
W. Scott Berlyoung
Brodie Brown
Carlos Bustamante
Damon Coberth
Frank Cooper
Clark Cummings
Michael Collins-Smythe
Harry Dawson
Wendell Dennison
Bryan Dilworth
Gary D Edge
Stan A. Garnet
Michael Harrison
Tore Knos
Tyrus Parrish,
Carol Powers
Darryl Rapp
Robert Trow

Chicago (15 requests)
Eric Barker
Tim Connors
John M. Graham, Jr.
Jim Hartshorne
John Kavanaugh
Frank Lesh
Jack McGraw
Mike Stephans,
David Westlund