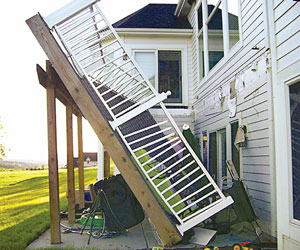 IT'S MAY, THE BEGINNING OF HOME INSPECTORS' BUSIEST SEASON
It also follows another brutal winter that requires even more attention to safety issues, particularly decks. Deck injury news underscores the continuing need to increase public awareness, the importance of ongoing maintenance and of professionally certified home inspectors. Education is a reward-ing and life-saving experience for consumers and inspectors.
May is Deck Safety Month, introduced by the North American Deck and Rail Association in 2006, two years after it was established. "NADRA has worked with ASHI for seven years on education and certification, and we're delighted that we formalized our collaboration at this year's InspectionWorld 2015. We held an all-day Deck Inspection Certification Course, which is approved as an ASHI Continuing Education program," explains Michael Beaudry, Executive Vice President, NADRA.
"The first half of the course covered existing structures as they relate to decks and other walking surfaces. The second half introduced the NADRA Deck Evaluation Checklist. The Checklist ensures that every part of the deck is appropriately reviewed: Stairs, Footings/Deck Support and Posts/Columns; Beams and Joists; Ledger; Deck Boards; Hand Rail Assemblies and Guards."
NADRA has created an Inspectors section on its website that will give consumers across North America direct access to professional inspectors who specialize in deck inspections.
"Our 10th anniversary was last year, 2014, and this collaboration is a wonderful milestone." You can see more on NADRA's home page, including videos about inspecting decks and deck safety, at www.nadra.org/consumers/deck_safety_month.html, and at Deck Inspections www.nadra.org/consumers/deck_inspections.html
"ASHI inspectors now have the educational resources through this first-of-its kind collaboration with ASHI to utilize the NADRA Deck Evaluation Form and truly make a difference in deck safety and deck safety awareness for consumers across North America."
While deck-related injuries occur every year, decks do not have to fail. "With consistent inspections and evaluations, proper maintenance and skilled preventive care, an exterior deck is a great feature," Mike adds. "Decks, like roofs, have life expectancies, 15 to 20 years on average in most areas of the country."
"This is why it is very important to have a deck inspected by a NADRA-certified home inspector, who is trained on what to look for on a regular basis. Standards have also changed during the last 10 years. Thus, when a repair is needed, have it done by a licensed, well-trained professional."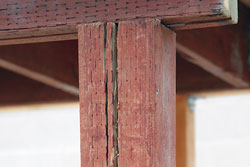 NADRA's goals include reducing injuries, increasing awareness of potentially unsafe structures and offering solutions on how to best resolve and prevent unsafe situations. NADRA approaches these goals through continuing education for inspectors and connecting consumers with reputable, trained installers. Our busiest season can be considered an oppor-tunity and commitment to deliver positive news by addressing deck-safety challenges and reducing injury statistics. "Providing quality deck, stairs and railing inspections as a Certified NADRA Home Inspector grows your brand and business and truly helps to prevent injuries and save lives."