The concept of a house as an environmental envelope is a helpful one. A home is an artificial environment surrounded by a huge natural environment. This is a problem because (a) we can't isolate ourselves from the natural environment or we'd have no fresh air to breathe and (b) we can't completely control the interaction between the indoor and outdoor environments.
The leakage of indoor air to the outside and outdoor air coming into our homes is necessary and yet troublesome. A house
is not a tightly sealed chamber isolated from the world outdoors, but rather a loose envelope between the indoor and outdoor environments.
Problem Recognized
As insulation strategies changed in the latter half of the 1900s, we recognized the need to control moisture (largely by controlling air movement). How did we approach the problem?
Vapor Retarders or Air/Vapor Barriers
We tried to reduce the air leakage through the roofs and walls. We created vapor retarders, now often referred to as air/vapor barriers, to reduce the movement of air through the building envelope. As the name suggests, we used to think vapor diffusion was the big problem. We now know air leakage is a far bigger problem.
Poly Replaced Kraft Paper
Older air/vapor barriers were made of kraft paper, often attached to fiberglass or mineral wool batts. Because these were typically laid between ceiling joists or wall studs, they were not continuous. Although imperfect vapor barriers can perform their duties reasonably well, an air barrier that is not continuous is not very useful at all. Modern air/vapor barriers are typically polyethylene films. Considerable attention is now given to creating a continuous air/ vapor barrier to minimize air leakage.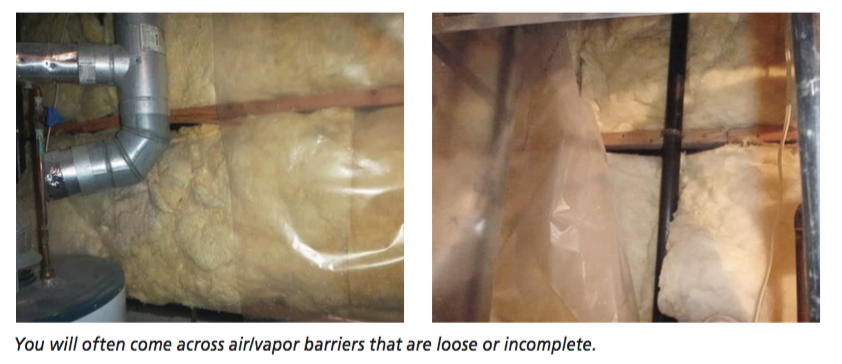 Ventilation of Roofs and Walls
Despite using continuous air/vapor barriers, we have not been 100% successful at stopping the leakage of warm, moist air into cool wall and roof spaces. As a result, we've placed increased emphasis on the ventilation of roof and wall spaces. Much more attention has been paid to roofs than walls. Soffit vents, ridge vents, gable vents and vents in the eld of the roof all are designed to help ush out moist air from roof spaces, replacing it with cold, dry air. ere are some problems with this approach, which we'll discuss later.
Tighter Roof Sheathing
Ventilation also has become more important as loose-laid planks and wood-shingle roofs have been replaced with plywood and waferboard sheathing and asphalt-shingle roofs. The old plank-and-shingle or shake roofs were fairly leaky and allowed moisture to be ushed out quickly. The new panel-type roof sheathings and asphalt shingles allow less air movement.
Wall Sheathing Has Changed
Wall sheathing is like roof sheathing in that the materials and methods have changed over the years. Loose-plank sheathing has been replaced with plywood, gypsum board and OSB. These modern panel-type sheathings allow much less air into and out of the walls.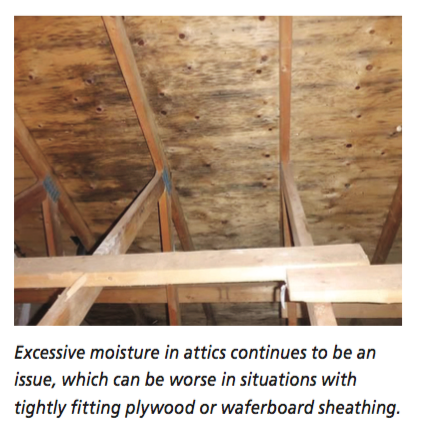 Siding Treatments
In some cases, we have attempted to allow siding materials to breathe. Aluminum and vinyl siding, for example, are loose-fitting cladding materials with drainage holes in the bottom of each section. However, other siding materials do not allow much air movement and ushing of moisture. Stucco treatments and panel-type sidings (plywood, ber-cement and OSB, for example) provide very little opportunity for flushing out moisture.
Housewrap Versus Building Paper
In many parts of North America, loosely fit building paper between the sheathing and the siding has been replaced by tightly fit housewraps. These restrict air movement while allowing vapor diffusion through. It's like putting a big windbreaker on your house.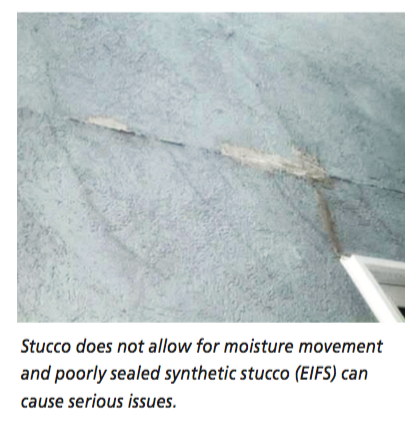 A Good Thing or a Bad Thing?
Housewraps, like building paper, are also a second line of defense against moisture such as wind-driven rain. Water that leaks past siding is stopped by the housewrap.
There is considerable discussion about whether housewraps are a big step forward or not. As we understand the issues, we are not in a position to quantify the importance and predict the long-term positive and negative effects of housewrap versus building paper. We suspect the results will vary case to case because there are so many factors involved in building envelope performance.
Reduced Air Leaks and Improved Ventilation
So far, we've talked about modern homes having reduced air leakage and improved ventilation in roofs and, in some cases, reduced ventilation in walls. Be sure to review the cross-section illustration on this page to see key differences between old and new construction.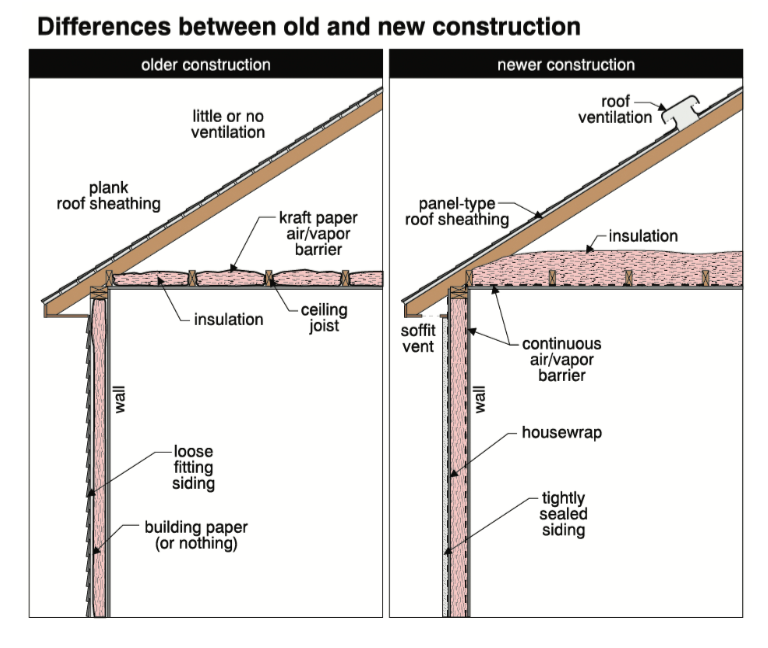 Humidifiers
Some homes try to control moisture directly with humidifiers. When homes in cold climates were very leaky, the large number of air changes meant we were always warming up cold air. This cold air had very little moisture in it and, as a result, our houses always felt dry during the winter. Humidifiers were added to furnaces to raise the humidity levels. As construction got tighter and the number of air changes per hour reduced, the need for humidifiers has, in many cases, disappeared.
New Windows May Hurt
This concept isn't well understood by many homeowners who continue to add humidity to their homes. Frustrated by condensation on windows and sliding glass doors, they often replace windows and doors with better insulated, more tightly sealed units in an effort to eliminate condensation. In most cases, however, the problem isn't the quality of the windows and doors, it's the elevated moisture level created inside the house.
Old Windows Indicated Humidity Levels
Old windows were great. Moisture control in homes used to be easier. Many people ignored their humidistat on a furnace humidifier, but paid attention to the condensation on windows. As windows began to get condensation, people turned down the humidifier. They weren't trying to save their wall cavities; they were trying to prevent water damage to window sills and the walls below. Older, single-glazed windows typically had a very cold surface. The cold glass would cool the air adjacent to the window, often to the dew point, resulting in condensation.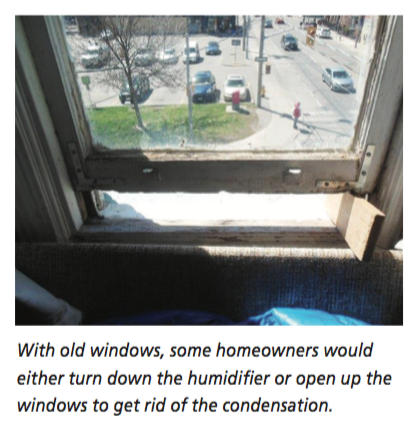 Double and Triple Glazing
Modern windows are more energy-efficient than old windows. The inner surface of the glass is warmer as a result of carefully spaced double or triple glazing. Insulated sashes help raise the temperature of the inner surface of the windows. Newer windows and doors are also tighter than old ones. They allow less air leakage.
A Good Thing or a Bad Thing?
Modern windows don't lose heat as quickly as older windows (although their R-values are still quite low). We don't get condensation on windows as quickly and, therefore, we don't make the same efforts to reduce the humidity in houses that we used to. The reduced air leakage through and around new doors and windows leads to higher indoor humidity levels. Although all of this is nice for the homeowner and great for windowsills, it is hard on wall and roof cavities. If the house's humidity levels are higher, its occupants will be happier, but the building suffers. Warmer glass surfaces reduce one symptom, but don't do anything to stop moisture problems in walls and roofs.
Exhausting the Moisture
Many people have realized that with fewer air changes, we are elevating the moisture levels inside the home. Because people and houses generate moisture all the time, the longer any given bundle of air stays in the house, the more moisture it will contain. One strategy is to dump the warm, moist air directly outside. Exhaust fans close to sources of moisture such as kitchens and bathrooms make sense. These strategies have advantages and disadvantages.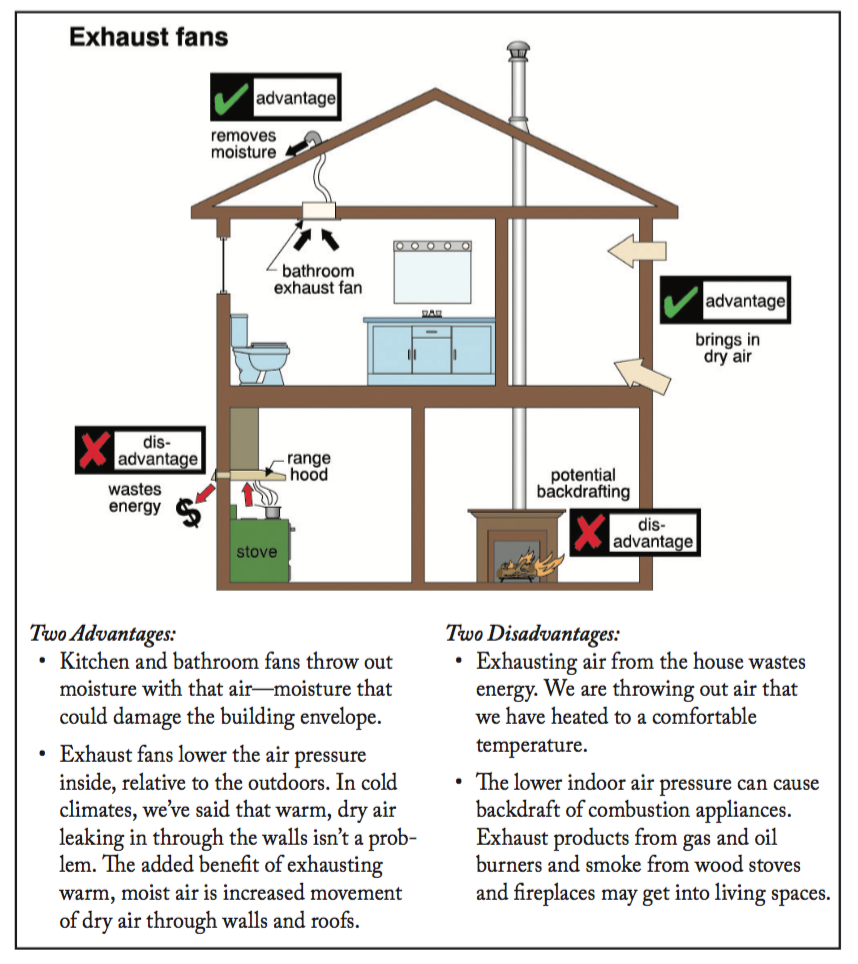 Want to Learn More About This Topic?
In this article, we've discussed how systems and components can affect moisture flow. We touched on air/vapor barriers, housewraps, structural sheathing, windows and doors, humidi ers and exhaust fans. In the ASHI@HOME training program, we further analyze this topic with a discussion on how combustion appliances affect the flow of moisture, as well as the use of heat recovery ventilators (HRVs).