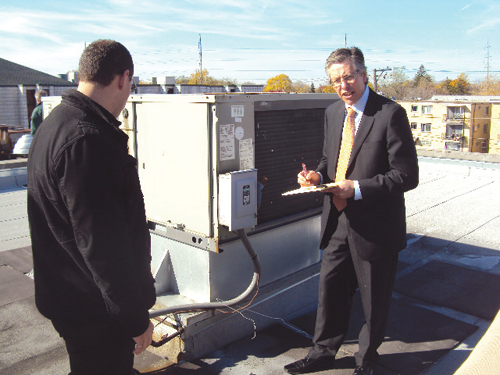 Photo above: Richard Weldon, P.Eng., LEED AP of Carson Dunlop Weldon & Associates Ltd., presented the first Commercial Building Inspection Course sponsored by The ASHI School last year. Fifteen experienced home inspectors gathered from across the country to learn how to inspect commercial properties.
Published July 2004. This excerpt of an article published in July 2004 was the first in a series.
Experienced home inspectors looking for a chance to stretch their skills can find it in commercial building inspections, a market that offers many opportunities for business growth. Especially for those with engineering or contracting experience, the commercial building market is large enough so that many inspectors can carve out a niche, garnering larger fees and working with a powerful client base.

But commercial buildings present a unique set of challenges, and inspectors considering a move to the market — or even considering supplementing their home inspection business with the occasional commercial project — must first get acquainted with the skills and experience required to succeed. The ASHI Reporter spoke with members across the country to offer an in-depth look at the ups and downs of entering the commercial building inspection market.
Inspections vs. property condition assessments
Commercial building inspections can take on many forms. Some inspectors choose to follow ASTM E2018-01 Standard Guide for Property Condition Assessments: Baseline Property Condition Assessment Process, which offers guidelines for performing an overview examination of a structure. The field observer (the preferred title for those who conduct property condition assessments), who chooses this form, works with a property condition report reviewer to generate a property condition report for the client that offers a general description of the building and an estimate of what the client might expect to invest, depending on his or her goals.
Others choose to follow a more detailed approach, enlisting the skills of a team of experts to comb the building and provide the client with an inspection report containing details about the building's systems and condition.

Many inspectors we spoke with employ a combined approach, using ASTM E2018-01 as a guideline, but going a bit deeper into the structure to provide a detailed perspective for the client. Most agreed that defining your method, and being clear about your approach with every client, are essential to satisfying the client's needs and expectations.
An open field
Many inspectors fall into the field of commercial building inspection, often on referral from an existing residential client who purchases a small commercial property. Others get pulled in by real estate agents and brokers they meet through home inspections. And there are those who came to home inspecting from a technical background, such as Frank Libero, president of Garnerville, N.Y.-based United Inspection Consultants, who later became intrigued by the challenge of commercial work. An engineer by training, Libero enjoys putting those skills to work on larger commercial structures.
The field is incredibly large and diverse: Inspectors can pick a type of structure on which to focus, a size range or even a geographical area, and stay busy. An industrious inspector can take advantage of the market, which isn't served by an organized inspection community. For years, it has fallen on the shoulders of engineering firms that have taken on assignments.
Benefits
Delving into commercial building inspections can open doors to bigger clients, higher fees and the increased security of business diversification, and it can provide inspectors a chance to learn new skills—or use some that they can't use on home inspections.
A different type of client
Clients in the commercial realm are, in general, more educated in real estate issues and in matters of business. As a result, they can be easier to work with, according to Kenny Hart, technical advisor and instructor for Homebuyers Inspections, Inc., of Virginia Beach, Va. "Commercial clients are much more professional, and usually better educated," than residential clients, says Hart. "And because they are professionals, they also know how to deal with legal issues if you stir them up," a situation not uncommon in commercial work."
Fees are often higher
As a rule, commercial inspectors command higher fees because the work requires more time, experience and expertise. Jim Katen, owner of Gaston, Ore.-based Benchmark Inspection Services, says that inspectors really earn that higher fee and gain added benefits: "I charge more for commercial services, but the amount of time they take is much greater than a typical home inspection," says Katen. "Commercial work isn't particularly more profitable, but it does broaden my knowledge base, and that makes me a better inspector."
More eyes = less risk?
Some inspectors believe that because they go in with a team on a commercial inspection, their risk is reduced. John Cranor, owner of Glen Allen, Va.-based Cranor Home Inspections, says his insurer covers commercial work "as long as it doesn't exceed 10 percent of my total inspection business. Otherwise, I have to get an additional policy."
Referrals make it happen
As in the residential inspection business, referrals constitute a large portion of most inspectors' commercial business development. By branching into a new field, inspectors are not just adding to their potential client base — they're building relationships that can generate lucrative contracts.

The diversification that comes from working with both residential and commercial clients also is a business booster, especially in today's indecisive economy, which demands a nimble nature for success.
Developing a niche
Most of the inspectors we spoke with agree, including Hart, who says specialty-oriented inspectors can succeed by targeting their marketing efforts and emphasizing their unique skills. For example, Libero specializes in performing Phase 1 environmental inspections; Cranor favors commercial building inspections over property condition assessments (PCAs) and prefers to work on small buildings.
Change of pace
One of the most basic benefits of expanding into the commercial market is simply the change of pace. Commercial work is done in "a completely different atmosphere," says Cranor. "Usually, you have more time to get your thoughts together, it's not as much of a time crunch," compared to residential work. The divergence from residential work also is attractive to Katen: "It's fun to see a challenge that's different from the everyday home inspection. I enjoy that."
Challenges
On the flip side, commercial building inspections bring their own unique frustrations and challenges, including increased time commitments and responsibility, a higher risk of liability, the need for greater understanding of building systems—and the necessity of juggling a team of experts that can address a variety of issues.
New field can mean unexpected challenges
Perhaps, more than anything, inspectors new to the commercial building market should expect the unexpected. "Commercial properties are unpredictable," says Katen. "It's easy to get mired in them." There are myriad details to review, and many systems to understand, so be prepared to handle new challenges on each job — or to bring in experts who can cover you in those areas. 

Jennifer G. Prokopy is principal of Orange Grove Media, an independent communications firm.