Concrete is one of the more common materials used in the construction of commercial buildings. Its properties make concrete an excellent choice for structures, cladding systems and floor slabs on grade. Concrete won't rot, won't burn, weathers well when exposed to the exterior, and can have a very hard surface.
Concrete composition

Concrete is composed of three ingredients: Portland cement, water and aggregate. (Please note that cement and concrete are not the same thing; cement is an ingredient in concrete). Sometimes admixtures are used to decrease curing time, increase workability, increase strength or otherwise change the material properties.
When concrete cures or hydrates, it shrinks. This process continues at a reduced rate over time.
Need for reinforcement
Although concrete is an excellent building material and is extremely strong in compression, it has one limitation — concrete is weak in tension. By combining concrete with a material that is strong in tension, we can create a composite that can resist tension, moment (bending forces) and shear, as well as compression.
The most common composite is steel-reinforced concrete, which utilizes steel reinforcing bar, otherwise known as rebar, embedded in poured concrete. Rebar's most basic function is to resist the tension at the bottom of a beam or slab that is subject to bending.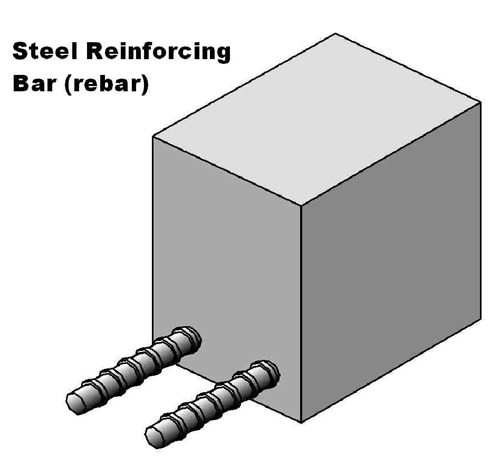 Another type of steel reinforcement used in concrete is welded wire mesh (WWM) or welded wire fabric (WWF). This type of reinforcement consists of pieces of wire or rebar welded together to form a grid pattern. The size of the grid pattern is typically 4-inch-by-4-inch up to 8-inch-by-8-inch. This type of reinforcement is used to minimize shrinkage cracking in the surface of the concrete.
Some modern structures, especially those in corrosive environments (where they are exposed to salt water, for example), use fiberglass reinforcing bars rather than steel. Other types of reinforced concrete use a matrix of fibers for reinforcement. Sometimes, steel rebar is coated with epoxy to help protect it from moisture and corrosion.

Cast-in-place concrete
The most basic construction method for reinforced concrete is to build wood formwork, arrange the rebar, and cast the concrete in place. This is called
cast-in-place reinforced concrete. Formwork may be temporary (removed after the concrete has gained sufficient strength) or it may be left in place. Cast-in-place concrete may retain the imprint of the formwork, which is usually wood. This is why concrete sometimes appears to have a wood grain.
Precast concrete
Precast concrete panels are reinforced concrete building units typically manufactured in a shop and delivered, ready to use, to the building site. Pre-cast concrete can also be fabricated on site and tilted or lifted into position. Some precast concrete units, such as precast plank, are designed with hollow cross-sections that make more efficient use of the concrete. Steel bars are embedded where tensile forces are expected.
Precast panels can be used for floor structures, roof structures and wall panels. Where the panels butt together along the long side, there is often an intentional gap created with a 'reverse' tongue and groove joint. This open joint is typically filled and made smooth using grout. Sometimes panels are covered with one to two inches of concrete topping to provide a smooth, continuous surface.
Prestressed concrete
In standard reinforced concrete, the surface of the concrete that is in tension should always be expected to crack. Tension will cause the steel rebar to lengthen slightly. However, as the concrete is weak in tension, it will crack rather than stretch.
Prestressed concrete, like reinforced concrete, is a steel/concrete composite. However, rather than letting steel resist the tension loads, prestressed concrete changes the areas of concrete that are normally in tension into areas of compression. This is done by bonding or attaching the concrete to steel that is under significant tension. The tensioned steel 'squeezes' the concrete so much that the entire concrete section is under compression and is, therefore, less likely to crack. Pre-stressed concrete can be created either by pre-tensioning or post-tensioning the reinforcing steel.
Pre-tensioned concrete

Pre-tensioned concrete is manufactured with steel cables or bars, called "tendons," that have been pulled taut before the concrete is cast into shapes. The steel, even when the member is not loaded, is pulling the concrete together. Pre-tensioned concrete is manufactured in many of the same shapes as pre-cast, reinforced concrete.
Post-tensioned concrete
Post-tensioned concrete achieves the same result by running steel tendons through specially designed ducts in the concrete member, then pulling them taut and fastening them in the field. Post-tensioned concrete is most commonly used in large building projects such as highrises and bridges. Post-tensioned concrete slabs-on-grade also can be found where there are unusual soil conditions.