Radioactive radon gas exposure can be described as a natural disaster, just like hurricanes, tornados and earthquakes. The difference is that the tragic outcomes of radon exposure happen silently over time. Approximately 21,000 people lose their lives to this silent killer each year without warning. Citizens for Radioactive Radon Reduction (CR3) hopes to inform you, the members of the American Society of Home Inspectors (ASHI), to help prevent future deaths.
Since 2014, CR3 has exhibited at InspectionWorld® and we are always eager to share our experiences, resources and knowledge with home inspectors, as well as hear about your experiences. In January 2020, at InspectionWorld® in New Orleans, the Closing Guys (www.theclosingguys.com) made a video about CR3.
Check it out here:
www.youtube.com/watch?v=WLKyQl3HvIA
CR3 is a nonprofit organization made up of radon-induced cancer survivors and concerned citizens with a purpose to assist, encourage and prepare advocates in making a difference with awareness, education and action against radon gas exposure. We hope to effectively educate the public and private sectors about the real danger of living, working or attending school in environments with elevated levels of radon gas.
One of our most successful efforts is our international free electronic magazine, which is packed with valuable information on lung cancer and radon exposure. CR3 Radon News has a circulation of approximately 18,000 readers, with 14,000 subscribers who are patients and industry leaders and representatives of medical and health care organizations. Go to citizensforradioactiveradonreduction.org/e-mag/ to see every issue from the last four years.
Another project CR3 is proud of is our Teachers for Radon Reduction endeavor. We are creating a calendar featuring radon posters created by student contest winners from across the country. We plan to share these calendars with teachers, parents and students.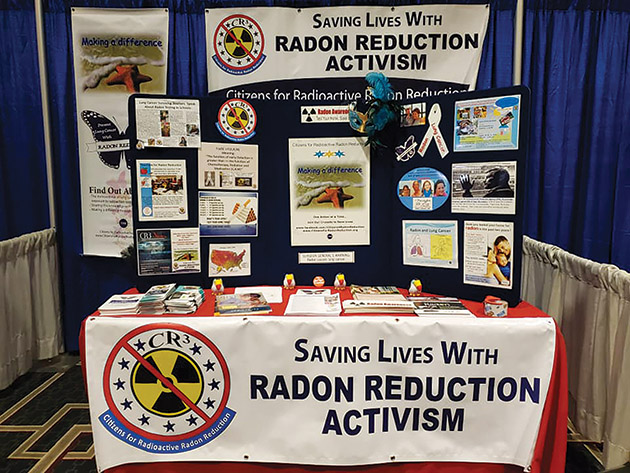 We also work with various lung cancer organizations, health departments, and environment and community groups throughout the nation to share this message:
All homes, schools and workplaces should be tested for radon—the leading environmental cause of cancer deaths.
While exhibiting at national conferences, including American Public Health Association (APHA), National Environmental Health Association (NEHA), American Association of Radon Scientists and Technologists (AARST), and National Association of County and City Health Officials (NACCHO), we share stories, facts and brochures.
We support federal and state legislation that helps prevent future cancer deaths from radon.
A Call to Action for Home Inspectors
By encouraging and requiring a radon test at the time of inspection, lives can be saved; we know that home inspectors are extremely influential in making this happen. We invite you to become members of our organization and join our crusade.
Subscribe to our free electronic magazine, learn more about the danger of radon exposure and become qualified inspectors of currently installed radon systems.
Find CR3 on Facebook (www.facebook.com/Citizens4RadonReduction.org) and Twitter (twitter.com/citizensradon).
For more information, contact Gloria Linnertz, Founder and Director, Citizens for Radioactive Radon Reduction, www.CitizensforRadioactiveRadonReduction.org.