Part 2 of 3
I was starting to get frustrated and it was showing in my work. After being on the FEMA trail chasing hurricane damage for two weeks, I thought I was past the learning curve trials I'd experienced in New Orleans. Now I was facing a new challenge that cost me where it hurt ... in the pocketbook. I'd started my deployment two weeks earlier in Louisiana, working Hurricane Gustav damage. Using a different computer, software and procedures than I'd used in my 26-year home inspection career presented new challenges. With time and experience, I was learning the job as a FEMA Disaster Inspector.
For the first two weeks, a communication problem with the FEMA computers had delayed me from getting sufficient work to do little more than cover my expenses for the first two weeks. FEMA Inspectors have to pick up their own lodging, meals and vehicle expenses as they perform their inspections. I drove my own inspection vehicle from Texas, so I was saving the car rental cost, but meals, gas and vehicle wear and tear were still expenses that I had to budget for on a daily basis. Hotels were few and far between because of the number of evacuees, but I was lucky enough to get a room a few blocks from the French Quarter, so, in the beginning, it didn't bother me a lot. Still, $90 a day meant that it took two inspections a day just to cover the cost of my room. My first inspections were just a few miles from the hotel, so gas wasn't much of an issue. Meals were defrayed somewhat by breakfast with the room and fast food for lunch. Dinner in the French Quarter was a different matter, but once I did manage to make it to Mulates, which is across the street from where the ASHI conference was held in January.
Expenses in Louisiana become an issue
When the FEMA contractor released me to perform more inspection without reviewing my work, I was given a bigger area that included Baton Rouge. There were still no available rooms anywhere in Louisiana, so I stayed near the Quarter and made the 90-mile drive to and from Baton Rouge each day. My expenses were rising, but I was getting more comfortable with the software and procedures, so it still didn't matter too much
at the time. Most of my inspections were with Katrina babies who were trying to work the system and get a free handout, but they didn't realize that Gustav was a different type of storm and the guidelines had changed to prevent much of the fraud that occurred during Katrina. More about those all-important FEMA guidelines in a minute.
Happy to return to Texas
When the massive Hurricane Ike hit, inspectors were dispatched to western Louisiana and Texas in waves. I was happy to return to my home state and help people who were sorely neglected when Hurricane Rita hit the Beaumont/Port Arthur area a month after Katrina hit New Orleans three years ago. Part of my motivation was to bring my home inspection experience to bear to help people devastated by the storms and to guide them through the complicated FEMA program to get the help they deserved. Lest everyone think my motives were completely altruistic, I was also there to make money to pay the bills and the mortgage on my own home. This was something that was not working well in Louisiana with the Gustav inspections.
When the call came to go to Texas at 9:30 one evening, I was ready to jump at the opportunity. They instructed us to cancel our scheduled inspections (ouch … I had a $300 day booked the next day). We were told we would download work to our computers in route so we would be able to hit the road running with lots of inspections. FEMA wanted a presence in the area quickly after the storm. We were also instructed to load up with food and water because the area was devastated. I did as asked and hit the road about 8:30 the next morning, with supplies on board and sufficient paperwork to be able to work a couple of weeks without checking in at the FEMA office that would eventually be set up somewhere in Houston.
Texas presents new challenges
As I approached the Texas boarder, I started looking for a hotel room without realizing that 2.5 million people had evacuated from the Texas Gulf Coast and that every hotel room within 300 miles was booked. Luckily, I managed to find a room for one night in Sulphur, Louisiana, which is about 90 miles from Beaumont, Texas. Little did I know the challenges that lay ahead. I watched the news as the extent of the damage was shown on national TV. Entire coastal communities were gone on the Bolivar Peninsula. Power was out to millions of people, and businesses were shut down. There was utter chaos everywhere. These are not ideal conditions under which to contact people, meet with them at their homes and perform disaster inspections.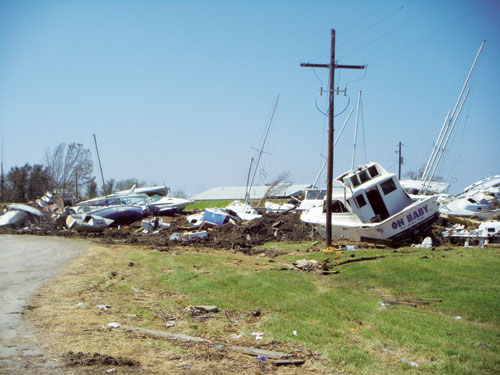 Photo courtesy of Jim Hemsell.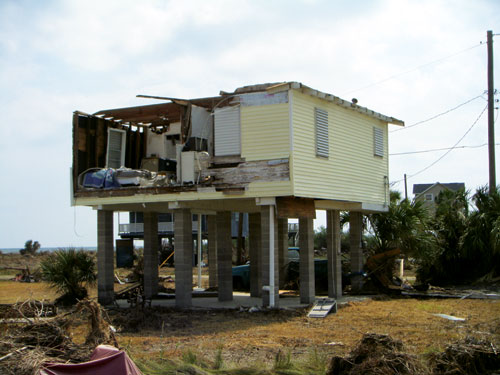 Photo courtesy of Jim Hemsell.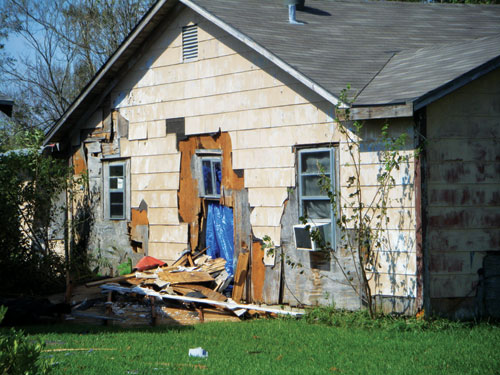 Photo courtesy of Jim Hemsell.

I had developed a network within the FEMA inspector community that paid off in aces. One inspector had found a Bed and Breakfast in Orange, Texas, that had a generator and later, power. I booked four nights there and felt lucky I didn't have to sleep in my truck. After a day or two of disaster confusion, I downloaded some inspections and started the arduous process of contacting people to meet with them and perform their inspection so they could get some financial aid. I arrived in Port Arthur on Wednesday, and the power was restored on Sunday. It was long, hot work in a town that looked like it had been hit by too many hurricanes over the last three to four years. Devastation from Hurricane Rita still was evident on most of the structures, and it was my job to determine what was Hurricane Ike damage and write it up.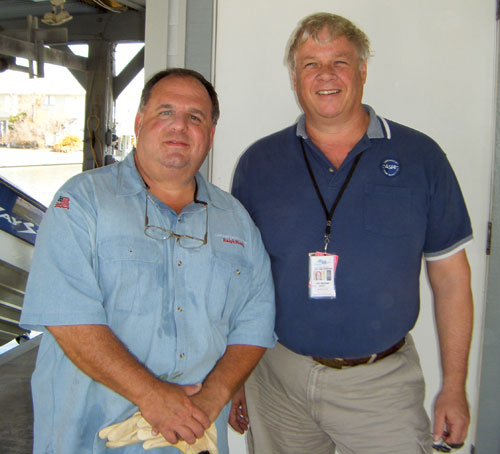 Photo: Left, Ralph Nicosia, ASHI Certified Inspector from Galveston, Texas, and right, author, Jim Hemsell.
Most of the people that I spoke with for the first four or five days had ridden out the storm in their homes and swore they would never do that again. Most of Port Arthur had avoided the storm surge that damaged so much of the coastal areas, but there was wind and storm damage everywhere. It was four days before I had my first destroyed house. The girl living there lost everything in the storm surge. The house next to hers had been crushed by a shrimp boat that broke loose from its moorings. The effects of a 15-foot-high wall of water on a house cannot even be described other than to say there was a pile of rubble where a house had once existed. This was just the first day of many that I would see destroyed houses. Later that day, the air conditioner broke on my truck, so I made the six-hour drive back to Dallas (home) to get it fixed and to take a quick break. Most of my applicants were still evacuated out of town and waiting for power to be restored. There were no open car repair businesses to fix my truck, so I went where I knew I could get it fixed quickly. I had been on the road for three weeks and I needed a break.
Three weeks in profitability picks up
Two days later, I was back in Port Arthur with the all-important necessity of air conditioning. Power had been restored to most of the city, and people were starting to return. I had worked the phones hard during my retreat, so when I got back to the area, I had a busy few days meeting with people and performing inspections. Houston would still go another seven to 10 days without power, so hotels were still difficult to find. I managed to find a room each night until I learned about the FEMA base camp that had been set up in Beaumont to house a thousand relief workers who were in the area helping bring the communities back to life. Communal air-conditioned tents, showers, laundry and a cafeteria never sounded so good. It was even free to FEMA rapid response workers. I wondered why no one told me about it sooner, because life got much easier as I started the 12-14 hour work days. I had finally found the profitability that I had missed the first three weeks of my deployment.
Guidelines cause frustration
The FEMA guidelines cover the Individual Housing Program (IHP) that I was working with for homeowners and renters. The 22 dense-packed pages stated what was covered and how it was to be reported. The problem that had frustrated me so much at the beginning of my Texas deployment was mired in those details. One of my first Port Arthur inspections involved a roof that had peeled off and moisture saturated the sheetrock and insulation. The house had been closed up for seven days with no power and mold was everywhere. The homeowner waited until I inspected the house before starting repairs. As I walked through the house to estimate the extent on the damage, the smell of rotted meat from the freezer and mold turned my stomach. My heart ached for all the work that this young man had before him just to save his house. He had friends and family there to rip everything out of the house as soon as I finished.
I wanted to make sure he got a good estimate and his fair share of FEMA money. My work with the ASHI Insurance Taskforce made me well aware that the insurance companies started canceling homeowners insurance on all properties within 50 miles of any U.S. coastline. FEMA money was the only help most of the people affected by these hurricanes were going to get. The report was kicked back several times, which meant I ended up not making any money on that inspection, and his benefits were delayed three weeks. The FEMA guidelines are specific, and I had attempted to help too much.
Next month, I will attempt to summarize my FEMA inspection experience and provide a document to be posted on the ASHI Web site to help ASHI members be prepared if they choose to do this type of work in the future.