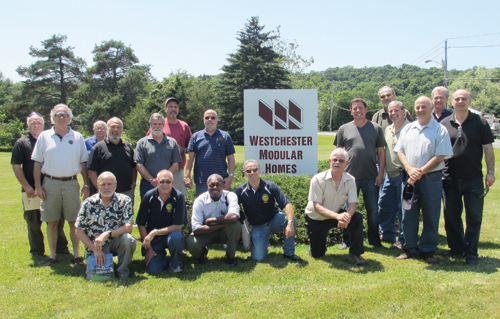 ASHI members from two chapters took advantage of the tour of a Westchester, New York, modular home factory that was open to members of NY Metro and Hudson Valley Chapters. Inspectors observed homes under construction in the factory and heard a talk on inspection points of interest specific to factory-built homes. Submitted by: Glenn Woertz, ACI
Attention Chapters: Leadership Training Conference and more Mark Your Calendars
ASHI's 2012 Leadership Training Conference will be held October 18 & 19, 2012, at the Sheraton Chicago O'Hare Airport Hotel in Rosemont, Ill.
ASHI Chapter leaders will be receiving invitations to participate in this dynamic leader-development training program. The continued development of effective chapters is important to ASHI's success and the support and training of its members.
Chapter Rosters
Please send your chapter roster, bylaws and vitality report to Russell Daniels at russelld@ashi.org. The deadline was June 30, but all three documents continue to be requested.
Keep your information current
To change chapter contact information for the website or in print publications, please use the form created for that purpose. It's available under forms and downloads in the Members-Only section of www.ashi.org.
Promote your events for free
List your chapter events on the website calendar and in the ASHI Reporter. Send the dates and locations to Russell Daniels at russelld@ashi.org.