Why would a home inspector need to understand centrifugal pumps? Are they ever used in homes?
Well, there's the sump pump, well pump, condensate pump and hydronic heating pump. There's even a water pump in your car. It's important to know how centrifugal pumps work.
Start With the Basics
Let's take a look at a basic centrifugal pump (Illustration P052C). A typical pump has an impeller mounted on a motor shaft. Water enters at a suction inlet in the center of the impeller. As the motor spins the impeller, centrifugal force pushes the water outward into the housing ("volute"). The volute, or housing, directs the moving water to the discharge. The pump works only if it is filled with water. If you lower the speed, you lower the flow.
Illustration P052C. Centrifugal Pump - Basics.
Pump Variations
Pumps have numerous design options affecting flow and pressure. Take a submersible well pump (Illustration P053). This pump must create high pressure to move water out of a deep well. It must also be small enough to fit inside a 6-inch well casing. So, the submersible well pump has small-diameter impellers stacked in the vertical shaft. Water flows from the inside of the first centrifugal impeller to the outside. Then the housing directs it to the second impeller and so on. These stacked vertical impellers create enough pressure to overcome the depth ("head") needed to push water into the home. The impellers have varying sizes of openings. The number of impellers varies, depending on the depth of the well and the necessary flow to the home.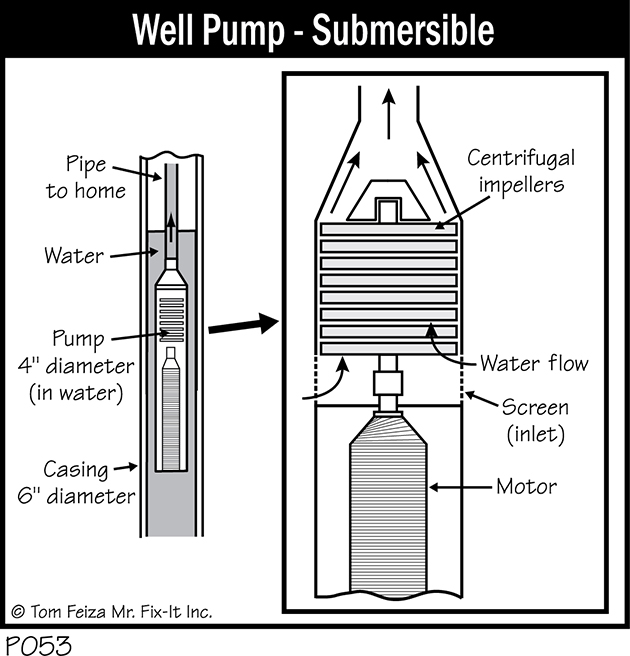 Illustration P053. Well Pump - Submersible.
Pumps for Hydronic Heating and Boilers
All hydronic systems use a centrifugal pump to move water. These are usually called circulating pumps because they only need to create enough pressure to move water in the systems. They are not designed to lift water—they just circulate water.
Photo 1. Heating system pumps.
Photo 2 Water main booster pump.
Older circulators were large cast iron assemblies with exposed couplings. Today, circulators are compact, often using magnets to transfer the spinning motion to the impeller; there's no connected shaft and no seal. In one particular setup (Photo 1), I counted nine circulating pumps in the heating system with a condensing boiler. This setup enables zone heating control and perhaps potable water heating.
Booster Pump
The centrifugal pump at the water main in this home (Photo 2) increases water flow and pressure. You can easily identify the motor, housing (volute), inlet and discharge of this pump.
The Takeaway
You see and use centrifugal pumps every day and you should understand how they work. Excessive vibration, leaks and noise are potential issues.