John Mace, owner of Harbor Home Inspections of Marblehead, Mass., has come up with a unique
container for his inspection tools. "I've looked at bags, toolboxes, suitcases and all kinds of
construction pouches and haven't been able to come up with what I wanted," said Mace. "I only carry a camera, a pocket PC and a flashlight on my belt. The rest is in my box, which weighs about 16 pounds. It holds over 25 items."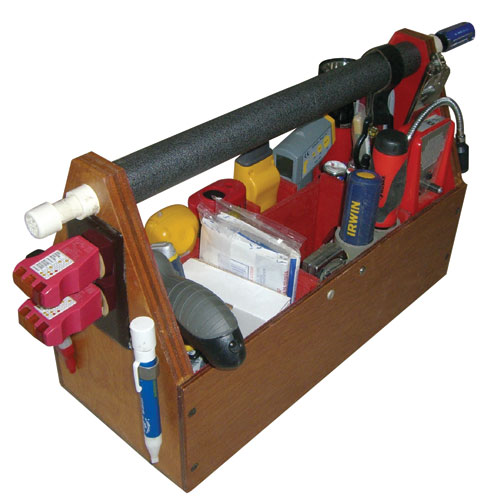 The box pictured above holds the following :
2-ft. probe
flashlight
infrared thermometer
moisture meter
laser measure
carbon monoxide tester
digital camera
battery powered screwdriver
2 hand screwdrivers
thermometer
gas detector
tape
mirror
gfi and arc fault testers
2 AC sensors
headband light
radon test kit
popcorn to test microwave ovens
a clear pocket on the end to hold license and thin documents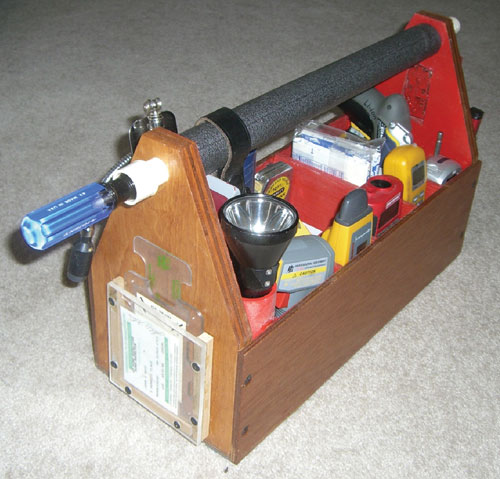 The opposite side of the box.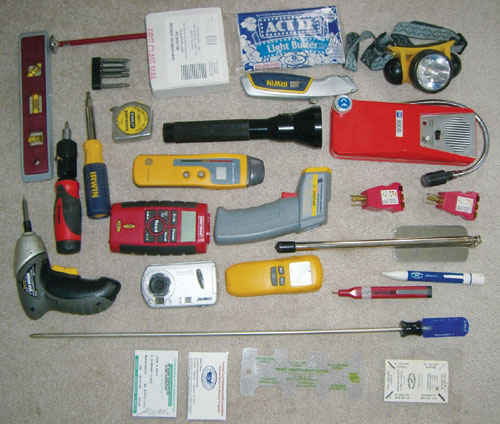 The contents of Mace's box.
What kind of equipment do you carry on inspections and what do you carry it in? If you'd like to share with other ASHI members, e-mail Sandy Bourseau at
sandyb@ashi.org
.