On May 2-3, 2007, the Illinois Association of Realtors, IAR, held their annual Spring Conference at the Gateway Center, Collinsville, Ill. The two-day continuing education conference attracted close to 600 attendees from across the state.
The Central Illinois Chapter could be found just inside the main exhibit hall entrance. As reported in the chapter newsletter, with our wall of defect photos as a backdrop, we spoke with the attendees about why they need to recommend home inspections to their clients. Many were amazed by our wall of defects, and asked us to explain what was pictured.
"Our mission was to explain the difference between a licensed inspector and an ASHI Certified Inspector, beginning with the licensing requirement of 6 hours of continuing education and ASHI's 20. Now they know whose reputation they're willing to stake their reputation on."
Photo: Bill Brittin, CICASHI member from Springfield, Ill., explains to a Realtor the benefits of using ASHI Certified Inspectors.




Photo: David Miller (l), chapter secretary, and Stan Kupish (l), chapter president, in front of booth.
Exhibiting at the conference is one way the chapter educates Realtors® and consumers. CICASHI also sponsors informational booths at consumer home shows and cosponsors an ad with the Northern Illinois Chapter (NICASHI) in the IAR Magazine, which is received by over 75,000 Realtors, mortgage professionals and real estate affiliates.
In addition to promoting members to consumers and the real estate community, the chapter's monthly meetings provide an opportunity to network, discuss problems and recent inspections, and take advantage of one or two hours of training. CICASHI also hosts an annual summer conference where attendees can earn the 6 CEs required by the state.
Golden Gate Members Take Pledges and Raise Awareness
In May, 10 members of the Golden Gate Chapter volunteered to answer the phones for KQED 88.5 FM. KQED is the largest public radio station in the nation and serves the San Francisco Bay area. Not only did the volunteers from the chapter take pledges worth more than $17,000 for KQED, four on-air mentions of ASHI reached thousands of listeners.
All of the volunteers had a great time and enjoyed a tour of the studio lead by Jerry Nueman, the radio announcer and studio coordinator for KQED. Participating members unanimously agreed to make this an annual event.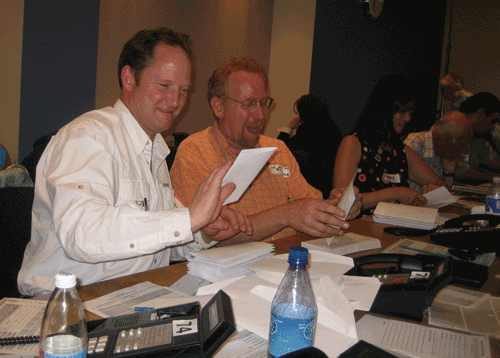 Photo: John Fryer (l) and Matt Cantor (r) at KQED public radio.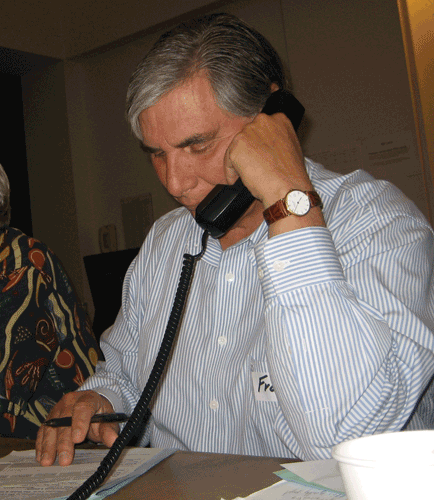 Photo: Frank Casillas answers the phones.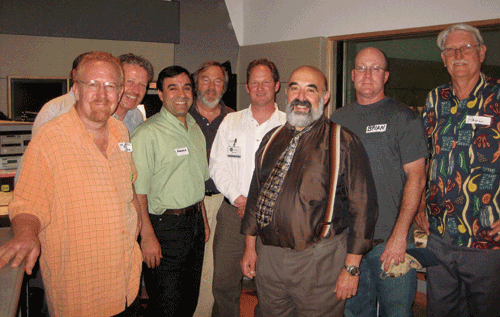 Photo: The group from left to right: Matt Cantor; Frank Casillas (hidden); John Brogan; Faz Farahani; Bob Dullum; John Fryer; Jerry Neuman, the announcer/operator for KQED radio; Brian Cogley; and Paul Rude.

Presidents Past and Future Gather at SunTech
This year's annual SunTech seminar, hosted by the SunCoast Chapter April 27-29, in Clearwater, Fla., proved to be a draw for past and future ASHI presidents. President-elect Brion Grant and past presidents Mike Casey and Mark Cramer were all in attendance.
Chapter members Lou Parillo and Neal Fuller welcomed guests, speakers and attendees to the always-successful two-day seminar.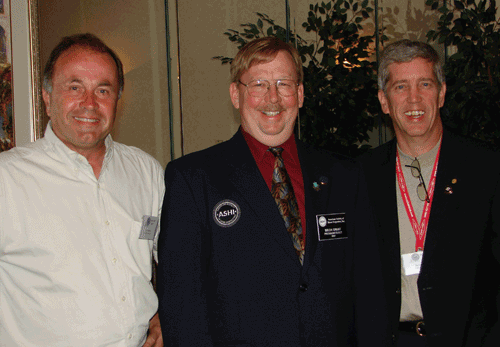 Photo: L to r: Lou Parillo, Brion Grant and Neal Fuller at the SunCoast Chapter's SunTech Conference.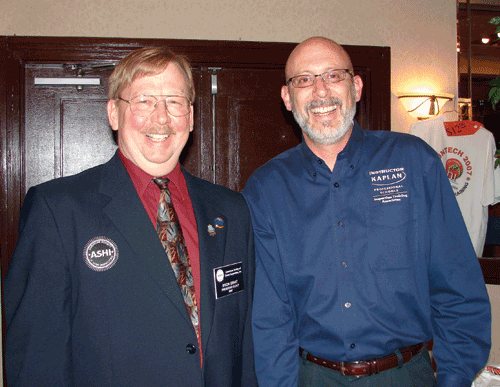 Photo: Brion Grant (l) , ASHI president-elect, with Mike Casey (r), former ASHI president

Chapter Leadership training 2007Attention Chapter Leaders
It's time to plan for and decide who will attend this year's Chapter Leadership Event.
Who:
Current and incoming chapter presidents, members involved with or interested in leadership, and new members identified as potential leaders.

When:
Thursday and Friday, October 18-19, 2007.
Where:
Doubletree Hotel Chicago O'Hare – Rosemont, IL.

How:
More details in the August Reporter or e-mail
bobk@ashi.org
.