LAST MONTH I POKED FUN AT THE VENERABLE MAGLITES® many of us used in the past. But I did that out of respect. There's no question modern technology has forged improvements in home inspection equipment, but let's not forget what brought us to the dance.
Those of you who've been around for a while may have used this trick before, but for some it may be the first time you've heard it. What I'm about to tell you I learned from Dwight Barnett, a member of the Great Lakes Chapter who the folks in Evansville, IN, can't seem to get rid of. Back before moisture meters became reliable and more importantly, affordable, he told me to use my Maglite® to test for moisture behind shower/tub tile.
Now, before you jump to erroneous conclusions, the Mag couldn't directly detect moisture, but it sure could determine if the tiles were loose. The sound that firm tiles make clearly resonates in the enclosure. The sound of loose tiles is duller or muffled. Through experience, we can pretty much agree that the most likely reason tiles become loose in a shower/tub enclosure is because of moisture. It doesn't take a Bill Loden to figure that out. For those of you scratching your heads about why I mentioned Bill, it's because in his former life, he was a rocket scientist at NASA.
The only drawback to Dwight's method of using the Mag was that if the tiles were really loose, they'd fall into the tub with a resounding clamor, not unlike a loose slot machine. Which, of course, would draw the attention and disdain of the home- owner or listing agent. Surely accusations would follow proclaiming, "The inspector caused that to happen, everything was fine until he knocked a hole in my shower." And the home inspector would be like a loose slot, paying out hard-earned money for a latent defect. If you want to see some classic old technology, copy and paste this link: Skip to 1:50 to see the tip.
http://www.homeinspector.org/docs/Inspecting_Tiles_Tip.mov
Once I could afford my first Protimeter Surveymaster moisture meter, things became a lot easier for me. But like any new technology, I had to be careful to interpret the data accurately. For example, a moisture meter will beep if it detects moisture, but it may also give a false positive if it detects a piece of metal behind whatever is being checked. You definitely don't want someone ripping off perfectly good tile that you've said is moisture laden if all that's really back there is a plumbing pipe or a piece of conduit.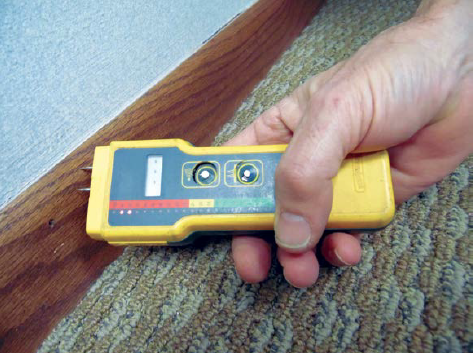 I've been fortunate in my career to have followed in the path of some great inspectors who didn't hesitate to share their hard-earned knowledge. I think that's one of the most important reasons ASHI is such a well-respected organization.
If you have any tips or comments that you'd like to share, don't hesitate to drop me a line. Knowledge freely given will always trump technology.

Frank Lesh, Executive Director
American Society of Home Inspectors
Direct: 847-954-3182
Frankl@ashi.org • www.ashi.org