Above: Students in the class at Cincinnati State.
In June, the first group of students earned college credits for completing The ASHI School's 120-hour Home Inspection Course. The college-credit option is offered by Cincinnati State Technical and Community College in cooperation with The ASHI School. It is the nation's first home inspection course offering credit toward a college degree.
The hands-on learning experience grants five semester hours of credit that can be applied to the student's academic transcript. These credit hours can be put toward an Associate or Bachelors degree in business.

Passing The ASHI School's final course exam with a 70 percent or better grade puts the student on the pathway to becoming a professional inspector and successful businessperson.
The ASHI School is a division of ASHI Education, Inc., a subsidiary of the American Society of Home Inspectors (ASHI). In addition to the college-credit program, it offers a full schedule of learn-by-doing 120-hour and specialty courses at locations nationwide. Visit The ASHI School website to see when and where the 120-hour courses and radon and commercial inspection courses are scheduled.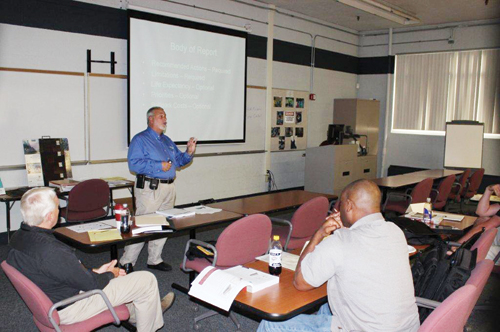 Above: Jack McGraw, director of The ASHI School, teaches at Cincinnati State.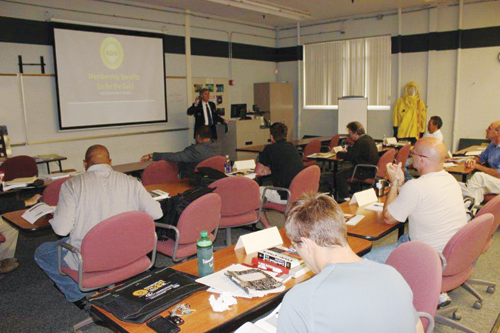 Above: Marv Goldstein, ASHI president presents to the class.
The ASHI School Students Learn in the Field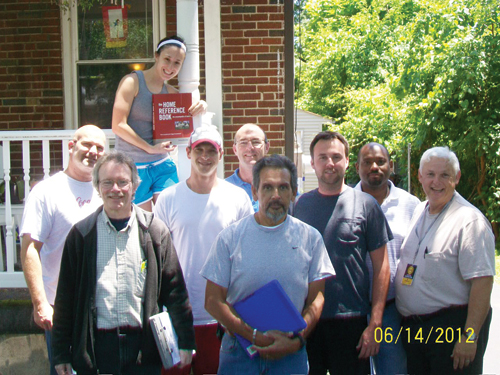 Because field inspections are part of every course, the students in the class held in June in Ohio were disappointed when a flea infestation kept them from entering the house scheduled for their hands-on learning session. But their disappointment didn't last long when a neighbor provided them with an opportunity to participate in the instructor-lead inspection as planned, plus experience first-hand what it will mean to be an ASHI inspector.
When the neighbor heard the name ASHI and found out what was happening, she offered her house for the inspection. The exterior was inspected that day and the students and instructor returned later in the week to inspect the interior. Instructor Ken Harrington said the neighbor knew of ASHI and the reputation it enjoyed in the Cincinnati area and therefore was willing to receive a free inspection of her home by The ASHI School.
Submitted by Ken Harrington, ACI, Kustom Home Inspection; President, OHIO ASHI; National Instructor The ASHI School