Smooth Transition of Leadership – an ASHI Strength
Each year, ASHI's business meeting closes with the
installation of officers — another smooth transition of leadership that allows the society to move forward without a ripple in its service to the membership, the profession and the public. This is not by chance. The timing of the event, as well as the terms and the authority of those being installed, are spelled out in ASHI's bylaws, giving the society the stability that has served it well for three decades.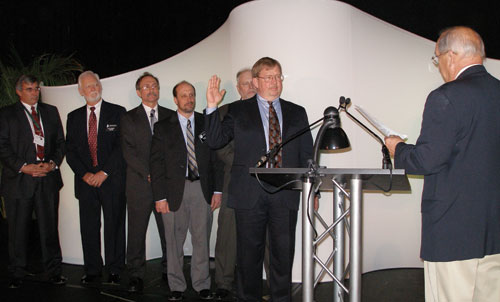 Photo: Brion Grant is sworn in as 2008 ASHI President while the rest of the 2008 officers look on.
Six officers are installed: president, president-elect, vice president, secretary, treasurer and immediate past-president. With the exception of the treasurer, all serve a one-year, non-successive term, extending from annual meeting to annual meeting.
The incumbent president-elect succeeds to the office of president upon installation of all the officers at the annual meeting.
The treasurer, who is responsible for the fiscal affairs of the society and for safeguarding all assets, is elected for one term and is eligible for re-election for two additional successive terms.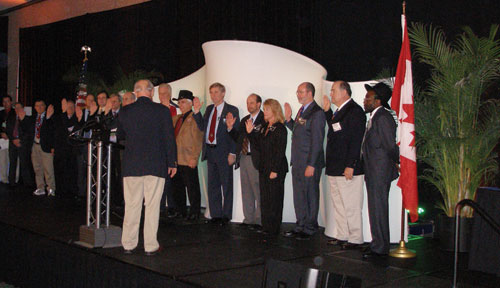 Photo: The 2008 Directors are sworn in.
For a more detailed review of the bylaws that facilitate the efficient and effective transition of leadership, go to Members Only online on
www.HomeInspector.org
and look for Bylaws, and Policy and Procedures under Publications.