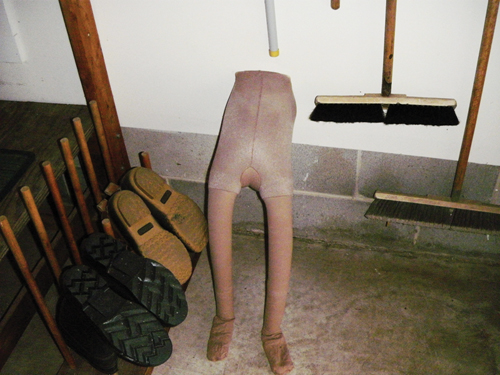 Dryer ventilation ... sexy AND functional.
Charles "Chap" Fichera
Ceilings 2 Cellars Home Inspections, LLC
Green Lane, Pa.


Stare down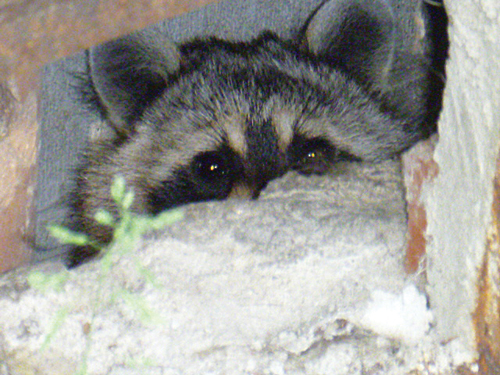 "You can't see me, you can't see me." I found this raccoon in a chimney when I opened the outside clean-out door. Yes, I lost the staring competition.
William Vicaire
Discovery Home Inspection
Leominster, Mass.
Splitting hairs again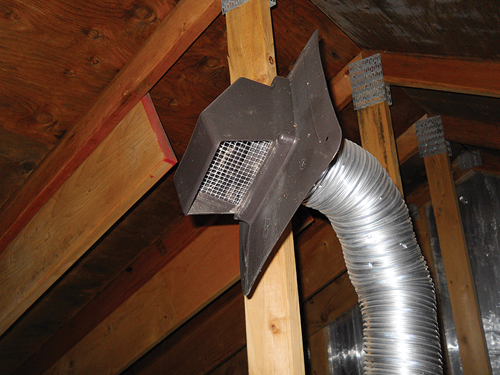 When recommending that bathroom vent fans connect to an exterior vent, perhaps we should be clear that the exterior vent actually be installed on the exterior.
Robert Wittenberg
HomeFront Inspection
Renton, Wash.
Oil spill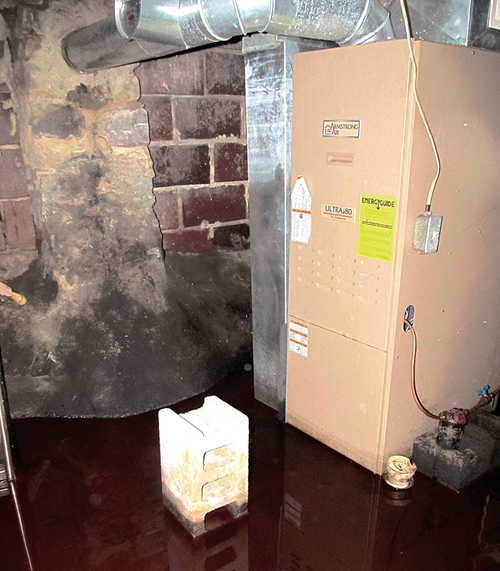 Just a minor water leak or roman candle? You decide! I was told prior to the inspection by the realty agent there was some water on the floor in the basement. The water was actually home-heating oil. Notice the red sheen of the "water!"
Michael J. Ashburn
Ashburn Inspections
Murrysville, Pa.
Don't drink the security system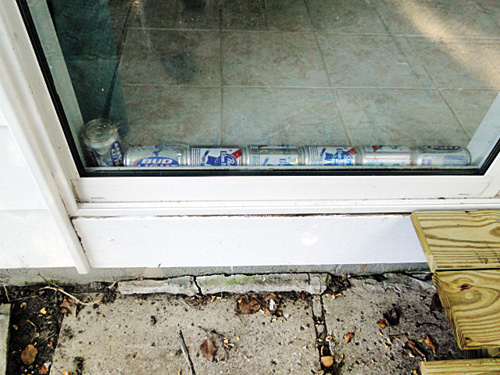 Most people use a piece of wood or metal pipe to help secure the sliding glass doors, but this was a first for me. Yes, those are Bud Light and Pabst Blue Ribbon beer cans. I think a thief breaking in would stop and drink these or take them with him.
Rick A. Harrington
Patch Independent Home Inspections, LLC
Pickerington, Ohio

Hammered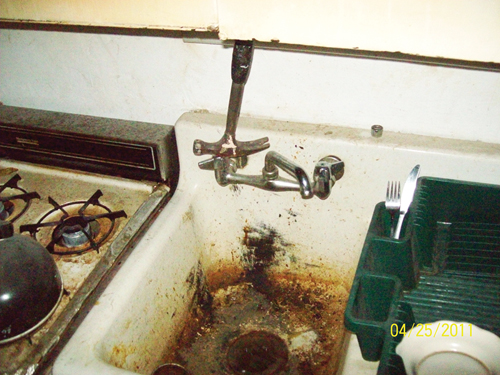 Talk about water hammer.
David Grudzinski
Advantage Home Inspections
Cranston, R.I.
Modern art installation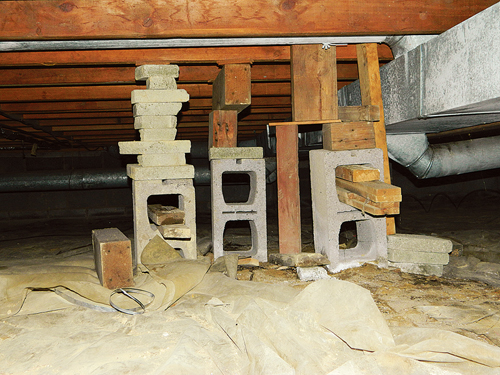 Paris has the Louvre, Washington has the Smithsonian and now home inspectors have the Crawlspace. This "creative" pier may win a modern art design, but not a structural engineering award.
David Haught
Certified Home Inspectors
Huntington, W.V.
I hope that isn't Dorothy's ruby slipper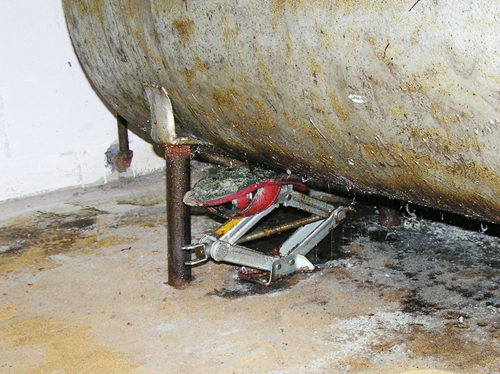 I found this old sandal wedged between the leaking oil tank and a car jack to act as a plug. Sand was across the floor to absorb the oil. The odor of oil extended up into the house. Not a good sign. Carjacking takes on a different meaning.
JD Grewell
J.D. Grewell & Associates, Inc.
Silver Spring, Md.
Maybe they are the same guy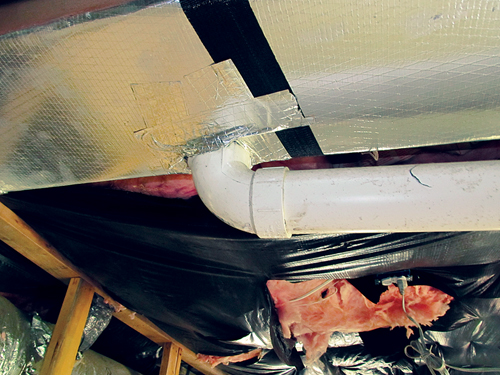 This is a 4" drain pipe running through an air return duct. I don't know who got there first, the plumber or the HVAC guy.
Frank Turner
Turner Home Inspection Services
Beaufort, S.C.
Trade wars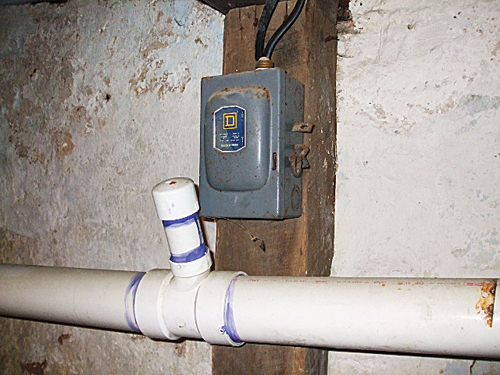 I call this one "pumbers and electricians should just learn to get along." This drain-pipe fitting prevented full opening of the fuse box. Apparently, the plumber decided that no one would ever need to access these fuses, though they were connected to the water heater and were in use.
Matthew Steger
WIN Home Inspection – Elizabethtown
Elizabethtown, Pa.
Classic code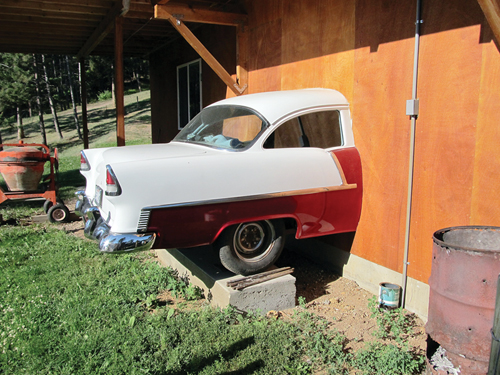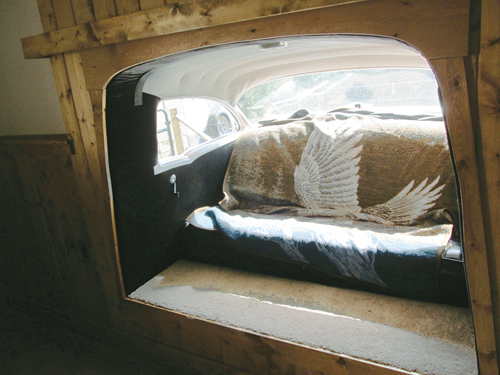 This is not Photoshopped. I wasn't sure which code applied to this scenario. Do you use the 2000 code since the house was built in 2002, or the 1955 code since the car was a 1957 or 1958? The inside of the car (bottom photo) was set to be used as part of a home theater. I've seen this in DisneyWorld, but never in a house.
Lamar Rase
Complete Home Inspections, Inc.
Missoula, Mont.