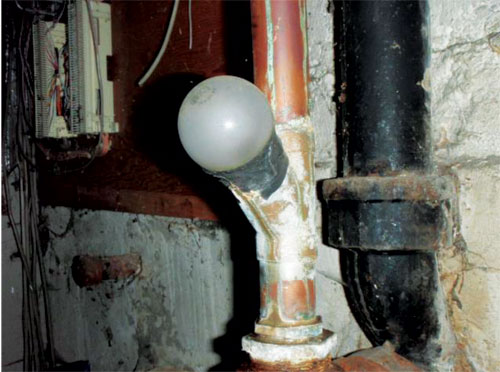 Here is a "bright idea" that we came across on a recent inspection. This is a plumbing waste line that was capped off with a light bulb. Electrical tape was used to hold it in place.

Harry Alexander
Cornerstone Inspection Services
Carmel, Ind.
Jurrassic furnace
This furnace had some issues, but on opening the blower compartment, I found that it was, at least, well-protected. Imagine my delight on finding this fearsome fellow.
Michael Chambers
BrickKicker Home Inspections
St. Louis, Mo.
All the amenities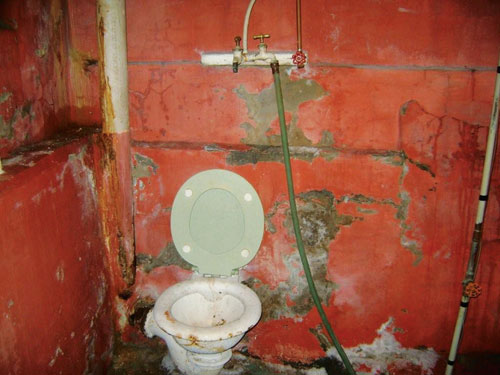 Part bidet, part toilet! The best part is you can look directly up the basement stairs into the kitchen.
Terry Grube
Seacoast Inspections LLC
Hampton, N.H.
Trouble on a slab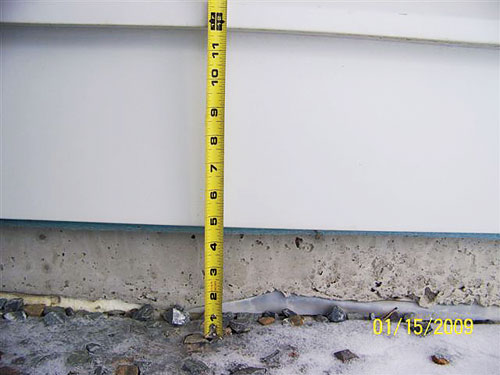 The owners of this one-year-old, slab on grade townhouse had moisture and excessive humidity issues in their bedroom. Gee, do you think the "zero" clearance might have something to do with the problem? You can imagine what happened when all that New England snow started melting and collecting against the exposed end of the 4" concrete floor slab. And yes, that's the gray vapor barrier and green sill seal you're seeing that ensured surface water wicked under, over and into the finished interior floor!
Bob Erbetta
Management Design Associates
Marblehead, Mass.
More mortar, please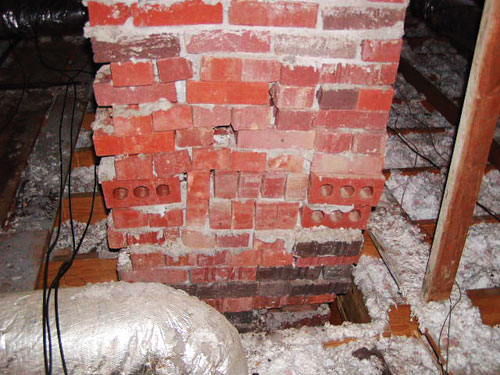 This fireplace looked harmless enough in the living room, until the attic inspection. The layers of brick were turned any which way and most were barely buttered with mortar. Some holes were visible through to the chimney chase. The lower chase was narrow and then flared out toward the roof penetration.
Brandon Dyles
Picture Perfect Inspections
Bartlett, Tenn.
Say it ain't so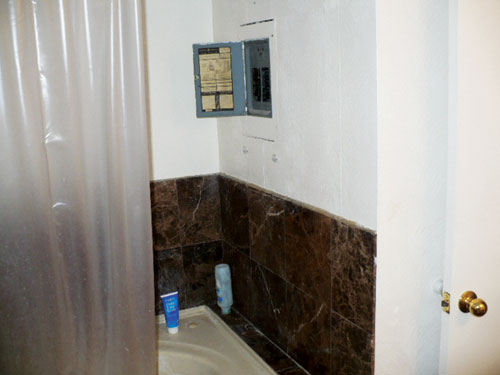 Yes, this really is a service panel located inside a tub-shower.
John Scott Barnett
Home Rite, Inc.
Birmingham, Alabama
Not the intended use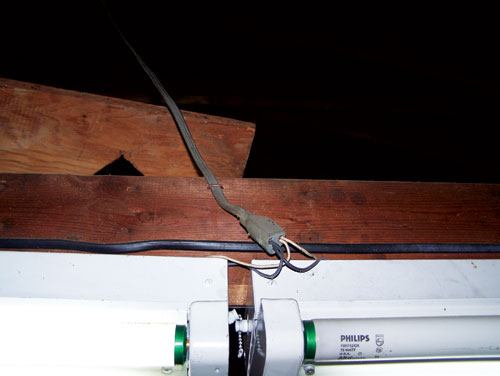 Who needs an electrician? They charge too much.
David Grudzinski
Advantage Home Inspections
Cranston, R.I.
Wrenched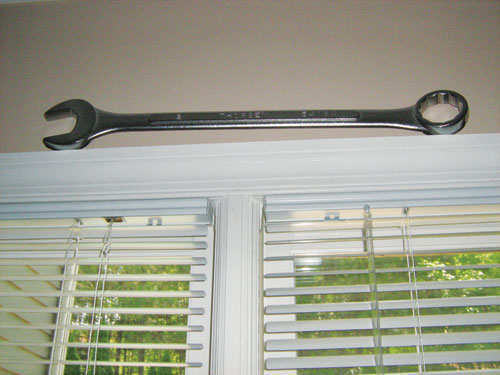 Luckily, these windows were easy to shut so I did not get knocked on the head by the homeowner's two-foot wrench, which I did not notice until after opening and closing them. Yet another reminder to always keep our "heads up" as to potential dangers while inspecting (pun intended).
C. John Limongello
Land America Property Inspection Services
Jasper, Ga.