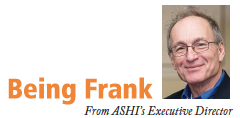 It's November, so I'd like to share my "Thankful List," professionally speaking…
1. Good Health. It's hard to make a living without it. If you're sick a lot and not able to do your job, you don't just lose the day's inspection, you may also lose future inspections, because referrals from real estate agents, attorneys, bankers or even home-buying clients may not recommend your services due to unsure reliability.
2. Family. For moral, financial and staff support. Like many other inspectors creating their own businesses, my wife and I started Home Sweet Home Inspection Company, with her doing the essential stuff like booking the inspections upselling ancillary services and running the office. I got the fun part of doing the inspections. My kids helped, too, when they were on vacation or school breaks. Among other things, my son would carry the ladders and be the "gofer," and my daughter would jot down deficiencies as I spotted them. Now, my daughter is a sales rep for The ASHI School, and my son is an ASHI Certified Inspector. Some clients say, "He sounds just like you, Frank." (I don't know if that's meant as a compliment or not.) My wife is a former First Lady of ASHI and she still enjoys going to InspectionWorld®.
3. Weather. There are folks who think the weather in Chicago is atrocious, but truthfully, I'll put up with some snow, rain, heat and crisp days… they're called "seasons." I'm grateful, though, to not have hurricanes, tornados, earthquakes or 120-degree days for weeks on end. And the beauty of having "weather" is that things wear out quickly, which means there are more things that need to be inspected and more maintenance projects that you need to talk about with clients. All of this leads to more business. But no matter where you're located or what type of climate you're in, make the best of it.
4. Business. This is a great time to be in business. But then, I think anytime can be if you have #5 below.
5. Attitude. We are in a business that finds fault. Clients don't hire us to tell them how pretty the view is or what a great school district they'll be in. They want to know the condition of the house. Often, that means that we're the bearers of bad news. But even when presenting bad news, your attitude, or what I like to call your "bedside manner," can make all the difference in the world to your client.
How you present your findings is important. And in my opinion, that does not compromise your responsibility to the folks hiring you. Accurate analogies are hard to assign to situations, so the best I can produce is what it's like when you go to the doctor. If she finds something wrong with you, how she explains it to you will have a huge impact on your psyche—much like how your client feels when your report details a significant defect in the house.
I recommend that you use language that makes you most comfortable. But keep in mind that even if you like short, to-the-point answers to complicated issues, be cautious because you should recognize that some clients might be turned off by that method. Your client may feel that you're being rude or insensitive. So, although your observation in one case might have been right on the money, your delivery might have been poor.
"Remember, a huge part of successful entrepreneurship is getting repeat business."
It costs far more time, effort and money to get new clients than it does to get repeat customers and referral business from them. Ultimately, your attitude will have a direct effect on your success.
Like I said at the beginning of this list, it's November. Count your blessings and give thanks for what you have.