For those of you who do radon testing or are thinking about doing radon testing, be sure to read Carolyn Allen's article in the December issue of the Reporter. Carolyn gets down to the nitty-gritty about radon testing, which will help you expand your business.
In addition to her article, ASHI has some exciting radon-related news to announce. ASHI and 11 other nationally recognized organizations have put together a "Strategy for Saving Lives" for the National Radon Action Plan (NRAP). The strategy is a culmination of more than two years of effort. The near-term goals are to reduce radon risk in 5 million homes and to save 3,200 lives by 2020. Although these goals offer bold and important milestones, they are not the endpoint.
Our ultimate goal is to eliminate avoidable radon-induced lung cancer in the United States by incorporating radon testing, radon mitigation and radon-resistant construction into the systems that govern purchasing, financing, constructing and renovating homes and other buildings. Using simple and proven technologies, we can eliminate avoidable radon-induced lung cancers. We need to apply these technologies as standard practice over time to reduce radon risk across the U.S. building stock. When we find, fix and prevent high levels of indoor radon as a standard practice so that no American is exposed to avoidable radon at home, school or work, we will have achieved the vision of this plan.
As Carolyn stated in her article, there is an opportunity for home inspectors to "do well while doing good," and this opportunity is even more relevant with the NRAP. For more information, go to the ASHI website and click on "ASHI Newsroom" at the bottom of the page or "National Radon Action Plan" when it appears on the rotating screen.
Another way to expand your business (read: income) is to perform energy assessments. Although numerous energy programs have been devised over the years, most have been met with mediocre success. ASHI has been asked to promote a new program that will be unveiled at InspectionWorld® 2016 San Diego. We have invited Joan Glickman, senior advisor at the U.S. Department of Energy (DOE), to speak at ASHI's annual luncheon Sunday, January 24, and she will also give a detailed presentation Monday, January 25. Also, DOE will have a booth in the IW exhibit hall. Anyone who is interested in energy assessments should plan to attend! In addition, Randy Pence, Capitol Hill Advocates, will speak at IW about ASHI's efforts and successes in Washington, DC. We've talked about this before, but it bears repeating—home inspectors, with ASHI in the lead, have achieved favorable legislation that affects our profession. Randy will highlight our accomplishments and goals for the future.
As you can see, a lot is happening this year for ASHI members. One thing you may not be aware of is 2016 will be the official launch of ASHI's 40 Years of Trust.® Since 1976, ASHI has been the North American leader in the home inspection profession and our 2016 President, Randy Sipe, suggested this tag line to embrace what our founding members created 40 years ago. I can't think of a more appropriate statement.
We will be interviewing some of the charter members to hear what it was like "back in the day." So, for any of you who've been around awhile, the Reporter requests old photographs or stories from the past. Maybe the first annual conference or chapter meeting you attended? Or why you decided to join ASHI.
Drop us a line and we may include it in our year long-look at how hard we've all worked to achieve our 40 Years of Trust.®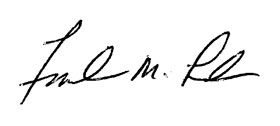 Frank Lesh, Executive Director
American Society of Home Inspectors
Direct: 847-954-3182
Frankl@ashi.org • www.ashi.org