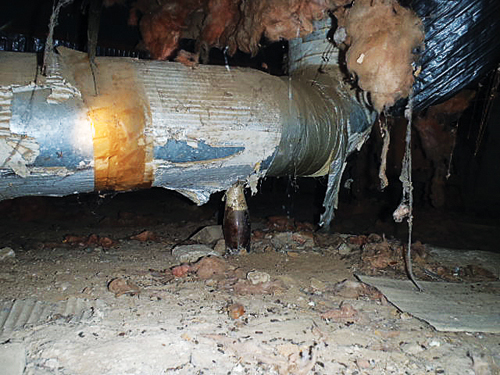 I'm guessing that a beer bottle is not an approved duct-support system. This may show my age, but it looks like (from the bottle) this was done on a weekend. The old commercial said, "weekends are made for Michelob."
Tim Hemm
Tim Hemm Inspections
Yucaipa, Calif.


Beer support system II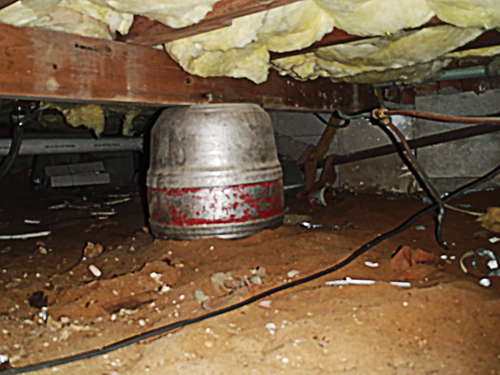 "Tastes great, less filling." I always recommend Guinness kegs for girder support as Miller Lite kegs are not as strong.
Robert Galster
Pillar to Post/Cape May County
Woodbine, NJ

Firework finale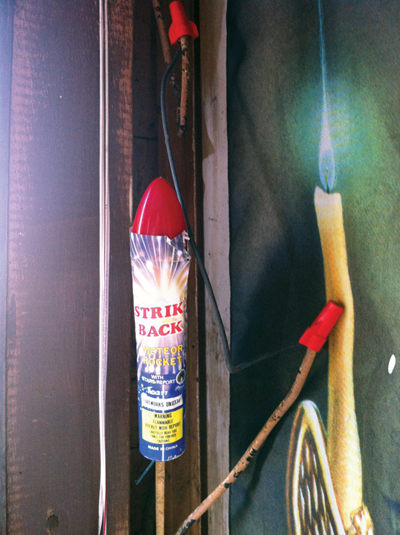 I found an illegal firework next to a flying splice (a spliced wire not in a box). Just another day on the job.
Kevin Robinson
KR Home Inspection
Pacific Grove, Calif.
Duck!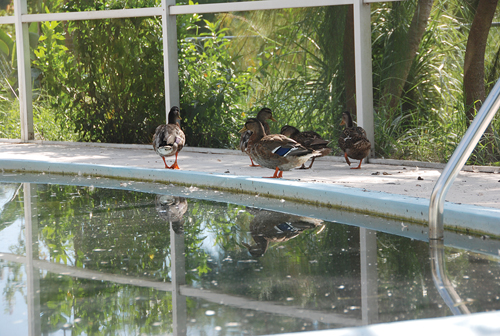 The pool at this vacant house has been taken over by wildlife.
Mark Cramer
Mark Cramer Inspection Services, Inc.
Indian Rocks Beach, Fla.
Smoking by the electric panel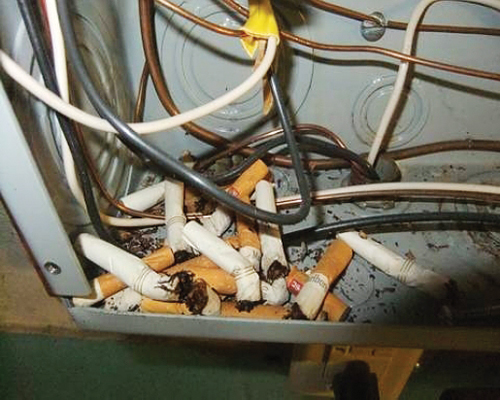 I guess someone was sneaking cigarettes and figured he or she would hide the butts somewhere where nobody would find them ... ha! ha!

Tim Quinn
Pillar to Post – Pittsburgh
Monroeville, Pa.

Highrise hot tub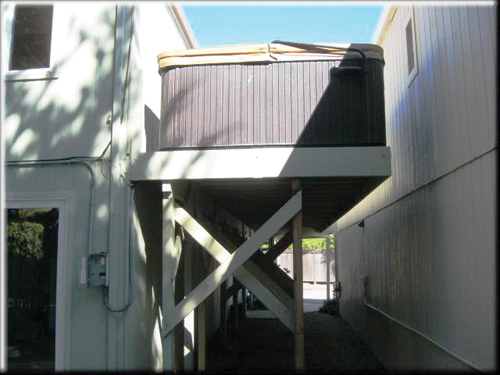 Recipe for disaster: Start with a vacation rental, add 2 margaritas, a bit of dark nighttime and a deck built without adult supervision. Pop it into the hospital for 2 years.

Jason Gingery
View Point Inspections
Santa Cruz, Calif.


A bomb in the attic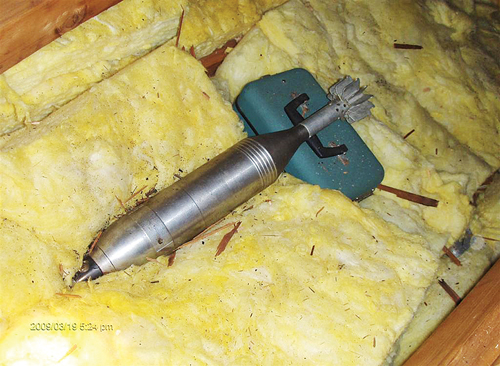 Look around those attics. You never know what you'll find. This WWII mortar shell was not marked inert, so it was suspected live. The fire department was called, then they called military specialists to remove it. It was found to be a dud, but the neighborhood was snarled for several hours.
John Dirks Jr.
Arundel Home Inspection, LLC
Severna Park, Md.


Gunpowder in the crawl space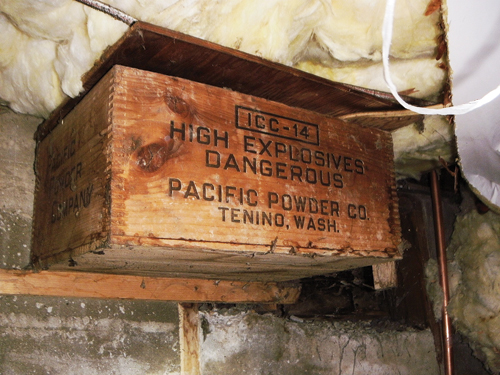 Excuse me, sir. Why do you have a box of explosives in your crawl space? And why is there a wire attached to it? Never mind, I'll be leaving now.

Dan Chapleski
True North Inspection Services
Coeur d'Alene, Idaho

Code red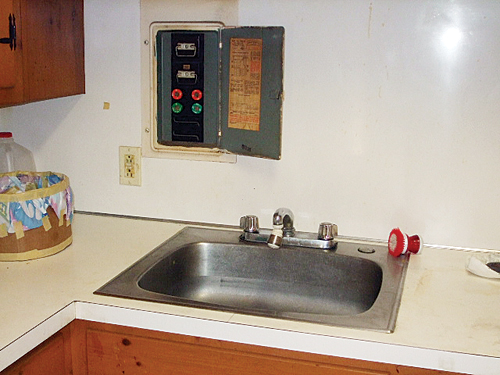 This photo shows a fuse box located next to a kitchen sink.
I can't believe this was ever legal.
Matthew Steger
WIN Home Inspection – Elizabethtown
Elizabethtown, Pa.

The eagle has landed or bald is beautiful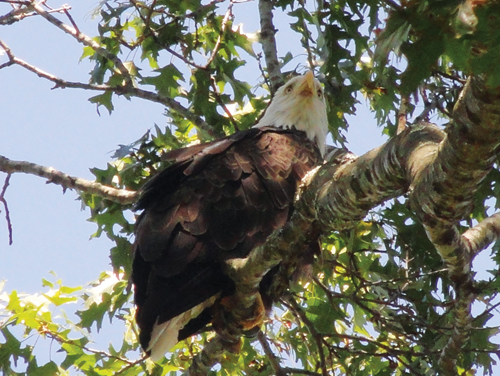 I shot this photo of an American bald eagle taken from the deck of a home I inspected, located on a hill overlooking the Connecticut river. While eagles winter on this river, it is somewhat unusual to see an eagle here in the summertime. The eagle was about 50 feet up in a tree next to the deck. I used a 14x zoom digital camera.
Warren Tomek
Five Star Inspection Services, LLC
Madison, Conn.

A spindly excuse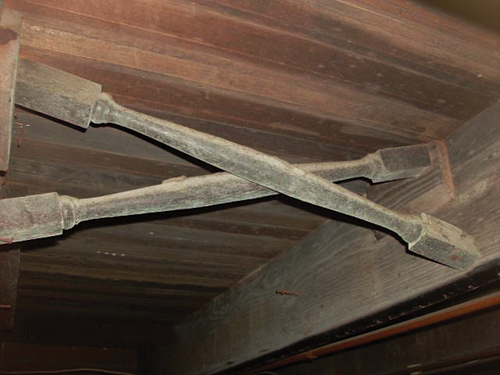 Now I know why there were missing spindles on the staircase!
Chris Hill
Top of the Hill Home Inspections, LLC
Bensalem, Pa.

Uh oh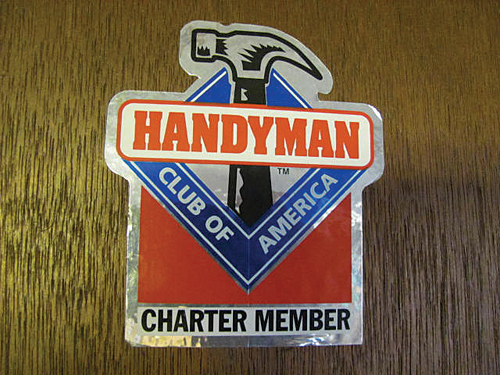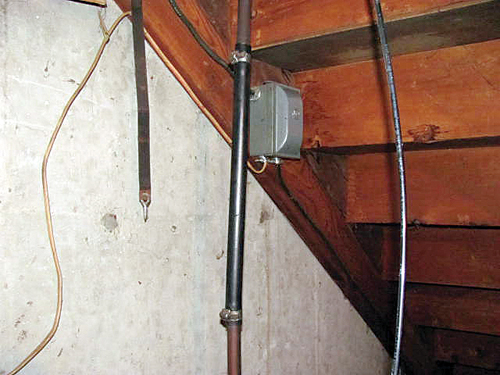 The first photo is a sticker I saw on the seller's workshop door. It made me inspect twice as hard! The second photo speaks to his repair skills. The guy used a piece of hose instead of copper pipe. When copper is in short supply, just cut up your garden hose!

Mark Hatheway
Inside Out Home Inspections, LLC
East Hampton, Conn.

They do know jack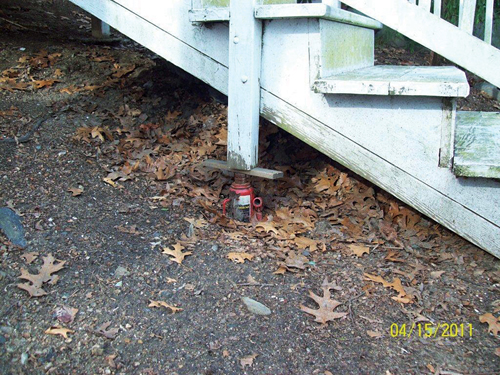 That's a bottle jack supporting the stairs. One of my friends said, "that's jacked up."
David Grudzinski
Advantage Home Inspections
Cranston, R.I.