To the editor,
I was amused by the Postcard from the Field sent by Shane R. Pouch of Olathe, Kan. (April 2007 Reporter). It shows a plumbing stack vent with a 90-degree elbow directed toward the ridge of the roof.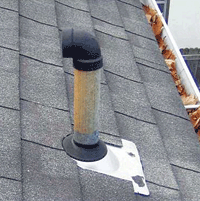 For anyone not aware of it, this is the way to eliminate sewer gas odors that drop down into yards and make them impossible to be enjoyed in the good weather.
I have been advocating this technique for decades when asked by the readers of my syndicated newspaper column.
How it works: Wind suction draws sewer gases (the Bernoulli principle) out of the pipe. The wind follows the roof pitch and drops to the ground.
When an elbow is installed on the vent and is properly directed toward the prevailing wind, the sewer gases are pushed back into the vent pipe instead of being sucked out.
This is why an elbow must not be cemented, as it may need to be rotated until the proper position is found.
So, there is no need to dive. Whoever installed this elbow either read it in my column or has a very savvy plumber (few of them know about it).
Henri de Marne, Retired ASHI member #922
Essex Junction, Vt.