Peter Engle earns John E. Cox Member of the Year Award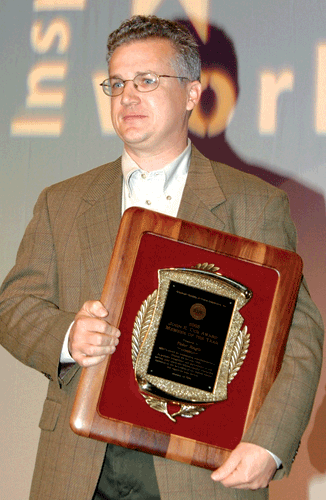 Peter Engle of Almost Home in Rumson, N.J., received the 2005 John E. Cox Award for outstanding service to the Garden State Chapter of ASHI.
Kurt Salomon, speaker for the counsel of representatives, presented the award to Engle, whose dedication and efforts resulted in "a stronger chapter, a stronger and more meaningful licensing law, and ASHI having a stronger presence in New Jersey."
According to his fellow chapter members, Engle was the one who called chapter members to action when letters had to be sent to legislators before a critical vote, and he wrote the text of these letters."
An ASHI Member since 1995, Engle has held both national and local positions, and is immediate past president of the Garden State Chapter.
"In New Jersey, we are working very hard to promote the highest technical and ethical standards for home inspector licensing," said Engle. "I am also looking forward to helping the Society promote its industry-leading standards and ethics guidelines on a national level."
Established in 1990, the award is named for John Cox, who was a special person. He made friends with inspectors from all over the country, served on and chaired committees, and was an ASHI Director while simultaneously acting as an Officer and Director for the various chapters to which he belonged.
The Cox Award recipient must be an ASHI Member who has rendered outstanding service to an ASHI Chapter. The Nominee may be any full Member of ASHI who has not previously received the award.

Douglas Hansen receives Philip C. Monahon Achievement Award
Ken Salvo, last year's recipient, presented ASHI's most prestigious annual award to Douglas Hansen of Code Check, Palo Alto, Calif.
"He has been actively involved with legislative activities in California for over 20 years," Salvo said.
"He has actively represented the home inspection profession, and his efforts played a large part in ASHI's decision to enforce mandatory continuing education requirements."
Now retired, Hansen used his more than 30 years of home inspection experience to author "Electrical Inspection of Existing Dwellings" and co-authored the current "Code Check" series. Presently, he is the managing instructor for Inspection Training Associates, Oakland, Calif.
This award is presented in honor of Philip Monahon, who was a larger-than-life individual—a true visionary for the future growth and success of the Society. Serving as ASHI's Executive Director in its early years, he believed in valid standards, combined with strict conscientious business practices.
Established in 1983, the award recognizes someone who has made exceptional and innovative contributions to the ASHI Membership for a minimum of five years. The recipient is selected by the Awards Committee from nominees proposed by the membership. An annual cash donation of $500.00 is made to the Newton-Wellesley Hospital in Newton, Massachusetts, in the name of Philip C. Monahon.
Patterson earns President's Award
Outgoing ASHI President Don Norman explained why he chose Scott Patterson of Trace Home Inspections, Ridgeland, Miss., to receive the annual award for outstanding service in a particular area.
"Scott, has taken an unwavering stand for our Society, and his commitment to what ASHI stands for is unparalleled. He is constantly willing to step up to the plate and take on a new responsibility whenever he is asked, and he has worked well as a committee chair, being the leader in encouraging synergy among the different committees."
Norman continued, "He is an outrageous, extraordinary supporter and member of our society and the voice of ASHI on many home inspector Web boards."
Patterson joined ASHI in 1996, belongs to the Mississippi Chapter, and is returning as the chair of the ASHI Membership Committee.
Cramer named Ironman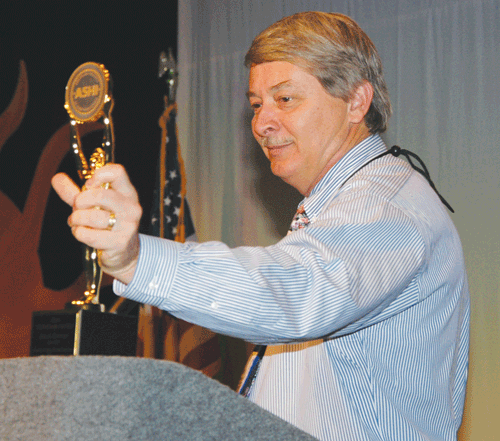 According to Don Norman, Mark Cramer of Cramer Inspection Services, Indian Rocks Beach, Fla., is "a little on the quiet side, very thoughtful in his responses, and is described as 'Scary Smart' by some of our members who frequent the forum."
Norman said Cramer deserved the Ironman Award because, "Although he has reached the pinnacle of success within ASHI, he continues to be committed to the Society and our profession, improving our standards and the way we do business, and making us better inspectors. He has been a dedicated member of the Society for almost 15 years and is a workaholic when it comes to ASHI involvement."
Cramer, who joined ASHI in 1991, has chaired and served on numerous committees, and is an ASHI Past President. He belongs to the Suncoast Chapter.
The Ironman Award, established in 1998 by Past President John Palczuk, recognizes an individual Member who has given his or her time, energy, talent and determination to ASHI over a long period of time and with little recognition.
Cranor recognized for Special Service
A Special Service Award went to John E. Cranor of Cranor Home Inspections, Glen Allen, Va., who Don Norman described as a "silent partner, behind the scenes, who works hard and never asks for anything in return. He does what he does out of dedication to ASHI, and is always willing to do whatever is needed of him to get the job done," and "has taken the lead in many important ASHI projects, and was a huge part of the development and success of the Virtual Home Inspection."
Cranor, who joined ASHI in 1998, served as the chair of the ASHI Technical Committee, currently chairs the ASHI Standards Committee, and is president of the Central Virginia Chapter.
Chapters recognized for attracting new members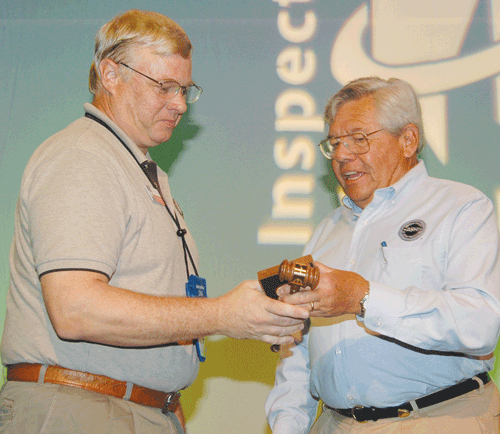 Lone Star ASHI earned the award for the chapter with the most new members.
(Photo: Jim Hemsell accepts the award for Lone Star ASHI Chapter.)
California ASHI earned the award for the greatest percentage of growth.
(Photo: Roger Robinson accepts the award for California ASHI Chapter.)

Established in 2003, the Chapter Awards recognize the two chapters that have shown the most growth, either in number or greatest percentage of increase.