After months of hard work by Kate Laurent, ASHI Design and Strategy Manager, and her team, we are delighted to officially announce the launch of the new ASHI School website: www.theashischool.com.
"Our goal was to redesign the website with students and inspectors in mind, and to make it as informative and easy to use as possible."
Among the new features on the site are integrated social media buttons for Facebook and other social media outlets to foster improved communication with potential students and home inspectors.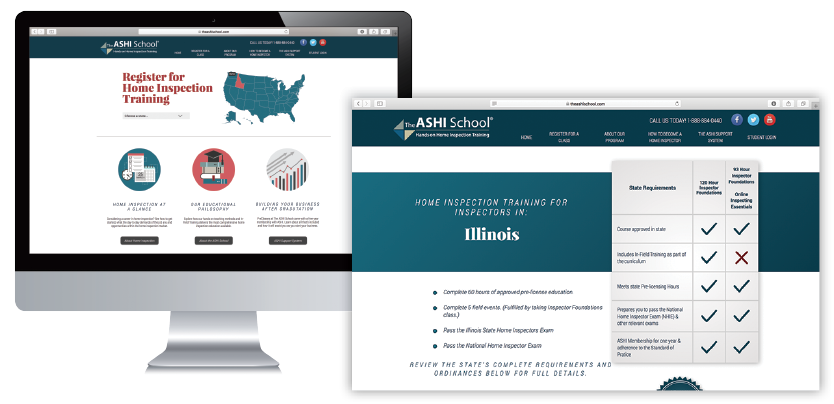 This site is not only for people looking for home inspection training, but also for inspectors looking for ancillary training in commercial inspections, mold, radon, four-point wind mitigation and more.
Training tailored for multi-inspector firms:
If you are part of a multi-inspector firm that trains your inspectors, consider The ASHI School to provide that training. We are equipped to provide training in 13 locations (see www.theashischool.com for details).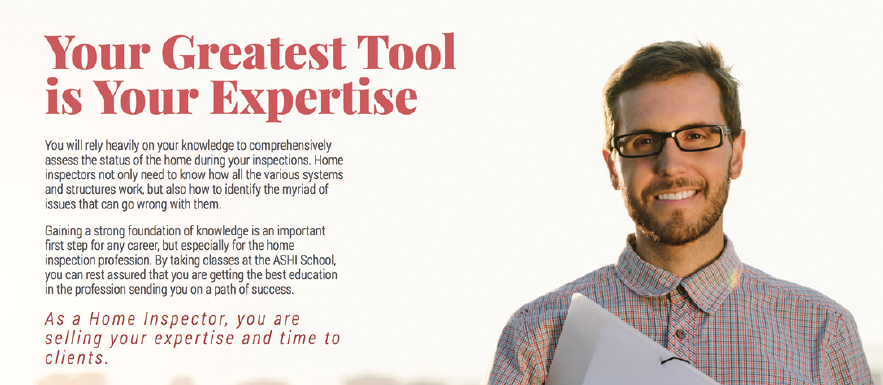 What does the training cover?
The ASHI School features live home inspection classes that include more time in real, in-the-field home inspections than any other home inspection school in the nation.
Courses cover how to start your own home inspection career and how to operate a successful inspection business. Instruction also describes how to perform inspections that are in compliance with the ASHI Standard of Practice and Code of Ethics.
Courses are designed to be an intelligent blend of pre-class study materials, live classroom lectures and actual in-the-field home inspection training. Specific components that are taught include electrical, plumbing, roofing, heating, exteriors and
interiors, just to name a few.
Materials used in classes include the Home Reference Book and Study Guide and Code Check Complete. As a bonus, students of The ASHI School receive first-rate preparation materials for the National Home Inspection Examination (NHIE)—the NHIE Home Inspection Manual and the NHIE Study Guide. These references are considered a must to help you pass the NHIE.
If you have ideas to share or questions about The ASHI School's website, please contact us at: info@theashischool.com.
We look forward to seeing you at The ASHI School— online or in person!