The baton passes from Mike Casey (
r
), ASHI immediate past president, to Rich Matzen
(l
), current ASHI president.
The Philip C. Monahon Achievement Award was presented to William Richardson(
l
) by Mark Cramer (
r
) in recognition of Richardson's exceptional and innovative contributions to the ASHI Membership. Richardson joined ASHI in 1989 and has served on the COR and the Board of Directors. He chaired the Education Committee and served on the Legislative, CEPP, and By-laws committees. One of the founders of the New Mexico Chapter, he served as president and now serves as PR Committee chair. In addition, he promotes ASHI to other associations, including by having served as the chair of the Affiliate Committee to the Albuquerque Board of Realtors® and on the Board of Realtors® Strategic Planning Committee. The recipient of the Monahon Award is chosen from individuals nominated by the Membership.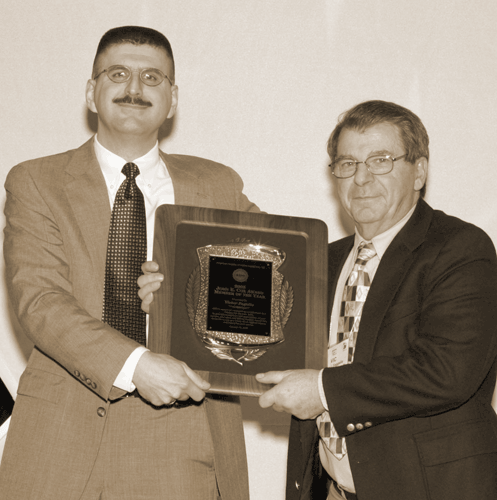 Victor J. Faggella (
r
) was presented with the John E. Cox Award. He was honored for his exemplary contributions to the New York Metro Chapter during the 22 years he has been a member. The surprise presenter of the award was his son Victor G. Faggella(
l
), who is also an ASHI Member and proud of his father's dedication to the chapter. Victor Sr. has served as secretary, vice-president and 3-term president of the NY Metro Chapter. Still active, he attends and contributes to executive sessions held before monthly meetings. As president, Faggella introduced numerous new chapter programs, a consultants' list, and a brochure on "Explainers/Disclaimers" for chapter member use. He revived the chapter newsletter, contributed a monthly column, and served as its editor the past five years He has also served on the chapter's Executive Board, and he chaired the publicity, education committees, and was co-chair of the Chapter Annual Seminar for the past six years. Nominees for the John E. Cox Award are submitted to the Council of Representatives for a vote by secret ballot.
Stephen J. Preins was chosen by outgoing President Mike Casey to receive the President's Award in recognition of his service to ASHI, specifically for his role in establishing the Society as the "voice of the profession." As the chair of the Public Relations Committee 2001-2003, Preins provided leadership and direction as ASHI established itself as the prime educator of the public on the value of home inspections, and as the voice of the profession with the media, government and other real estate transaction professionals. He worked seamlessly with the Society's public relations consultants, and maximized the effectiveness of the dedicated volunteers who served on the committee. In addition to work on the national level, Preins is a founding member and past president of the Northern Illinois Chapter of ASHI.