With more than 150 attendees, it was standing room only Sept. 24 at the Pennsylvania headquarters of ASTM, a standards development organization that recently launched development activities for children's vinyl toys and forest management, while proposing to do the same for home inspections.
ASHI members were there in force, making up the majority of the audience, successfully voicing their objections to the proposal. Members who came from as far away as California, Texas and Florida joined past and present officers and directors.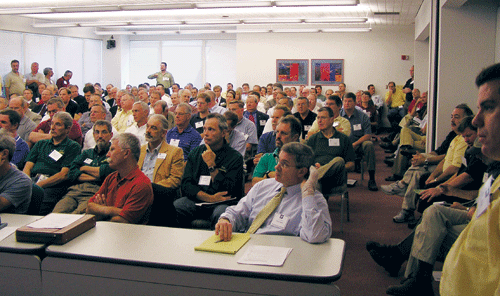 They opposed the proposed creation of ASTM inspection standards because such standards would dilute or replace existing industry standards that have been carefully crafted over time, standards that are based on the practical experience of untold numbers of professional home inspectors.
This would directly undercut ASHI's efforts to build the integrity, independence and professionalism of the home inspection profession and would harm those inspectors who believe that the profession should seek the highest levels of expertise rather than regress to the mean in a likely ASTM homogenization of the competing industry standards.
Such a result would also work to the detriment of homebuyers and sellers across the country who depend on genuinely proficient professional home inspectors to help them buy and sell homes safely and intelligently.
NAHI, NACHI, CREIA and TARIE were also represented.
ASHI Certified Inspector JD Grewell provided the following first-hand report.
Pat A. Picariello, ASTM director, developmental operations, said initially he had been contacted by NAHI, and the NAHI representatives present confirmed that a poll of its members showed that 72 percent favored the creation of a national standards of practice.
In response to questions from the audience, Picariello explained the process: to have a voice in creating the standards, you have to join ASTM. What's more, ASTM sells its products, which include the standards it creates. He didn't know how much it would cost to buy or duplicate the standards, but there would be a charge. Furthermore, once the standards were in place, ASTM could create and sell home inspection reports to be used for resale, new homes, condominiums, framing inspections, etc.
He stated flatly that the ASTM standards would be completed within one year. When it was pointed out that the ASHI Standards Committee spent three years diligently updating the 2000 ASHI Standards of Practice, he said their process is superior at making speedy decisions via their committees. The drafting committee would be set up to allow other groups and trades to participate. Voices were raised, as attendees responded that standards governing our profession should be left to the practitioners rather than allowing those antagonistic to our profession to have a voice at the table.
In mid-afternoon, a motion was made to call the question and to have a ballot vote whether or not to go forward. The vote was 103 against ASTM developing home inspection standards; 59 in favor. Those who voted to terminate the effort fully recognized that the ASHI Standards of Practice are the best available.