Volunteers Deliver ASHI's Message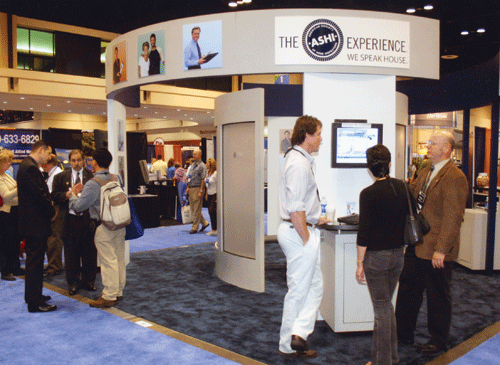 The new ASHI island booth created specifically for the National Association of Realtors® conference in Orlando last month was spectacular, but it was the volunteers who delivered The ASHI Experience message to the real estate agents and brokers cruising the giant exhibit hall in Orlando, Fla. Working with President Steve Gladstone, President Elect Don Norman, and ASHI staffers Rob Paterkiewicz and Angela Orlando, the following volunteers contributed to ASHI's success at the event, and deserve a thank you for their service.
From the Central Florida Chapter:
Thomas Battoe, TR Building Inspections, Debay, Fla.
Ray Comey, All Phase Inspection Service, Apopka, Fla.
Gil Conrad, Conrad Collins Building Inspections, Eustis, Fla.
Daniel Draime, Southern States Home Inspections, Ocala, Fla.
Tom Kleinschnitz, Advanced Building Inspections, Clemont, Fla.
William Roll, W.R. Inspection Services, Poinciana, Fla.
Alan Trauger, Alan Trauger and Assoc., Longwood, Fla.
From the Suncoast Chapter:
Jim Fahs, Young Home Inspections, Dunedin, Fla.
Bruce Jones, Blue Moon Home Inspection, Tampa, Fla.
Kevin Koplar, Koplar Consulting, Palm Harbor, Fla.
From the Southwest Florida Chapter:
Steve Hartnett. Hart Home Inspections, Nokomis, Fla.
Bill Mason, Second Opinion Home Inspections, Sarasota, Fla.
Jamie Milholland, Fine Home Inspections, Sarasota, Fla.
From the FL-ASHI Chapter:
Charles Gifford, AmeriSpec Home Inspection Services, Jacksonville, Fla.
The volunteers helped collect contact
information from more than 600 real estate professionals. ASHI has already has provided all 600-plus with a listing of the ASHI Inspectors in their area and instructions on how to place ASHI's Virtual Home Inspection on their Web sites.