ASHI School Grads Start New Career with Confidence
You may have known early on that you wanted to be a home inspector. Or, it may have been a delayed but inevitable decision. Or, it seemed like an unexpected career change but was actually the new you. However you progressed, you understood the value of The ASHI School, (TAS), its credentials and your potential.
Meet three recent ASHI grads – Brian Wade, Jeremy Meek and Gina Treece – whose experiences could reflect yours.
► Brian Wade
When he was eight years old, living in the country and helping his father and grandfather with home repairs, Brian Wade probably didn't realize that one day he would graduate from The ASHI School and establish his own home inspection business, Precision Real Estate Inspections, in Burbank, OH, 60 miles south of Cleveland.
"I enjoyed offering them an extra hand with tools, learning how the systems of a home work together, and I always loved watching This Old House with Bob Vila. Then, when I was in my teens, I started helping them with drywall," which led to Brian establishing his own drywall business in his early 20s. "Watching a county inspector critique my work piqued my interest in inspections," and it grew over time.
While it was successful, Brian closed his drywall business and went to college for a B.A. degree in Business Management, which he achieved. He also worked for two different companies. The first, a small newspaper, closed the circulation department he worked in. His next employer, a factory where he was a production manager, was purchased by a corporation that also closed the department he worked in.
During this four-year period, while working and going to college, he bought a fixer-upper house in the country town, Burbank OH, where he grew up. In anticipation of buying the house, he hired a home inspector. "I realized what a valuable service this was. He found problems that I was unaware of, and his report was very thorough and informative, saving me money on the purchase of the home and future repairs.
"That's when I decided to go on my own and take control of my future in a field that always interested me." Brian launched his home inspection career by enrolling in The ASHI School and graduating as an Associate in April 2014. He followed up by taking and passing the National Home Inspector Examination®. Brian also established Precision Real Estate Inspections in the town where it all began.
"I'm looking forward to meeting more members of ASHI's Ohio Chapter and attending Inspection World," (IW) which everyone tells me is a great experience.
► Jeremy Meek
Jeremy Meek, owner, Discovery Inspection Services, Oswego, IL, graduated from The ASHI School in November 2011. When researching home inspection educational possibilities, "I looked at a number of options but kept coming back to ASHI…I felt confident in the organization's reputation and knew that they would provide a solid foundation for me to learn how to professionally practice home inspection as well as help build my business." Jeremy had worked in land use and development for 12 years before pursuing home inspection.
Jeremy launched his business in January 2012 after receiving his certificate of completion from The ASHI School and passed the Illinois exam to receive his state license. He is now an Executive Board member of ASHI's Northern Illinois Chapter and also a member of the Great Lakes Chapter. Through The ASHI School, he has also received his ACC Certificate of completion in Mold and Moisture inspection. "This is my third year in home inspection and my business is growing thanks to a lot of hard work and a commitment to ongoing education. I credit the ASHI organization and our professional network of inspectors for much of my success. If I am ever seeking inspection or business related feedback, I know I can count on my fellow ASHI inspectors to be available to help."
During his first Leadership Training Conference, Jeremy won (via a drawing) a free ticket to his first Inspection World. "I had not planned on attending the conference before I won that ticket. I went, and I was very pleased with what an awesome experience it was," Jeremy says. "I increased my business and technical knowledge; I met inspectors at events and in classes from nearly every state as well as from Canada. I also checked out the Expo and vendors…I really left the conference charged up about our profession, and excited about what I had learned and could apply directly to my business."
ASHI and Inspection World revealed new possibilities for him. For example, Jeremy is in the process of receiving Home Energy Auditor Certification through the Building Performance Institute (BPI). "Home systems, construction techniques and materials are always evolving, and I feel we have a responsibility to learn about those changes in building practices as they relate to our inspections and advice." Given Jeremy's background in land development, IW also reinforced his interests in building science and a "whole house approach" to looking at a home's systems and indoor environment.
► Gina Treece
Many home inspectors will identify with Gina Treece's experience that led her to a new career, The ASHI School and working for Janni's HOMTEC Residential Inspections in Toledo, OH.
"I always had an interest in home renovation and enjoyed doing it in my own houses under the direction of my dad, brother and step-dad, licensed contractors in different fields," Gina says. After 25 years of working as an accountant for a company that was purchased by an international corporation, "I was ready for a career change, and it seemed natural to explore home inspection."
Gina met Janni Juhasz, owner of HOMTEC and Vice President of ASHI's Great Lakes Chapter. "Before I knew about The ASHI School, Janni introduced me to the home inspection profession by taking me on ride-alongs to see what's involved. We think along the same lines, she's a great mentor, she's very knowledgeable and patient, and her enthusiasm rubbed off on me." Gina's husband, Pat, and others were very supportive and encouraging – "it really sounds like you."
Gina attended The ASHI School in Des Plaines, IL, in June 2014. "It was amazing, and the curriculum is fantastic," Gina says. "I asked lots of questions, and the teachers offered many perspectives and honest answers. It was a well-rounded education, lots of fun, and I would recommend it to anyone." Gina now works for HOMTEC, has completed over 30 paid inspections since graduating from TAS, and is looking forward to achieving ASHI Certified Inspector status. Gina recently passed the National Home Inspectors Exam and joined the Great Lakes Chapter of ASHI.
"Every inspection is a learning experience. "We have high standards, and it's so rewarding to know that you have given customers the necessary information they need when purchasing a home."


Instructor, Mike Stephens with students at the Virginia Location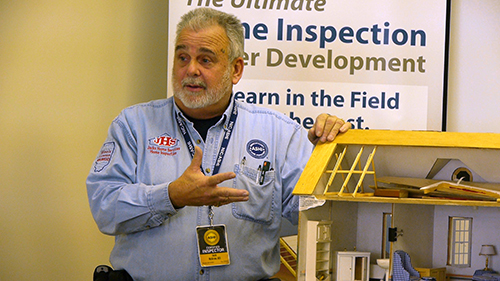 Jack McGraw, National Director of the ASHI School