Steve Gladstone, ASHI past-president and ASHI/CAHPI liaison, writes:
I'm just back from the CAHPI (Canadian Association of Home and Property Inspectors) National conference in Edmonton, Alberta. It was a great trip to visit all our northern colleagues, and I'm happy to report the conference was a great success. Over 140 attendees shared meals, seminars and some great roundtables, discussing everything from report writing to risk reduction.
Booths in the exhibition hall featured tools, insurance, software, inspection books and other services vital to home inspectors.
Let me tell you a little about the West Edmonton Mall. The Fantasyland Hotel is known as a destination hotel as it is located in the middle of one crazy, huge mall like no other.
Talk about a shopping mall on steroids! What other mall has an aquarium, water park with slides and wave machine, full-size ice rink, huge amusement park, four radio stations, a full-scale pirate ship, three food courts, an Imax theatre, a casino, bingo hall and all of it indoors? There were hundreds of stores offering every imaginable human need, as well plenty of restaurants with the wonderful food and libations Canada is renowned for.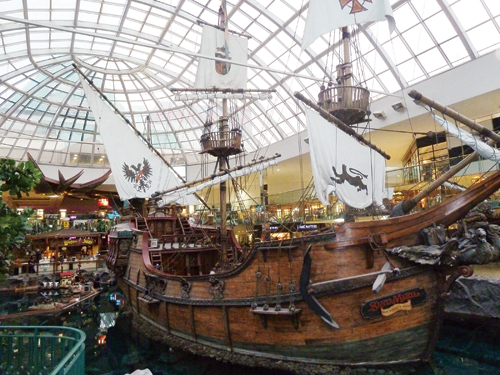 CAHPI was held at the Fantasyland Hotel in Edmonton, which features this pirate ship among many attractions. Photo courtesy of Steve Gladstone.
On the business end, Alden Gibson, ASHI treasurer, and I manned the ASHI booth, explained the benefits of ASHI membership and encouraged a large contingent of Canadians to join us. We signed up more than 20 new ASHI members. Soon, they will be enjoying the
ASHI Reporter
, membership discounts at seminars and ASHI marketing materials. Just as important, they will be placed on the "Find an Inspector page" of the website and gain a marketing advantage as more buyers from Canada and the states look for qualified inspectors.
I was once again honored to induct this year's CAHPI officers, as Bill Sutherland has handed the presidency to the very capable hands of Blaine Swan.
We were also fortunate to be visited by ASHI President Kurt Salomon, and ASHI Past-President Alan Carson was in attendance as well.
We encouraged all the attendees to join us in Phoenix, Arizona, in January, and they reminded us that next year's Canadian National conference will be in Halifax, Nova Scotia.
I would like to personally thank all the CAHPI members, attendees and Executive Director Sharry Featherston for their warmest welcome and wonderful hospitality. ASHI and CAHPI continue to maintain a solid working relationship for the betterment of both organizations.