Officers who Will Lead ASHI for 2013
The president-elect automatically becomes the president. The election for the other offices closed on December 5, 2012, and the winners were installed at InspectionWorld Las Vegas and will take their place on the Board at the April 2013 meeting.
Candidates identified issues in matrices
Officer and director candidates for 2013 were asked what they considered to be the two most pressing problems ASHI would be facing in the next 12 months. The comments shared here and on the following page were taken from their answers to this question in the matrices they submitted to be considered by voting members for their respective offices.
Bill Jacques,
President
American Inspection Service, Inc.
Ravenel, S.C.
Membership retention and chapter growth will continue to be significant for ASHI's future. We need to develop better communication with our associates and members to keep their interest in ASHI and advance the associates to full members within the first year of their membership. A more proactive push, with help from ASHI, on retaining their membership will mean staff, directors and committees getting involved in contacting members not just via the web, email and the ASHI Reporter, but the good old telephone to find out how they are doing and what ASHI can do to help them succeed.
Chapters are a lifeline to members for monthly meetings, networking, education and help. We need to continue to expand our communication programs with chapters to support growth in leadership and membership and to provide education to their members. The recent addition of the e-learning web presentations is another way we support our members.
Marketing in 2013 will be our push for ASHI members, getting them in touch with the end user, the homebuyer. Our public relations efforts will center on our customers, the homebuyers. Stay tuned for more information.
Membership highlights:
1990, joined ASHI
2000-01, South Carolina Chapter president
2003-04, South Carolina Chapter director
2003-04, Council of Representatives group leader
2005-08, ASHI director
2008, ASHI secretary
2010 ASHI vice president
2011 ASHI vice president
2012 ASHI president-elect
Bill J. Loden,
President-elect
Insight Home Inspection, LLC
Madison, Ala.
The number one issue for ASHI is leadership in the inspection profession. In order to remain the industry leader, we need to examine our membership structure and determine if a restructuring is needed to adapt for our changing environment. For this profession to thrive, we must have competent and qualified inspectors joining our ranks as older members retire and move on to other endeavors.
The number two issue is development of a public image that further engages the public. We have had great success with the message that ASHI Certified Inspectors can help consumers protect their financial assets through greater understanding of the condition of home they are buying or selling. An equally compelling message and one of interest to the public is home safety. There is no doubt that home inspections save lives, and it is equally true that properly documented home safety concerns can get the attention of the media.
Membership highlights:
1996, joined ASHI
2003-04, Council of Representatives group leader
2005-07, ASHI director
2008-09, Ethics Committee chair
2011, ASHI secretary
2012, ASHI vice president
2009, ASHI Education Committee chair
2011, Election Task Force chair
Scott Warga,
Vice President
ACSI American Construction Specialists & Investigations, LLC
Gilbert, Ariz.
We need a strategic plan and I'm working on one.
And we need to attract new members. Over the last eight years, ASHI has lost more than 1,200 members. That is $480,000 a year in lost dues. We need to get that money back to expand our services and benefits. Our staff is smaller than it has been for years, and they are doing more work. We cannot continue to lose members and not cut benefits. It's time to get more people involved. It is a well-known fact that if you want to improve yourself, you need to go help others. It is time for us to put that into place by providing information to the consumers, and training and materials to newer inspectors.
Membership highlights:
1996, joined ASHI
2003-04, Council of Representatives speaker
2006-08, Arizona Chapter vice president
2009-11, ASHI director
2012, ASHI secretary
Michael Stephens,
Treasurer
American Home Inspection LLC
Fairfax, Va.
Holding on to membership is the most significant issue facing ASHI. Providing better member benefits (value) would be one way to address this. The other issue is to encourage states that require licensing to accept ASHI's third-party certification. If they copy our standards, they should recognize our inspectors.
Membership highlights:
2001, joined ASHI
2007-08, Ontario vice president
2004, ASHI alternate director
2007-09, ASHI director
2010, ASHI secretary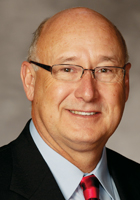 Randy Sipe,
Secretary
Family Home Inspection Services, Inc.
Spring Hill, Kan.
Membership growth to increase revenue is the most significant issue facing ASHI. Marketing to existing inspectors in licensed states and franchised inspector companies will increase our needed revenues. Marketing to existing inspectors who have established businesses will help with long-term renewal.
The second issue is getting ASHI operating in the black, which can be achieved by growing membership, and careful planning and budgeting.
Membership highlights:
1999, joined ASHI
2002-08, NOVA Chapter director
2004-06, NOVA Chapter president
2008-11, ASHI director