Kurt Salomon
President
Advocate Inspections
Midvale, Utah
There is an old saying, "The more things change, the more they stay the same." This in true with ASHI. The major reasons home inspectors join and retain their membership in ASHI is because of our core values, education and camaraderie. We are, and will remain, the gold standard of home inspection associations.
We will be facing challenging times in 2011. To respond to the challenges, we'll expand the education offerings to our chapters by making some of the InspectionWorld state-approved presentations available to the chapters to use at their meetings and seminars. Such education can provide you with ideas of how to diversify your business and keep abreast of what's new in building inspections. We also will be looking at creative marketing programs to recruit both existing and new inspectors while maintaining our core philosophy of "earning your stripes."
ASHI will continue to get the value of using ASHI Certified Inspectors to the public and Realtors®. This is your association. You are encouraged to contact the ASHI leadership listed in the front of the Reporter and let us know any concerns and how we can better serve you. If you have an idea or complaint, you can call me at 801-205-7788. Together, we will continue to make ASHI the best there is!
Membership highlights:
1993, joined ASHI
1997-2000, Utah Chapter founder and president
2001-03, ASHI director
2005-06, council speaker
2007, ASHI secretary
2009, ASHI vice president
2010, ASHI president-elect



Marvin Goldstein
President-elect

Building Inspection Service, Inc
.
Southampton, Pa.
Financial growth and developing new streams of revenue are the two most significant issues for ASHI. As your ASHI treasurer, I was acutely aware of the budgetary deficits and challenges ASHI experienced and the resultant draconian cutbacks that were instituted to address the previous financial threats to ASHI. I'm pleased to report that for the last four years on ASHI's Board, I have worked hard to make ASHI less dependent on membership dues revenue. Now, with the creation of ASHI Education, Inc. (AEI), we have the framework in place to accomplish the goal of greater financial diversity and financial security. Because of the hard work of the ASHI Board and Executive Director, and myself, as your treasurer, ASHI will have a large surplus this fiscal year. It is in times like these that fortunes are made by those who adapt the best to these changed circumstances. The solution for professional home inspectors in the 1970s, 1980s and now is the same — diversification and alternative streams of inspection revenue. We now have AEI, the profit vehicle we need to show ASHI inspectors how they can diversify and develop alternative streams of inspection revenue.
Membership highlights:
1976, ASHI Charter member
2006, 2008, chair ASHI Legislative Committee
2007-2008, ASHI director
2009, ASHI secretary
2010, ASHI treasurer
Marvin Goldstein Officer Nomination Matrix



Charles Gifford
Vice President
AmeriSpec of NE Florida, Inc.
Jacksonville, Fla.
The most important issue facing our Society today is streamlining governance, the nomination process and the size of the Board. The second issue is finding a method to reduce the administrative burden and leadership challenges faced by many of our chapters, while keeping the focus on education, mentoring, fellowship and local-area networking. I continue to strongly believe that we should be striving to grow our membership by seeking professional inspectors who believe in our mores, standards and code of ethics, regardless of where they come from or their experience level. If we can attract the right people at the beginning of their professional lives, we can influence, mentor, advocate and better our profession. If we bring professionals to the (our) table, they eventually will become full voting members. We also need to look at methods and tools to strengthen our chapters, be it through reorganization, restructuring and/or standardization. The above statement reflects my feelings about the current mission statement and guiding principles.
Membership highlights:
1992, joined ASHI
2003, Council of Representatives group leader
1998-2001, FLA-ASHI Chapter president
2004-06, ASHI director
2008, ASHI vice president
2009, ASHI treasurer
Charles Gifford Officer Nomination Matrix


Alden E. Gibson, R.H.I.
Treasurer
Gibson Holdings (Breslau) Inc.
Inspections by Gibson
Breslau, Ontario

A significant issue for ASHI is building trust amongst the Council of Representatives and the Board. We must all be on the same page and build the society together. ASHI Education, Inc. (AEI) is off to a good start. Nevertheless, the membership must understand that it is a for-profit branch of ASHI. Its goal is to make money through education. AEI must work with the chapters to achieve this goal. We must concentrate on membership and chapters. We have just completed a study on our chapters with interesting findings. AEI is a source of income for ASHI. However, we must be careful not to take income away from our chapters. AEI must work with the chapters to provide education for all.

Membership highlights:

1992, joined ASHI
2001-02, Ontario vice president
2004, ASHI alternate director
2007-09, ASHI director
2010, ASHI secretary
Alden Gibson Officer Nomination Matrix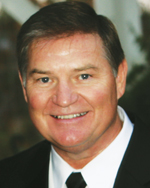 Bill J. Loden
Secretary
Insight Home Inspection, LLC
Madison, Ala.


Number One Issue: Survival. Not ASHI survival, but the survival of our individual members during this severe economic downturn. ASHI should be providing tools and resources to our members that will help pay the rent and keep the lights on until the economic recovery process begins. In addition, our members have talents that could be put to use in other related and allied fields. As an association, ASHI could develop relationships with allied and related industries that could provide interim part-time employment for members in areas where there is severe real estate depression. We need to position ASHI and our members to weather this storm and prosper once the market recovers.

Number Two Issue: Growth. There are key elements missing from our efforts to recruit members at all experience levels. One of the strongest selling tools in any marketing plan is the use of testimonials from real people, from real inspectors. We also need endorsements from respected industry sources that show ASHI is THE professional association for home inspectors.

Membership highlights:

1996, joined ASHI
2003-04, Council of Representatives group leader
2005-07, ASHI director
2008-09, Ethics Committee chair
Bill Loden Officer Nomination Matrix
Officers Who Will Lead ASHI for 2011
The president-elect automatically becomes the president. The election for the other offices closed on December 15, 2011, and the winners will be installed at InspectionWorld Atlanta and take their place on the Board at the April 2011 meeting.
Candidates identified issues in matrices
Officer and director candidates for 2011 were asked what they considered to be the two most pressing problems ASHI would be facing in the next 12 months. The comments shared here were taken from their answers to this question in the matrices they submitted to be considered by voting members for their respective offices. See links above to view the matrices of the officers.