To qualify for the 10 percent discount, the ASHI member must be a franchisor who has a minimum of 10 franchisees who are ASHI members. The 10 or more members in the franchise do not have to be located in the same office to take advantage of this offer.

If you're signing up non-member franchisees, please ask about our special $50 Member-get-a-member program. If you have questions, please contact Russell Daniels at russelld@ashi.org.
Renew Membership Now to be Entered in IW Registration Drawing
Dues renewal notices were sent on 6/27 and paper notices were mailed. Review all the benefits of membership recapped in the notices and renew by September 1 to have your name placed in the drawing.

Three names will be drawn to receive full registrations for InspectionWorld Las Vegas. If you have questions, contact Russell Daniels at russelld@ashi.org.
Earn Cash: Help ASHI Grow
"Grow ASHI" continues. Who knows best how to sell ASHI membership? YOU.
Earn a $50 Visa Gift Card for every new member you recruit. To get started, download the membership application form from the ashi.org, join ashi; have the new member fill it out, including entering your member number in the referral field. Fax the completed form to 847-759-1620. Good luck recruiting.
InspectPAC Info
ASHI recently mailed information about its InspectPAC to all members. If you did not receive the mailing or would like more information about InspectPAC, please contact Virginia Baker at virginiab@ashi.org.
InspectionWorld Room Rate: $69, Education: Priceless
Get the most out of the outstanding education and networking opportunities at InspectionWorld-Las Vegas, January 13-16, 2013, by staying at Bally's, the conference hotel. Reserve your room now at www.inspectionworld.org. Conference registration will open in September.
Elections Nominating Committees Accepting Matrices for Leadership Positions and Certification Committee
2013 Officers: The Officers Nominating Committee will accept matrices from ASHI Certified Inspectors (ACIs) who would like to be slated by the committee for an officer's position for 2013. ACIs interested in being a candidate for the office of president-elect, vice president, secretary or treasurer are invited to download the 2013 Officer Nomination Matrix from the website and follow the directions for submitting it by August 15, 2012.
2013 Directors: Each year, five new ACIs and an alternate are elected to the Board of Directors by the Council of Representatives. Requirements for being considered are covered on the ASHI 2013 Director Nomination Matrix. ACIs who would like to be slated should download the form from the website and follow the directions for submitting it by August 15, 2012.
2013 Certification Committee members: To be considered for the committee, download the 2013 ASHI Certification Committee Member Nomination Matrix from the website and follow directions for submitting it by August 15, 2012.
Download all matrices here. Or email hq@ashi.org.
To review the nominating and election policies and procedures, read the ASHI Policy and Procedures Manual, section 15.
Awards Nominate Those Who Deserve Awards
The Phillip C. Monahon Award goes to an ASHI Certified Inspector who has made outstanding contributions to the society and the profession over a long period of time.
Established in 1983, it is given in memory of Phillip Monahon, who was described by his contemporaries as a larger-than-life individual who was a true visionary for the future growth and success of the society. Serving as ASHI's executive director in its early years, Monahon is credited with maintaining the organization's focus on valid standards combined with strict, conscientious business practices.
If you know of a member who deserves ASHI's most prestigious award, download the nomination form from the ASHI website and submit it.

Who was John Cox?
Every year, ASHI asks for candidates for the John E. Cox Award. If you knew John Cox, you know why an annual award is given in his name. If not, you may wonder who he was.
In 1988, John Cox had already been an active member of ASHI for 11 years, and according to the September 1988 ASHI Reporter, was highly respected by his peers. He was the national Bylaws Committee chair, belonged to two chapters, taught week-long seminars and routinely inspected homes, although numerous operations on his legs due to diabetes meant using crutches and a wheelchair to do so.
He said he attended the first ASHI meeting in 1977, and as of the date of the article, hadn't missed one yet. In 1985, he and Speed Williams formed their own company to train inspectors. Both felt that a complement was needed to the ASHI seminars. The company quickly expanded its seminars from 14 to 46 hours.
"A home inspector is like a family doctor," he told the Reporter. "In some ways he's a generalist, but in other ways he has to be a specialist,know each part."
For the Reporter article, Cox asked to be photographed beside his custom-made van with his 28-foot ladder on top — something he insisted "every good home inspector needs to inspect a roof.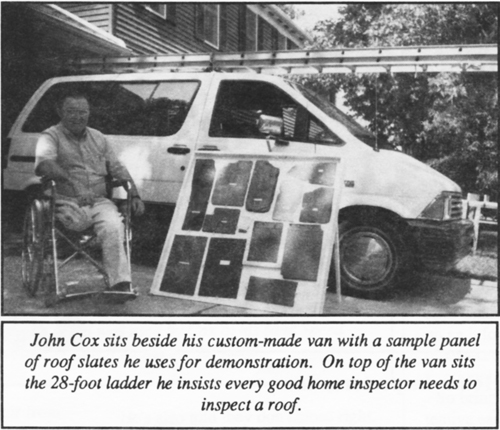 Above: From the September 1988 ASHI Reporter.

Although he was active in national activities, it was his contributions to his chapters, especially the Great Lakes Chapter, that motivated his fellow ASHI members to create an award in his honor.
Chapters give ASHI membership an added dimension. A chapter's value depends on people like John Cox who believe in its worth, and therefore, are willing to contribute time, knowledge and support as needed. Cox's commitment to his chapter earned him the respect and the gratitude of his peers.
Nominations are now being accepted for the 2012 John Cox Award. If someone from your chapter deserves this award, download the nomination form from the ASHI website, discuss it with your chapter members and submit it.
Nominations for both awards must be received by Oct. 1, 2012.
Forms also are available from ASHI headquarters, hq@ashi.org. The winners will be honored at the annual business meeting in Las Vegas in January, 2013.
ASHI Event Calendar
Oct. 18-19, 2012, Leadership Training Conference , Rosemont, Ill.
Oct. 20, 2012, ASHI Board Meeting , Rosemont, Ill.
Jan. 13-16, 2013, InspectionWorld, Las Vegas, Nev.
Current ASHI Membership
ASHI Certified Inspectors: 3,389

Associates/Logo: 106

Associates: 1,525

Retired Members: 99

Affiliates: 68

Total: 5,187
ASHI Mission Statement
To set and promote standards for property inspections and to provide the educational programs needed to achieve excellence in the profession.