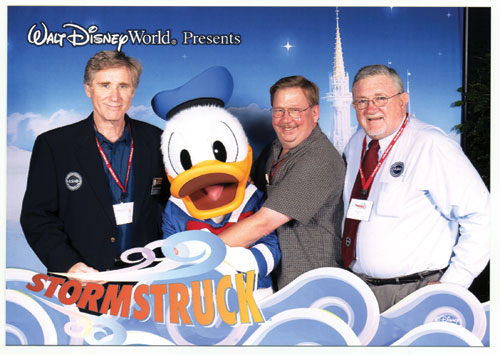 Marvin Goldstein, ASHI director; the well-known Disney character Donald Duck; Brion Grant, ASHI president; and Bill Mason, ASHI Certified Inspector, found a lot to smile about at the grand opening of StormStruck: A Tale of Two Homes™, the new Federal Alliance for Safe Homes (FLASH) exhibit in Epcot®'s INNOVENTIONS™ section at Walt Disney World® Resort in Lake Buena Vista, Fla.
Goldstein and Mason, ASHI's liaisons to FLASH, are committed to its disaster preparedness mission. They join Grant in encouraging InspectionWorld Orlando attendees to visit the interactive exhibit, which features a simulated, 4-D weather experience and cutting-edge scientific research and new-construction technologies for protecting homes.
For more information, visit
www.innoventions.disney.com
and
www.flash.org
.