Whether it's a kindred spirit from the other side of the world or a national organization with common interests, ASHI is the first choice of all who are looking to connect with home inspectors in the United States.

Australian visits HQ
On June 27, Michael Ferrier from Herron Todd White, Australia's largest independent property advisors, visited ASHI headquarters. His company was working on launching some new products in Australia in the pre-purchase property advisory space, which will include home inspections.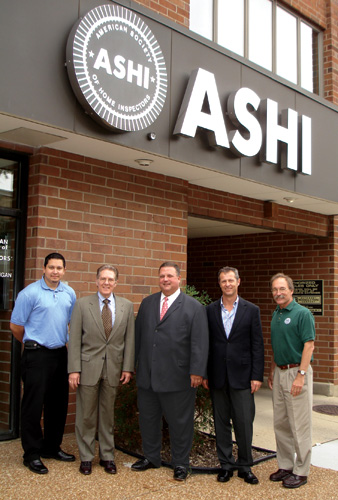 Ferrier met with Jeff Arnold, ASHI executive director, and Frank Lesh, ASHI immediate past-president, to talk about the U.S. home inspection market and compare it with the Australian market. In particular, he was interested in the trends in the U.S. home inspection market (growth in the market, consumer expectations and pricing trends), technology being used to collect property data and impacts from the recent downturn in the market. In turn, he shared information about the Australian home inspection market and the Australian property market in general, as well as the Australian Standards for building and pest inspections.
Photo, l to r: Mike Rostescu, ASHI IT manager; Dick Bennett, ASHI director of finance & administration/HR; Jeff Arnold, ASHI executive director/CEO; Michael Ferrier, Herron Todd White; and Frank Lesh, ASHI 2007 president.
According to Ferrier, "The standards are not law, but they do set a minimum standard that is generally observed by inspectors."
He said, "We expect to be in the U.S. again at some stage and may put InspectionWorld on our agenda next January or 2010. We'd obviously like to keep in touch and develop our relationship where possible. If any of you are heading towards Sydney, please get in touch as I'd love to return a warm welcome to you in Australia."
ASHI & IAQA: a meeting of the minds
Mutually beneficial exchanges are expected as a result of the new Memorandum of Understanding between ASHI and the Indoor Air Quality Association (IAQA). After the agreement was signed by the presidents of the two organizations, Jeff Arnold, ASHI executive director/CEO, and Glenn Fellman, IAQA executive director, discussed education as one of the areas that could benefit members of each group.
IAQA is a nonprofit organization dedicated to promoting the exchange of indoor environmental information, through education and research, for the safety and well being of the general public. It was established in 1995 and is the nation's largest IAQ trade association with over 4,000 members and 41 local chapters. To learn more about IAQA, visit
www.iaqa.org
.
ASHI Certified Inspector Brian Koepf serves on ASHI's Technical Committee and is a member of IAQA. He will work with Paul TranVanKha, IAQA education director, and Sandy Bourseau, ASHI communication director, on the action items identified by the two executive directors during a recent conference call.