Philip C. Monahon Award
The Philip C. Monahon Award is an annual award that recognizes an ASHI Member who has made exceptional and innovative contributions to the ASHI membership.
Award Recipient Criteria
To be considered for the award, a member must be an ACI who is dedicated to the goals and ideals of ASHI as stated in the Code of Ethics; have rendered outstanding contributions to ASHI for a minimum of five years; and have contributed time, talent or expertise that has been beneficial to ASHI, its members and the public, which ASHI ultimately serves.
Nominations
ASHI now is accepting nominations for the Philip C. Monahon Award. ASHI Certified Inspectors are encouraged to submit their nomination for the award. The deadline for entries is December 14, 2020. Please go to the online form to submit your nominee.
Introducing Inspection Connection Podcast
Where home inspectors sit down, grab a drink and talk shop!
From sharing business strategies to wild stories from the field, Inspection Connection Podcast is your way to keep up on industry news and stay connected to others in the home inspection community.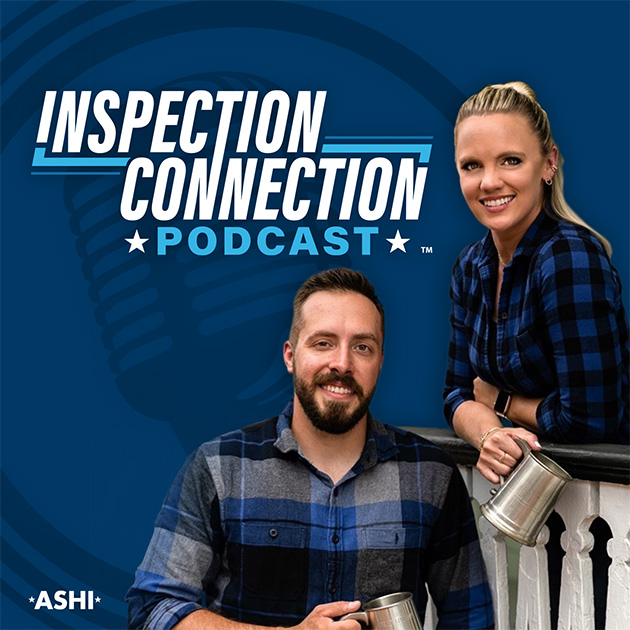 Meet the Hosts
Rose Buckley comes to ASHI with several years of education and a teaching background prior to becoming a home inspector. She has become renowned in the field as she focuses on educating her clients about their prospective new homes. Rose has a Master's in Education from Wilmington University in (2014), and has taught several languages (English, French, Italian, and Spanish) at both the high school and community college level. She has a passion for connecting with people and this serves her well with both prospective home buyers and Realtors.
Rose is a social media expert in the home inspection profession and in the larger real estate space. Rose creates videos, posts and blogs that impact home inspectors, realtors and consumers. She excels at creating positive environments in social media that allow her to connect with home inspectors across the globe. In her free time, she enjoys traveling, snowboarding, hiking and being with her family.
Brad Lowery is a native Floridian who became a Virginian by way of Connecticut. Having lived and worked all over the East Coast, he is now an established Home Inspector in the Washington, D.C., Metro region.
Brad spent many years working in and around residential and commercial properties, and also used to be a youth pastor. In addition to being a licensed Home Inspector, Brad also holds an Associate's Degree in Business and a Bachelor's Degree in Biblical Studies. Brad believes that a fulfilling life is one lived intentionally with a sense of identity and purpose. As such, his life outside of work revolves around loving God and serving people. Brad volunteers weekly with his church's young adult ministry and worship band, and he has a huge heart for community service. Brad loves the outdoors, but not as much as he loves a good lager and smooth cigar enjoyed with great company. A diehard but conflicted baseball fan, he will cheer for the World Series Champion Washington Nationals…so long as they aren't playing his boyhood team, the New York Yankees.
You can listen to the Inspection Connection Podcast on
iTunes
and
Spotify
.