In February and March, the Chapter Relations Legislative, Membership and Public Relations Committees had meetings in the Chicago area to get to work on this year's strategic plan priorities.
Legislative Committee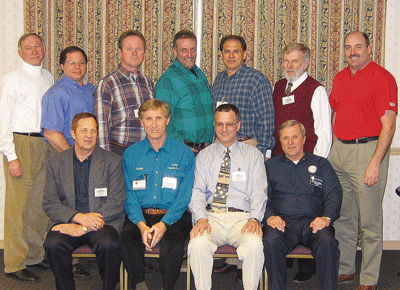 Front row, left to right: Robert Pyne, Colorado Springs, Colo.; Marvin Goldstein, Southhampton, Pa.; Joe Corsetto, committee co-chair–federal issues and board liaison, Dover, N.J.; Andy Kaszney, committee co-chair–state affairs, Harwinton, Conn.; Back row, left to right: Bob Kociolek, staff liaison, ASHI director of chapter relations & state affairs; Charles Sessums, Brandon, Mo.; George Harper, Long Beach, Calif.; Joe Kelly, Virginville, Pa.; Joey Caballero, Boynton Beach, Fla.; Hugh Kelso, Seattle, Wash.; and James Hanratty, Crompond, N.Y.
Membership Committee
Front row, left to right: Edwin Clawson, Lakewood, Ohio; Guillermo Hunt, Hampton, Va.; Michael Stephens, Fairfax Station, Va.; Jamison Brown, Poquoson, Va.; Back row, left to right: Anthony Snyder, staff liaison, ASHI director of membership & marketing; Tim Stull, board liaison, Solon, Ohio; Scott Patterson, committee chair, Ridgeland, Miss.; Stephen Hartnett, Nokomis, Fla.; not pictured: Lee Kohanski, Medina, Ohio
Chapter Relations Committee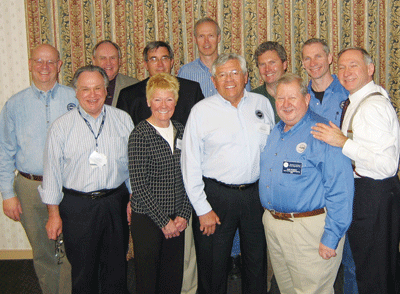 Front row, left to right: Ed Massart, Glen Ellyn, Ill.; Mary Jean Fisher, Hailey, Idaho; Dennis Parra Sr., San Diego, Calif.; Ronald Rusch, committee chair, Kansas City, Mo.; Back row, left to right: ASHI President Don Norman, guest, St. Louis, Mo.; Grant Bell, Arlington, Tex.; Charles Gifford, board liaison, Jacksonville, Fla.; John Vaughn, Monrovia, Md.; Bruce Czech, Loveland, Colo.; David Sherwood, South Windsor, Conn.; Bob Kociolek, staff liaison, ASHI director of chapter relations & state affairs
Public Relations Committee
Left to right: Max Curtis, Livermore, Calif.; Arthur Lazerow, Bethesda, Md.; Frank Libero, committee chair, Garnerville, N.Y.; Bill Mason, Sarasota, Fla.; Steve Baranello, Floral Park, N.Y.; Jim Rooney, board liaison, Annapolis, Md.; Stan Garnet, Atlanta, Ga.; L. Bryant Barry, Schaumburg, Ill.; not pictured: Ron Passaro, Bethel, Conn.; Sandy Bourseau, staff liaison, ASHI director of communications