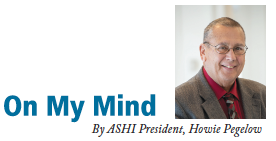 Since taking office, I've frequently talked with people who have asked how the ASHI Board of Directors conducts its meetings and whether our board meetings are similar to chapter meetings.
I always respond by inviting these curious people to clear their busy schedules and attend an ASHI board meeting in person! But I realize that most members can't make that happen and I can't expect board meetings to be overflowing with members. Of course, we do conduct a board meeting during InspectionWorld® every year and all members are invited to attend.
But if you aren't able to join us at an upcoming board meeting, here's a special "board meeting report" for you.
The ASHI Board of Directors meets in person four times each year—in January (during IW) and in April, July and October at the ASHI headquarters in Des Plaines, IL. We also meet telephonically (via GoToMeeting) at various times during the year. Directors usually arrive in town on the Friday before the all-day Saturday meeting.
Planning for board meetings is ongoing. As soon as one meeting ends, we start to create a preliminary agenda for the next one and we include any matters that the board decided to carry over to discuss at the next meeting. We keep adding items until shortly before the date of the next meeting and as ASHI President, I approve the final agenda. Board members receive the agenda and an accompanying Board Book about two
weeks before the board meeting. All materials are issued electronically; print copies are available upon request.
On the day before a board meeting, members of the Finance Committee gather at ASHI headquarters to discuss issues, and the AEI Board reviews financials and matters regarding The ASHI School. That evening, board members meet informally for dinner and sometimes we set aside time to discuss specific issues, if necessary. Depending on the topic, some matters are discussed under the governing rules for Executive Sessions. Also, just before the board meeting begins on Saturday morning, some of us meet to review issues related to the ASHI Foundation.
We begin each board meeting by reciting the Pledge of Allegiance, observing a moment of silence and hearing a prayer delivered by Reverend Russell Daniels, who also happens to be the ASHI Assistant Executive Director and Director of Membership and Chapter Relations.
Next, as president, I report on the "State of ASHI." Then, ASHI Executive Director Frank Lesh and I review the agenda and discuss any potential conflicts of interest, as instructed by ASHI's legal counsel, Harry Rosenthal.
Because The ASHI School occupies the second floor of ASHI headquarters, we use its large classroom for our meetings. Board members occupy both sides of the table, officers sit near one end and ASHI staff members join us in "the gallery" around the perimeter of the room. Attendees
wear professional business attire.
Throughout the meeting, we receive presentations and reports, and respond to the items presented, if actions are necessary. We review and thoroughly discuss each agenda item to gain a full understanding of the issues, and to address the needs of ASHI members and staff in a positive manner. Sometimes, invited guests and vendors provide data and information.
ASHI's executive director and department managers present reports and answer questions, and we review the current and future workings of each standing committee. If questions arise, the board liaison assigned to that committee addresses them.
When a motion is presented, the board reviews it and may amend it before proceeding. If a motion requires extensive revisions, we refer that motion back to the submitting committee so they can review and resubmit it to the board for approval.
What I've described so far happens during a "typical" board meeting. However, as you can imagine, not many meetings can be classified as "typical." Frequently, we turn our attention to unforeseen issues and take action accordingly.
Does this remind you of how your chapter runs its meetings? It might be similar or you might have some variations. If you'd like to run your chapter meetings more effectively or if you'd like to present a topic to the ASHI board, please contact any of the ASHI
officers or directors so that we can help.