Honoring Outstanding Service
ASHI was formed by home inspectors for home inspectors. Its history is one of people giving of their time and talent to enrich the profession and the society. From day one, it depended on the unselfish contributions from those in high- and low-profile positions. Once a year, the society has an opportunity to add to the list of those recognized in honor of two earlier outstanding members, Phillip Monahon and John Cox, and for other special accomplishments. It is with pleasure that ASHI presents the 2007 award recipients.

Joe Corsetto accepts 2007 Philip C. Monahon Achievement Award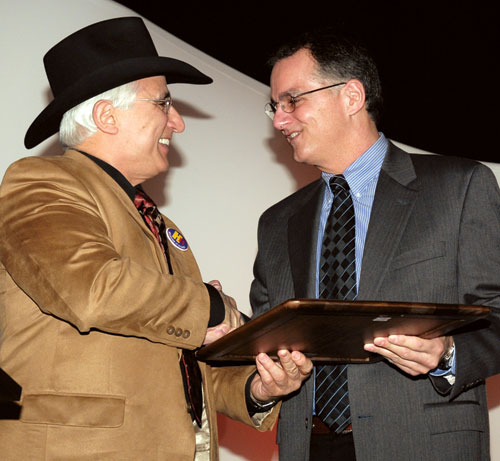 Left: Scott Warga, right: Jim Hemsell
Past-president Joe Corsetto accepted ASHI's most prestigious award from Frank Libero, the 2006 award recipient. Philip Monahon was a larger-than-life individual who was a true visionary committed to the society's growth and success as he served as executive director in its early years. This award, established in 1983, recognizes an individual who has made exceptional and innovative contributions to ASHI's members for a minimum of five years.
Jim Hemsell accepts John E. Cox Member of the Year Award from COR Speaker Scott Warga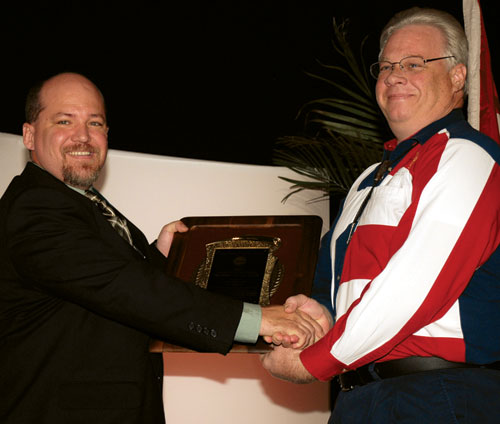 Left: Scott Warga, right: Jim Hemsell
John Cox was an astounding person. Established in 1990, the award that is presented in his honor recognizes an ASHI Certified Inspector who has rendered outstanding service to an ASHI chapter either over a period of years or under circumstances that are special and may not occur again.
Jay Balin recognized by outgoing president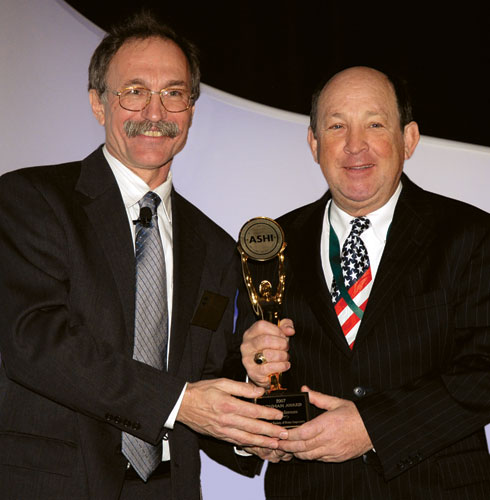 Left: Frank Lesh, right: Jay Balin

Frank Lesh choose Jay Balin to receive the 2007 President's Award, in recognition for his outstanding service to ASHI. This award is personal recognition from the national president of the contributions made by an individual in a particular area of service to the society.
Kurt Salomon earns 2007 Ironman Award presented by Frank Lesh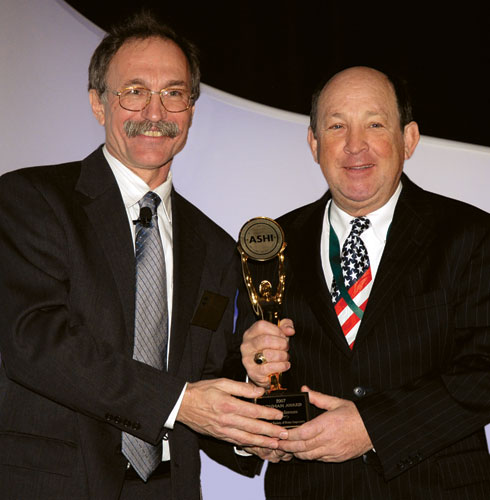 Left: Frank Lesh, right: Kurt Salomon
Every organization has its unsung heroes who labor quietly in the background, but with great dedication. The Ironman Award, established in 1998 by Past-president John Palczuk, recognizes an ASHI Certified Inspector who has given his or her time, energy, talent and determination to ASHI over a long period of time and with little recognition.
Award for special service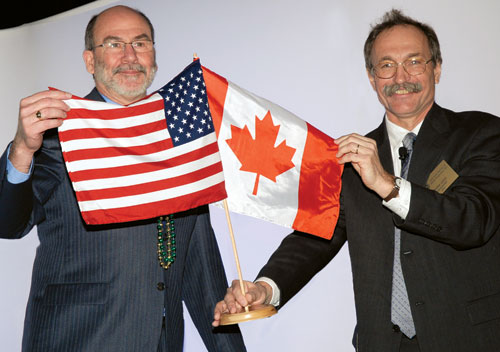 Left: Alden Gibson, right: Frank Lesh


Alden Gibson was recognized for years of
service building a strong bond between the United States and Canada. Outgoing President Frank Lesh cited an increase in Canadian ASHI members from 56 to 134 in just two years, as he presented Gibson with a Special Service Award.
(Not pictured) Acting Executive Director Richard Bennett also received a Special Service Award for going the extra mile during ASHI's transition period.