2020 is primed to be an outstanding year for ASHI, its members and our profession. Real estate markets across the country remain positive and new construction has been a consistent driver behind a robust economy. Inspectors are busy, many businesses are growing and our profession is expanding with exciting new products, services and opportunities.
In my opinion, the consistent theme behind these opportunities is change. The evolution of our profession never sleeps, and the astute businessperson recognizes and embraces the concept of change as an advantage.
Businesses are rarely static; they are either growing or shrinking. Both categories experience change, and both come with challenges and opportunities. Your business goals might be focused on growth. Hiring more employees, expanding market area, adding new products or services, and creating a new marketing plan all require change. Your business goals might be the opposite as you consider slowing down, reducing overhead and refocusing your work-life balance. Regardless of your business goals, embracing change will play an important role in achieving your definition of success.
In December 2019, ASHI as an organization and our members embraced change by supporting the bylaws revision that will better position ASHI for the future. This substantial and historic change will provide ASHI staff and leaders with the flexibility to adapt more quickly, and compete more effectively in an ever-changing market.
This change encourages more diversity, as leadership positions are now available to a much broader range of voting members. Membership value will expand as new and creative tangibles centered around education, exclusive business products and services, and brand recognition are implemented to drive business to ASHI members and push ASHI awareness to the consumer. The benefits associated with the new ASHI Advantage Insurance plan and our pilot program with Consumer Reports are just a few of the awesome opportunities that will add value to ASHI membership in 2020 and beyond.
The real estate industry is shifting and our inspection profession is in a constant state of change. Disruption has become the norm as the competitive race to be the first to reach the consumer continues at an incredible rate and will continue to evolve for years to come. This reality impacts each of us and it is up to us to implement a vision that will promote increased relevance. This is not just important to ASHI and its members—staying relevant is critical to our profession as a whole.
Some say, "The more things change, the more they stay the same." I agree to some point with this statement in that our value, our reputation and our relevance has been built by qualified, ethical and professional individuals one inspection at a time. We are in the people business and it is the people, along with the product we deliver, that make the difference. There is no substitute for that and I believe the consumer will continue to place a high value on the services we offer. Our challenge is to maintain our underlying fundamentals while being creative, taking risks and having the vision to progressively change as the inspection landscape continues to evolve.
ASHI started off 2020 with an outstanding InspectionWorld® in New Orleans. Well over 1,000 inspection professionals, old and new, gathered to learn, grow professionally and share in fellowship at this one-of-a-kind event.
A highlight for me was the privilege to share dinner with two new inspectors who were full of energy and excitement about their future in our profession. This was a "full circle experience" for me, as I started my ASHI and inspection journey 22 years ago at InspectionWorld® 1998 in the same New Orleans hotel.
It might be considered an overused phrase, but I believe this is true with ASHI, as well as life—the more you give, the more you receive. I encourage each of you to get involved, volunteer, be a mentor and invest in others by sharing your time and talents. The rewards might not be instant, but they are powerful.
These are exciting times and it is my honor to serve as your 2020 ASHI President. My 20-plus years of continued learning as an ASHI member have enabled me to build business relationships and great friendships with hard-working professional inspectors throughout North America. I have been enriched personally and professionally through my ASHI experience. I look forward to the challenges and opportunities that 2020 will bring, and I consider it a privilege to be associated with and represent this great organization.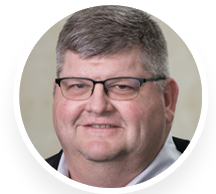 Mike Wagner ACI CRP
2020 ASHI President