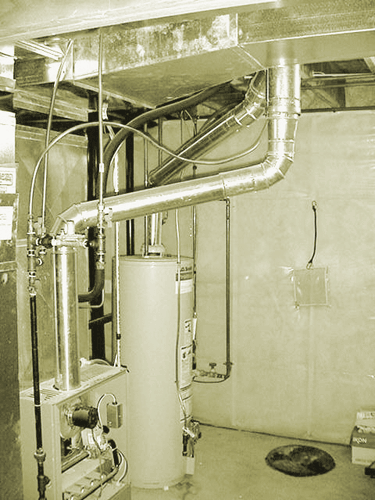 Here's a forced draft furnace and class B chimney. Although the water heater vent properly enters the chimney above the drip pan, there is unsupported copper gas piping going to the water heater above the vent connector.
Barry Eliason
Private Eye, Inc.
New Brighton, MN
Not even sideways
Here's a photo of 1/4 bath in a 90-year-old property.
The problem is the room is approximately 2' x 3'. A person cannot sit on the toilet with the door closed..... not even sideways. It was a hall storage closet under the stairs converted to a 1/4 bath Could it be the smallest yet!
Ken Rubin
AAA Inspection Service
Savannah, GA
Please don't drink the water
Couldn't resist this picture. It was taken in a basement in a home in Wyckoff, N.J. There is a septic system and the spigot is attached to the sewer cleanout. I really don't know what else to say....other than it is bizarre and certainly unsanitary. YUK!
Joe Staub
Staub Home Inspection
Allendale, NJ
Hot, Hot, HOT
This classic "Mae West"oil fired steam boiler was found in a New Jersey basement. We are quite sure a lab test would call out asbestos in on the boiler and piping. Note the holes in the vent stack. Note the leak from the sight tube.
Guess what? This "Mae West" kept up her reputation. She sure was HOT. She really heated up
the house.
Joe Staub
Staub Home Inspection
Allendale, NJ