If you are looking to grow your home inspection business and attract new customers, Google Ads is a great marketing tool to consider. Each day, Google processes 3.5 billion searches, which translates into thousands of potential customers looking for home inspection services. In this article, we break down some common questions regarding Google Ads and explain why search engine marketing (SEM) has the highest return compared with traditional advertising methods.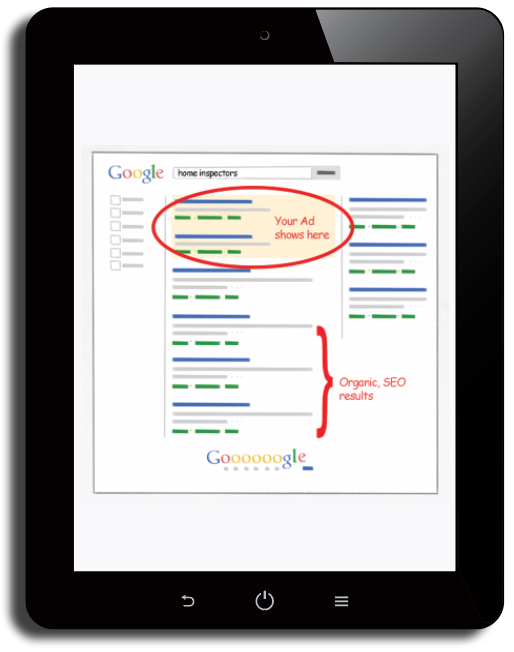 WHAT IS GOOGLE ADS?
Simply put, Google Ads (formerly Google Adwords) is Google's online advertising platform. It works with Google's algorithm to target potential customers and strategically place ads before top organic listings, without extensive search engine optimization (SEO).
Here's an example: You have a home inspection business and you want to attract people in your service area who need an inspection on their home. A potential customer types in "home inspectors." Google combs through billions of web pages, blogs and other listings to find the most relevant results. The search query returns thousands of pages of organic results, many of which are other businesses offering similar home inspection services. Research shows that the first page of results gets over 75 percent of the clicks. Google Ads allows you to take advantage of these searches by prominently displaying your ad above relevant search results.
HOW DOES GOOGLE ADS WORK?
The concept is simple: You define the words or phrases most relevant to your services, and Google Ads lets you choose when and where you want your ads to show. Google Ads offers incredible tools for audience targeting and segmentation. You can target ads to show only to a certain demographic, during a certain time, on a specific device and to people in a particular state, region, city or even zip code.
You can be as detailed or vague as you like. For example, you can target the following subgroups:
only males
between 35 and 65 years old
in the top 50% of the national household income level
on Tuesday between noon and 4 pm
in a specific zip code
Any time a search query matches the keywords and audience criteria, the ad will be displayed.
WHERE CAN MY AD APPEAR?
Your ad can appear in more than just search results with Display Ads. Google's Display network shows your ad across thousands of apps, websites, blogs and YouTube.com. Every day, millions of people access the web from their smartphones. According to Statista.com, American adults spent almost three hours a day on their mobile devices in 2016 (www.statista.com/chart/9539/smartphone-addiction-tightens-its-global-grip/). They search products and services and local businesses. Your customers are on the move and with Google Ads, your business can be wherever your customers are.
HOW DOES GOOGLE ADS GROW MY BUSINESS?
In terms of return on advertising investment, home inspectors see the greatest return from internet marketing when it is done correctly. Also, Google Ads helps you manage and control how much you spend on online advertising. You set the maximum amount you are willing to spend, and you only pay when someone clicks on your ad and visits your site. This is called Pay-Per-Click (PPC) advertising. You can set your PPC budget based on the potential revenue earned per lead.
Remember, you only pay per click. The goal with Google Ads is to…
show up for the right keywords
create catchy ads that make sense for each group of keywords
create high-converting landing pages
With search engine algorithms always changing, it is essential for businesses to implement up-to-date best practices to claim high search rankings. Internet marketing has expanded beyond SEO and Google Ads has proven success in the home inspection industry.
Ready to take your online marketing to the next level? For more information or to schedule a free Google Ads review, call Andy Patel at 404-441-3539.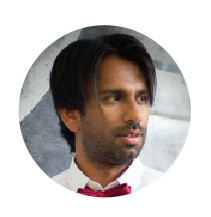 Andy Patel is the CEO of K-3 Marketing, an internet marketing firm located in Atlanta, GA. Working directly with Google, Andy has got the "art" of internet marketing down to a science. Since 2005, K-3 Marketing has helped many home inspectors attract qualified visitors and convert them into optimal leads. He believes in ethical practices and doesn't think anyone should pay for a service which doesn't yield some sort of return on investment.
For more information on how to use Google Ads or Bing Ads for your business, contact K-3 Marketing at www.k3.marketing, or contact Andy directly with any questions at andy@k3.marketing or connect on twitter @andyk3marketing.