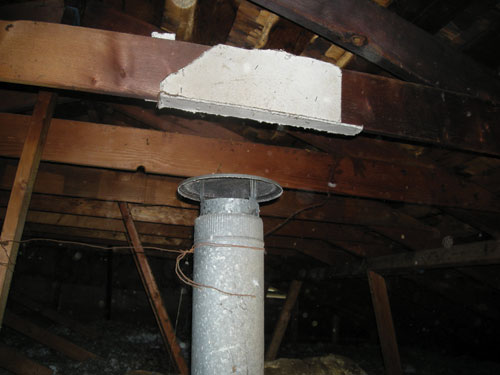 Guess they ran out of furnace flue pipe before they got through the roof. Nice cap though, in case the roof leaks. And yes, that's asbestos cloth above as a safety precaution.
Andy Wallace
National Property Inspections
San Luis Obispo, Calif.
Too short? No problem!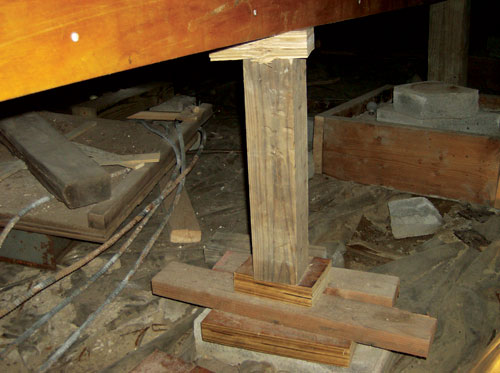 The contractor probably didn't plan on a home inspector entering this nasty crawl.
Gene Autore
Pillar To Post
Norwalk, Conn.
Call the fire department?
Finally, irony defined.
Jeff Nathan
Building Inspectors Consortium, Inc.
Highland Park, Ill.
Bet it smells good, too!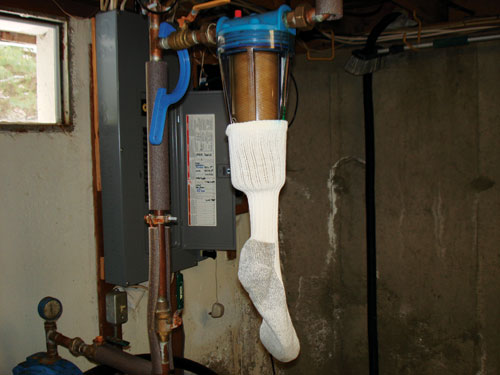 This is a photo of a "unique" condensation collector.
Bob Mulloy
Allsafe Home Inspection Service
East Bridgewater, Mass.

Disarming
You were probably wondering where all the old, really cool, plaid lunch boxes went. Here is one in a basement ceiling being used as a 120V electrical junction box. The temptation to peak inside subsided when I read the labels listing the "STEPS to DISARM."
Bill Gray
All Star Home Inspection, Inc.
Gaithersburg, Md.
Tread very lightly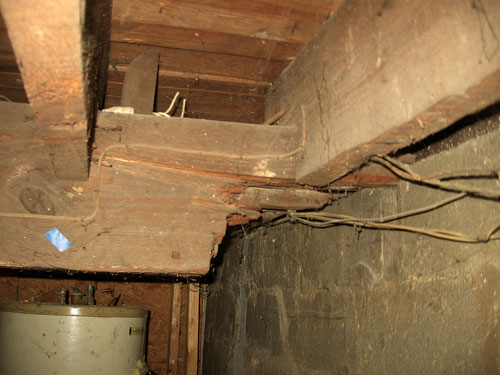 With the center beam in this condition, I didn't stay in the basement too long!!!
Clint Bissell
Sandy Spring Inspections
Ashton, Md.
Rooftop garden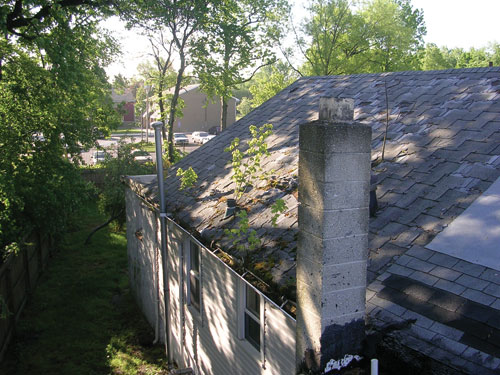 I didn't know if I should tell my client he needed a roof, or ask if he knew a good landscaper.
Dave Clegg
House Inspect
Mt. Laurel, NJ
Cheaper and also saner
I think it would have been cheaper to run to the store for a solid piece of PVC pipe than to use all of the couplings on this water heater.
Tom Oliver
Oliver Home & Building Inspections, LLC
Montrose, Colo.