— Monahon Award —
Philip Monahon was a larger-than-life individual who was a true visionary for the future growth and success of the Society. Serving as ASHI's executive director in its early years, he maintained the organization's focus on valid standards, combined with strict conscientious business practices.
This award, established in 1983, is ASHI's most prestigious, and recognizes an individual who has made exceptional and innovative contributions to the ASHI membership. The recipient must be an ASHI member who is dedicated to ASHI's goals and ideals as stated in the Code of Ethics and who, as a member, has rendered outstanding contributions to ASHI for a minimum of five years.



Photo above: Past-president Danny Maynard (l) is honored for decades of service and dedication to ASHI's ideals. Larry Hoytt, last year's recipient, presents the plaque.

2010 Monahon Award Recipient: Danny L. Maynard
He served as ASHI president in 1996. During his term, he established the National Coalition of Home Inspector Associations (NCHIA), which he continues to lead today. Prior to his presidency, Maynard was an ASHI Director at large in 1992 and 1993; secretary 1994; and president-elect in 1995. Before and after these terms of office, he served on the following national committees: Strategic Planning, Public Relations, Bylaws, Membership, Nominating, Complaints and Election.

In 1997, he was the recipient of the John E. Cox Award.
Maynard's chapter leadership roles include two years each as secretary, vice president and president of the Great Lakes Chapter and more recently as vice president and president of the Indiana Chapter.



— President's Award —

Each year, the outgoing president recognizes one member for outstanding service to the president and Board of Directors during that year.




Photo above: Charles Gifford (l) accepts the Ironman Award for his work on a task force. 2010 ASHI President David Tamny presents the plaque.

2010 President's Award recipient: Charles Gifford
When the Board of Directors realizes it needs more than can be accomplished through a committee or a staff person, it looks for someone who can direct and coordinate the efforts of many. ASHI President David Tamny recognized the talent and perseverance of Charles Gifford, who took on such a task during 2010, heading up the task force formed to study and make recommendations to strengthen ASHI's chapters.



— Ironman Award —
Established in 1998 by John Palczuk during his term as president, the award recognizes a member who has labored quietly in the background, with great dedication, giving of his or her time, energy, talent and determination to ASHI over a long period of time with little recognition.



Photo above: Paul Staron was presented with the Ironman Award at InspectionWorld Atlanta in January.

2010 Ironman Award recipient: Paul Staron
See Why I Volunteer.



— Tom Byrne Memorial Scholarship Award —

The Tom Byrne Memorial Award will be presented annually to the person who achieves the highest graduating marks from the ASHI@HOME home inspection training program. The winner receives a $3,000 cash prize, courtesy of Past-President John Palczuk, Carson Dunlop and the ASHI Foundation. The award is given in memory of Tom Byrne, who was a charter member, ASHI president, longest-serving board member, champion of home inspector education, and mentor and friend to many.



Photo above: Past-Presidents John Palczuk and Alan Carson explain that a scholarship is the perfect way to remember Tom Byrne because the charter member and past-president championed home inspector education for more than 30 years.

2010 Tom Byrne Memorial Scholarship Award recipient: Darin Allmaras
Darin Allmaras received a refund for his completed ASHI@HOME Training System by earning the highest overall marks in the 10-course program over the previous 12 months.


CHAPTER AWARDS

— John Cox Award —

John Cox belonged to two chapters, taught week-long seminars and routinely inspected homes, although numerous operations on his legs due to diabetes meant using crutches and a wheelchair to do so.

Although he was active in national activities, it was his contributions to his chapters, especially the Great Lakes Chapter, that motivated his fellow ASHI members to create an award in his honor. The John E. Cox Award honors individuals who have made exemplary contributions to their chapter during the specified year. The recipient must be an ASHI member who has rendered outstanding service to an ASHI Chapter, either over a period of years or under circumstances that are special and may not occur again.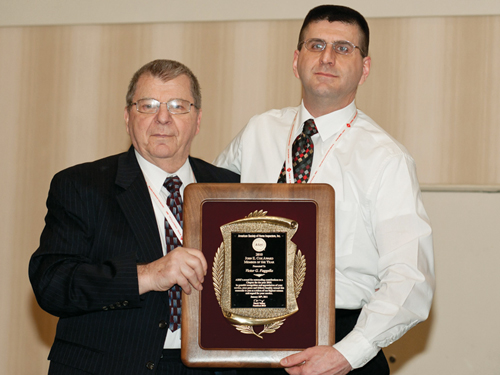 Photo above: It's a family thing for the Faggellas and the New York Metro Chapter. Victor G. Faggella (r) accepts the 2010 John Cox Award from his father, Victor J. Faggella. The roles were reversed in 2003, when the son made a surprise appearance to present his father with the 2002 Cox Award.


Victor G. Faggella, P.E., N.Y. Metro: 2010 Award Co-Recipient
During the specified time period, Victor G. Faggella has served or presently serves NY Metro ASHI as director, chair of the Publicity and Newsletter Committees, co-chair for 17 years of the annual seminar, as webmaster, technical consultant, three times president, and currently as vice president and treasurer. He revised the chapter's bylaws twice, redesigned its operations and procedures manual, and originated or revived numerous chapter programs such as The Newcomer's Hour, Speaker's Bureau, Chapter Technical Consultant's List, procedures for increasing chapter membership, including developing a new temporary chapter membership category and more. Many of these were accomplished during his three terms as president (2005-2007).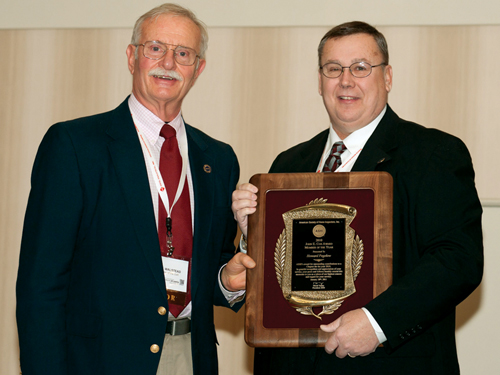 Photo above: While serving as Speaker for the Council of Representatives, Howard Pegelow (r) continued to be the go-to guy for the Great Lakes Chapter, most recently accepting the position as chapter secretary. He accepts the John Cox Award from alternate Council Speaker Bob Walstead.


Howard Pegelow, Great Lakes: 2010 Award Co-Recipient
Howard Pegelow joined the Great Lakes Chapter in 1997 and immediately began assisting as needed, first as the alternate Council Representative, eventually as the Council Speaker. He has served the chapter as president and as a director, a position he continues to hold today. From the beginning, he assisted with Peer Review, Mentoring and Marketing programs. Three times a year, the chapter holds training in different locations to serve the members, who are spread over nine states. Howard has been to all these conferences for the past 10 years, working with the attendees, and offering guidance and encouragement. He also has represented the chapter at real estate trade shows in several states and is part of a program in Wisconsin tailored for first-time homebuyers.


— ASHI Chapter Enterprise Awards —

An ASHI member who wishes to remain anonymous
established this award in 2007 because he believes so strongly in the value of education and networking that comes from attending InspectionWorld with other chapter members. Cash awards of $750 are given each year to a chapter in each of two size categories that have the highest percentage of attendance at InspectionWorld.

2010 Enterprise Award recipients:
Georgia Chapter, 31 or more members, and the Mid-Atlantic Chapter, 30 or less members




Photo above: David Sherwood, Chapter Relations Committee chair, hands out Enterprise Award checks to Bob Sisson from MAC-ASHI and Shannon Cory from the Georgia Chapter.


— ASHI Chapter Growth Awards —

2010 recipients: Carolina Chapter & Western Washington Chapter




Photo above: David Sherwood, Chapter Relations Committee chair, congratulates Keven Kossler from the Carolina Chapter for adding more new members than any other chapter.





Photo above: David Sherwood, Chapter Relations Committee chair, congratulates Dan Crocker, Western Washington Chapter president, on the chapter's successful growth, the greatest percentage of all chapters.