Hoytt Takes Home Prestigious Award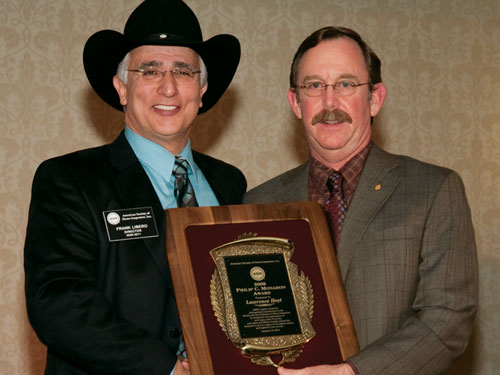 Past President Larry Hoytt, right, received ASHI's most prestigious award — the Philip C. Monahon Award — for the exceptional and innovative contributions he has made to the ASHI membership. Frank Libero, left, presented the award.
According to his peers, Hoytt helped to elevate the business of real estate inspection from a trade to a profession. He has been instrumental in combining the interests of the California Real Estate Association with those of ASHI, and for demonstrating, while he was president, that a consensus of ideas can rule the day.
President Recognizes Libero for Governance Work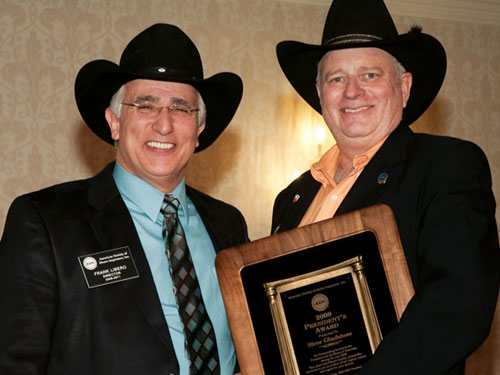 Outgoing ASHI President Bill Richardson, right, choose Frank Libero, left, to receive the 2009 Presidents Award for his work as the chair of the Governance Task Force. Richardson said the ASHI director "took a lot of heat for it. He was criticized by other directors, the officers and even by task force members. But he prevailed and by his persistence, his task force paved the way for the Board's decision to pass governance changes at the January meeting."
Libero gave credit to the work done by task force members, and he thanked Bob Walstead, Randy Sipe, Bob Peterson, Brendan Ryan, Andy Kasznay, Mike Stephens and Jeff Arnold for the hundreds of hours they spent working on the task they'd been assigned.
Gladstone is Ironman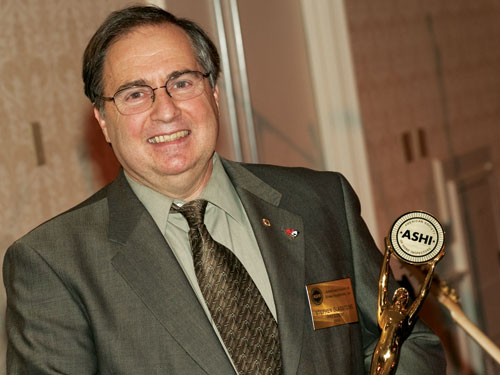 Outgoing President Bill Richardson said, "Steve Goldstone was my choice for Ironman because he is the 'ASHI energizer bunny.' He has been involved all the way up to the presidency, then came back to serve on the CoR, as Canadian liaison and as the chair of the Bylaws Committee. He continues to volunteer for any place he can be used, and does so without any financial support from ASHI."
Goldstein Receives Cox Award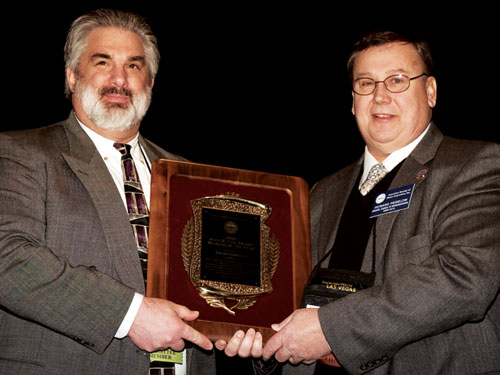 Howard Pegelow, Speaker for the Council of Representatives, right, presented the John E. Cox Award to David Goldstein, left, who was nominated by his chapter for starting a new chapter in an underserved part of his state — the new Southern NJ chapter, and for being involved in every phase of the chapter's growth and operation, from serving as president to designing a Chapter Member List that was sent to every real estate office in the region. Goldstein also started the Building Inspectors Career Institute to develop new home inspectors in the state, and he spearheaded the chapter's legislative effort, working side by side with New Jersey political leaders to construct solid state legislation.