The annual changing of the guard occurs at ASHI's annual conference when the president-elect is sworn in as president, and the newly elected officers are sworn in to their posts of president-elect, vice president, secretary and treasurer.

Photo: ASHI's 2007 President Frank Lesh

ASHI's order of succession is designed to allow the incoming president to have had a year of service behind him or her — a year in which to work with the previous president and be ready for a smooth transition of leadership. The immediate past-president continues to serve on the board of directors for one year, another factor facilitating effective and efficient governance for a volunteer-driven organization.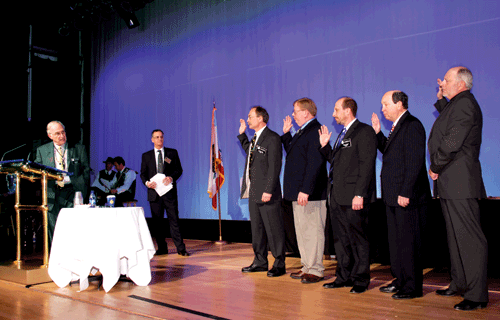 Photo: Jay Balin officiates at the swearing in of the 2007 Officers. Taking the oath (l-r) are Frank Lesh, Brion Grant, David Tamny, Kurt Salomon and Bill Richardson.
Those attending the business meeting at InspectionWorld gave a warm welcome to the officers for 2007.