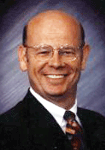 Don Norman, president
HouseMaster Home Inspections Service
Inspection Training Associates
St. Louis, Missouri
"Welcome to 2005! When I joined ASHI 20 years ago this year, it was because it had the reputation, the education and networking that I was seeking as a new home inspector. ASHI was, simply put, the best. Twenty years later, I look back with amazement at my personal journey in this profession, and I'm pleased to see that ASHI is, still, simply the best. The best staff, the best educational opportunities, the best inspectors, the best reputation, the best code of ethics, the best recognized name in our profession. If that sounds arrogant, I'm sorry, but that is how I feel. And it's the truth. But it didn't just happen. It happened because many of you volunteered your time and energy to keep this society great. And for that, I thank you. It happened because we, the members, chose our leaders wisely and those leaders did their best to create a future for ASHI that we are living today. I will do my best to guide ASHI and, with the help of 22 other board members, work to create a future for ASHI that 20 years from now, we will all be proud to call our Society."
Membership highlights
1985, joined ASHI
1995-96, St. Louis Chapter president,
1997-98, council representative
1998, ASHI Education Committee chair
1999-2000 ASHI director
2001, ASHI secretary
2002, ASHI treasurer
2003, ASHI vice president
2004, ASHI president elect
Joseph F. Corsetto,
president elect
Shelterworks®
Dover, New Jersey
"ASHI is truly the ethics and standards beacon that lights the path of this profession. I am committed to assuring that future policy and activities continue to reflect the high standards that are the trademark of an ASHI inspection and which distinguish ASHI as the profession leader.
I am also concerned that ASHI maintains its preeminence as the industry leader, especially in our most public arena of legislative policy.
I have been witness to and participated in the maturation of ASHI over the course of 20 years. This growth includes milestones such as decisions for change from outside management to a self-managed society, the change of governance from chapter representation to directors groomed in the Council of Representatives, the ownership of ASHI's headquarters in Chicago with a stable and supportive professional staff, now with the development and promotion of The ASHI Experience. I have spent 15 years in ASHI leadership positions. I will apply integrity and insights gleaned from these experiences through this elected position to all issues presented during my tenure."
Membership highlights
1984, joined ASHI
1994-96, Garden State Chapter president
1995-96, council representative,
1996, Chapter Relations Committee chair
1997, Legislative Committee chair
1997-99, ASHI director
1998-2000, Legislative Committee chair
2002, ASHI secretary
2003, ASHI treasurer
2004, ASHI vice-president



Frank Lesh, vice president
Home Sweet Home Inspection Company
Indian Head Park, Illinois
"I have the ability to see many sides of a question before making a decision. I have attended every ASHI National Conference since 1989, and I have attended numerous Board of Directors meetings both as a visitor and as a director. I have attended the last five Chapter Leadership Days. I would like to continue my efforts in our Society."

Membership highlights
1990, joined ASHI
1996-97, Great Lakes Chapter vice president
1998-99, Great Lakes Chapter president
1995-2001, Great Lakes Chapter director
1993, Served on ASHI headquarters transition team (relocation from Virginia to Illinois)
1995-2000, council representative
2001-04, ASHI director
2004-05 , ASHI secretary
William C. Richardson, treasurer
Responsive Inspections, Inc.
Albuquerque, New Mexico
"I have been an ASHI Member since 1991. From that time, I have enthusiastically promoted ASHI as the premier inspection organization to unaffiliated inspectors, real estate professionals, and other business and governmental organizations. I am passionate in my allegiance to our association and its membership, and continually champion ASHI as the strongest and most ethical home inspection organization in the United States and Canada.
My background in the duties and responsibilities of the office of Treasurer are exceptionally strong. I served in this capacity for two years with the Examination Board of Professional Home Inspectors and have been the treasurer of the Professional Networking Association in New Mexico for the past 18 years. The experience and expertise I offer as an ASHI officer and its treasurer will markedly benefit the Society during these trying times of fiscal responsibility. I am an ardent supporter of The ASHI Experience, endorse transparency within the association, and encourage meaningful communications between the board and the council of representatives, and the council and the membership."

Membership highlights
1989, joined ASHI
1994-99, 2004, New Mexico Chapter president
1995-96, 2000-03, council representative
1999-2000, ASHI Education Committee chair
1994, 1997-2000, ASHI director
2004, ASHI treasurer (elected to fill remaining term)

David Tamny, Secretary
Professional Property Inspections
Columbus, Ohio
"I will work to my fullest ability to enhance communication and transparency in our Society. It is time to allow all members to participate fully in the future direction of our Society. We need fresh ideas and vision to solve the problems that are before us at this time. Much untapped talent exists at the
COR level, which should be utilized to the betterment of ASHI.
"I have thoroughly studied ASHI's Bylaws and Policy and Procedures. I have been dedicated, during my time on the board, to making sure that the rules that we have put in place to govern our Society are upheld. I believe that we can accomplish worthy goals utilizing the talent that exists within our governance system."
Membership highlights
1995, joined ASHI
2000-02, Founding Member North Central Ohio Chapter
2000-01, council representative
2000-03, North Central Ohio Chapter treasurer
2003, North Central Ohio Chaptersecretary
2002-2004, ASHI director and Finance Committee-Special Task Group