"So don't you sit upon the shoreline and
say you're satisfied.
Choose to chance the rapids and
dare to dance the tide."
—Garth Brooks

As I prepared to author this year-end report, I considered all sorts of openings and quotes related to things such as change, leadership, dedication, determination, and I settled on the above. Whether or not you are familiar with Garth Brooks and his music, this quote from his song, "The River", is simple, but it always has had a positive impact on me.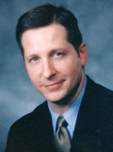 As an executive director of a professional association, I can assure you few individuals in my position can look at their organizations and be comfortable associating the above quote with them. Associations tend to be conservative, complacent and, some would even say, behind the times. I'm happy to say that this is not the case with ASHI. We are never satisfied with the here and now. We continually look for new ways to make your membership a better benefit for your time and money. Sometimes, in order to accomplish this task, we have to take a chance, we take calculated risks and deliver programs and services that are truly needed and necessary.
In the case of The ASHI Experience, we have delivered a program that, when implemented, will make a difference in your business, no matter your size or scope. I am hopeful that each and every one of you will give The ASHI Experience the chance that it deserves. Enroll in the program, use the materials, work within your chapter, deliver the best inspections you can with the highest level of customer service, consistently. If you do this, The ASHI Experience will be a huge benefit to you.
We are continuing our focus on delivering The ASHI Experience; however, there are plenty of other activities and work going on. For the past few months, a group of dedicated volunteer leaders has been diligently working on the creation of our new Strategic Plan. ASHI operates off of an annual plan of work that is set by the main Strategic Plan. We typically engage in the strategic planning process every three years. The strategies and action items from the main Strategic Plan and annual work plan are given to the staff and the various committees within the Society to follow and work toward their achievement. The ad-vantage of this type of system is that we all work from the same game plan—staff, leadership, committees, etc. We are all on the same page when it comes to knowing what constitutes success for the organization.
For this round of planning, we have carefully refined our focus toward three main areas: Membership Value, Advocacy and performing The ASHI Experience. Within each of these areas are numerous goals, objectives, strategies and action items associated with the particular heading. We are awaiting final plan approval from the ASHI Board of Directors, and we will provide the entire Membership with a copy so you can see exactly what we are working on.
Your ASHI continues to work for you to make your experience with us a crucial part of your business success. We will not be satisfied by simply watching from the shoreline. We will do what it takes to make a difference for you. You should expect that from your professional association, and we deliver it.
On behalf of the entire ASHI staff, we sincerely thank you for being here and we wish you continued success in the year ahead.