"It's Beginning to Look a Lot Like Christmas." That's not just a song title, but also a way of life here at ASHI. We've received more gifts than we can hope for this year. For those of you who were not able to attend ASHI's Leadership Training Conference in October, you missed a great package, wrapped into two days of information you can use. Don't worry, though, you will be hearing all about it from your chapter members, the Council of Representatives, the Chapter Relations Committee, the Membership Committee and ASHI Staff. What we unwrapped at LTC, in a chestnut, will help you attain volunteers (and customers) and retain volunteers (and customers), all while retraining yourself on how to reach and keep those folks.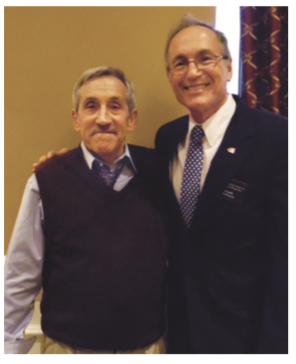 Tim Hosey, LTC Keynote Speaker, and Frank Lesh, ASHI Executive Director.
Increased membership has been both an unsolicited gift and a well-deserved achievement this year. Adding to our roster the former NAHI inspectors who decided to join ASHI was a pleasant surprise, to be sure. But in addition to those seasoned inspectors, we also added hundreds of new members who have joined ASHI because of our reputation for excellence. We welcome both groups, as well as any other inspectors whose goal is to reach the pinnacle of the profession.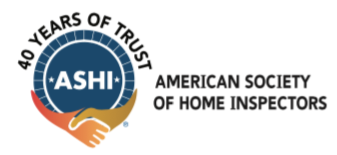 Almost all inspectors have benefited from the strong housing economy. Unfortunately, there are some areas where the housing market is so hot that some people are forgoing the home inspection so they don't lose the deal. Although that never happened to me when I was actively inspecting, I'm wondering if inspectors would think about contacting homebuyers who have recently purchased but didn't arrange for an inspec- tion? Solicit them to hire you to inspect their house now that they're in. There are bound to be problems they did not expect, and you just may be the one they need to help them. Might be worth a try?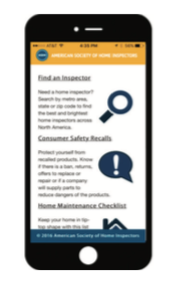 A gift all inspectors, as well as consumers, have this year is the new ASHI app, "Home Inspector Search." This is a great present you can give your customers, real estate agents and friends. It has three categories combined into one neat and clean package: "Find an Inspector," "Consumer Safety Recalls" and "Home Maintenance Checklist." So, if someone needs an inspection, it's at their fingertips. Also, once they're in the home, they can watch for safety recalls and be apprised of seasonal maintenance tips.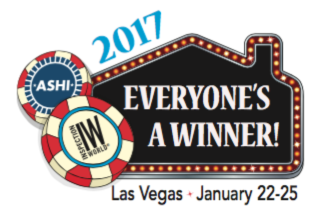 One more surprise gift is IW 2017 in Las Vegas, coming soon in January. For those of you who have not been to an InspectionWorldTM yet, or if you haven't been in a while, you WILL be amazed at what's in store for everyone this year.
Aside from the outstanding educational sessions taught by the most knowledgeable instructors in North America, we will have:
the largest gathering of vendors ever assembled in the home inspection profession
games on the IW app that will earn you prizes
a "Meeting of Millennials," which will focus on how to bridge the gap between up-and-coming inspectors and "seasoned" inspectors.
So, please join us for the profession's largest gathering of inspectors and af liates on the continent. You won't be disappointed!

Last, but not least, don't forget this last- minute stocking stuffer idea: the Chapter Membership Drive. Inspectors who have never been an ASHI member and who join a chapter will receive a one-year compli- mentary membership in ASHI. The $30 ASHI Chapter Incentive coupon still applies (so the members chapter dues can be reduced). This offer is good until December 31.

Frank Lesh, Executive Director
American Society of Home Inspectors
Direct: 847-954-3182
Frankl@ashi.org • www.ashi.org