ASHI Virtual Summit
The American Society of Home Inspectors provides industry leading education, and we are proud to present the ASHI Virtual Summit. This virtual learning opportunity features 6 of the most popular courses, focused on a variety of technical topics with additional attention brought to the approach and methodology of home inspection. Earn Continuing Education Credits to meet State Licensing Requirements as you learn from & engage with renowned speakers from across the profession. The ASHI Virtual Summit is geared to help you improve the service you provide to your clients and build expertise in your profession.

Summit Schedule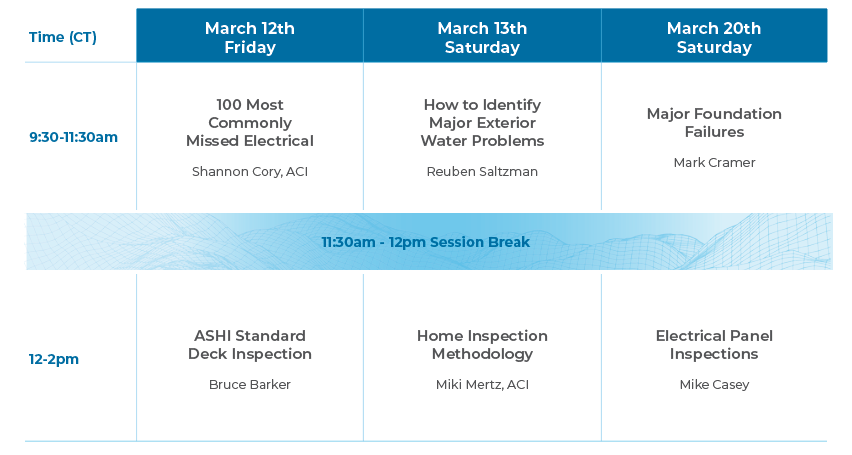 CE Approvals
Each course is eligible for 2 Continuing Credit hours towards state licensing. Additionally, Single Day participation will earn 4 ASHI CE Credits, and Full Event participation will earn 14 ASHI CE Credits.
CE Approved States
Alaska: All Courses Approved
Arkansas: All Courses Approved
Connecticut: All Courses Approved
CREIA: All Courses Approved
Delaware: All Courses Approved
Indiana: All Courses Approved
Kentucky: All Courses Approved
Louisiana: All Courses Approved
Maryland: All Courses Approved
Mississippi: All Courses Approved
Nevada: All Courses Approved
New Hampshire: All Courses Approved
New Jersey: All Courses Approved
Oregon: All Courses Approved
Tennessee: All Courses Apporved
Virginia: All Courses Approved
Washington: All Courses Approved
West Virginia: All Courses Approved
Wisconsin: All Courses Approved
States Pending Approval
Florida: Pending Approval
Illinois: Pending Approval
Massachusetts: Pending Approval
New York: Pending Approval
Oklahoma: Pending Approval
Any updates for additional state approvals with be reflected, once ASHI receives confirmation.
Event Pricing Course Descriptions 100 Most Commonly Missed Electrical Defects | Shannon Cory
This program was designed to help even the most experienced inspector rethink about safety and how to look at possible hidden or overlooked electrical defects. Become an expert with grounding and what needs to be bonded that are often missed and might void the homeowners insurance claim if the fire marshal finds it. What are, and how and when to test ARC faults and GFCI outlet and breakers. How should you handle ancillary wiring in your reports. Guidelines for clients and agents during the electrical part of your inspection in order to keep them safe. Understand the electrical changes in our new standards.
ASHI Standard Deck Inspections | Bruce Barker
Think you know how to inspect a deck? Think again! After taking this class, you will know why inspecting decks is more complicated than most inspectors realize. You will never look at a deck in the same way.
This class gives you the knowledge you need to inspect decks and identify defects based on objective standards, not just on your opinion. You will learn how to prioritize defects, and how to report defects to your clients so that they can understand and use the valuable information that you provide.
How to Identify Major Exterior Water Problems | Reuben Saltzman
One of the biggest problems facing newer homes is bulk water intrusion at the exterior walls, which can lead to mold problems and rotting. This class will help home inspectors identify water intrusion while conducting a home inspection. Most of the inspection methods shown in this class exceed the ASHI Standard of Practice but are not considered to be invasive. This class is taught by a home inspector, for home inspectors. This class incorporates numerous instructional videos demonstrating these advanced inspection methods.
Home Inspection Methodology and Learning from Mistakes | Miki Mertz
This course will examine various ways to perform a home inspection and the problems with each. There may be better ways to do your job. We will look at ASHI Standards to remind inspectors the items they are required to inspect and report on. Each category of the ASHI Standard will also include stories from real home inspectors regarding mistakes they have made so that all inspectors can learn from them. Don't make the same mistake twice!
Major Foundation Failures | Mark Cramer
Cracks in structural elements are often found during home inspections. Inspection of these materials is a primary task of home inspectors. Diagnosing cracks is a primary task of home inspectors. Learn how to analyze cracks and movement in structural elements from the home inspector's perspective.
Electric Panel Inspection, Safety & Basic Load Calculation | Mike Casey
This course will cover the function of alternating current and inspection of electric panel boards exclusively. We will discuss arc flash personal protection, modalities and evidences of failures and/or improper installations and review many actual case studies. This course is intended for home inspectors who want a more in depth understanding of both how to identify and report deficiencies in and around electrical panels and why they are deficient. We will cover short form (per NEC 220.82) calculation of an existing electric service capacity up to 400 amperes. Students will be provided with a standard worksheet for use in the field, and we will cover how to use it. Photos will be presented to demonstrate and reinforce attendee learning retention.
---
Speaker Bios
Shannon Cory
Shannon Cory, ACI 204002 Is CEO of Rainbow Home Inspections, Inc. and has been performing residential inspections in the metro Atlanta areas since 1998. Most of his success has been from his innovative reporting methods, marketing techniques and continuing educational programs. He is a member of or holds certifications in or certificates in the following:
Building Officials and Code Administrators International (BOCA)
BPI Building Analyst Professional
Exterior Design Institute (EDI)
Southern Building Code Congress International (SBCCI)
International Code Council (ICC)
Mold & Healthy Home
National Radon Proficiency Program (NRPP) as a residential Measurement Provider
Mold Surveying and Sampling
Thermography Building Science
Member of ASHI National (served on the national membership committee and also on the committee that selects the ASHI Officers)
A COR Member for ASHI Georgia
ASHI Georgia President from 2004-2007 & 2016 – 2018
Kaplan/lTA instructor from October 2003 to December 2008
Owner and Educational Coordinator for Cornerstone Training Associates 2009 to present
Served on the ASHI Board of Directors 2012 to 2016 & 2018 to 2020
NRPP Advisory Board of Directors 2013 to present
Bruce Barker
Bruce Barker is the author or editor of books including: Everybody's Building Code, The NHIE Home Inspection Manual, and books in the Black & Decker series including Codes for Homeowners, Deck Codes and Standards, and The Complete Guides to Wiring, Advanced Wiring, Plumbing, and Decks. He also writes The Word column in The ASHI Reporter. Bruce is an ASHI Certified Inspector who currently serves as the ASHI President. Bruce has been building and inspecting homes for over 31 years. He is an ICC certified Residential Combination Inspector, a licensed contractor, and a licensed home inspector in multiple states.
Reuben Saltzman
Reuben Saltzman is a second-generation home inspector who has built the largest and most highly rated home inspection company in Minnesota, where he has worked since 1997. His company specializes in moisture testing of stucco-clad homes. Reuben is a past board member of ASHI (2017 - 2019), president of the ASHI Heartland Chapter (2014 - present), and has served on the ASHI technical committee, PR committee, strategic planning committee, and education committee.
Miki Mertz
Miki Mertz has been inspecting homes in the Kansas City area since 1992. She is an ASHI Certified Inspector. In 1993 Miki co-founded the Midwest Inspectors Institute where she's taught beginning home inspectors from all over the country. She has presented report writing seminars to state, regional and national home inspector seminars. The Great Plains ASHI Chapter is proud to have had Miki on its Board of Directors continuously for 25 years, serving as President 5 different terms. She was the first female elected to National ASH l's Board of Directors and has served on numerous national ASHI committees. She received the John E Cox Award in 2019. Miki enjoys teaching buyers, sellers, realtors and inspectors about houses. She has been teaching children and adults for 40 years.
Mark Cramer
Mark Cramer, ACI is a home inspection veteran and a Florida licensed contractor who has 28 year of experience performing home inspections, construction progress inspections, commercial building inspections and insurance inspections. He also works as a litigation consultant and expert witness in matters relating to construction defects and home inspection.
A long time ASHI members, he was one of the founding members of the Suncoast ASHI Chapter. Mark has served as chair of several national committees and he is a past president of ASHI (2000). Mark is a recipient of ASHl's President's Award, Ironman Award and Monohan Award.
Mike Casey
Michael Casey, ACI, MCI is the principal consultant of Michael Casey & Associates; a national A.M. Best recommended firm based in San Diego and Director of Education for Home Inspection University. Mike is past president of the California Real Estate Inspection Association (1994/1995) and of the American Society of Home Inspectors (ASHI) (2002). Mike is multi-code certified by the ICC and IAPMO. He is a licensed general, plumbing, and mechanical contractor in several states and a Virginia Licensed Home Inspector. Besides co-authoring several books in the Code Check series and the Code History Master booklet and Android App, Michael has authored numerous other technical books, has taught home and building inspection nationwide and has an expert witness and claims consulting practice throughout North America. Mike has inspected over 10,000 buildings in his over 34-years career in the inspection profession as well as been consultant or expert regarding over 800 inspector claims for both claimants and defendants.